Access Controller - Another awesome mod from Ben Heck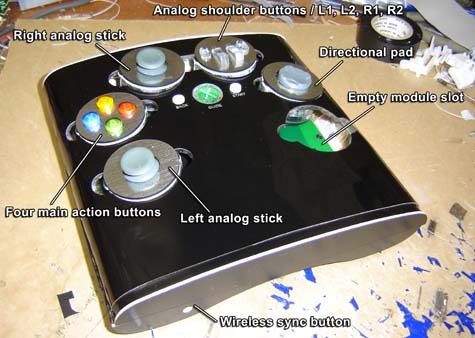 When I play my console games, I enjoy using the controller. Aside from guitar-shaped controllers, I've never really considered using anything else. The notorious hardware hacker Ben Heck has created an interesting one-handed Xbox 360 controller.
While I doubt I'd ever actually use a controller such as this, it's really a cool idea. The buttons are built into 5 different removable modules. You can completely rearrange them to suit your needs. You then set the Access Controller on a surface such as your leg or a table, and you're ready to game one-handed.
While this will allow you to do obvious things like eat and drink without slowing down your gaming session, it has other practical uses as well. The biggest one that comes to mind are those without the use of two hands. I would imagine that it would be quite difficult to play most console games with only a single hand. You would also be able to hook this into your PC and play games on there as well.
Many of Ben's projects end up being a one-time deal, however, he's working with eDimensional.com to create a commercial version of this for the PS2/PS3, with an Xbox 360 one to come after.
Benheck's new single handed "Access" controller revealed [via benheck]