Abee Japan smart SC120D PC case with keyboard nook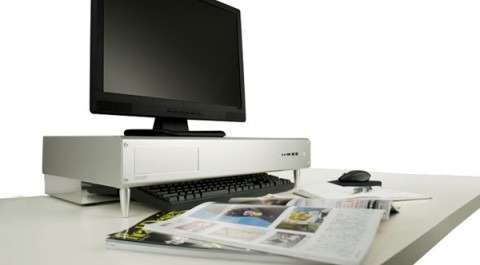 Abee Japan have announced a new desktop PC case which, thanks to some neat little aluminum legs, gives you a space to push your keyboard out of the way.  The Abee Japan smart SC120D has room for either a Micro-ATX or Mini-ITX motherboard, along with two 3.5-inch bays and a 2.5-inch bay.
On the front there's an eSATA port and two USB 2.0 ports, together with audio in/out and reset buttons.  There's also a 5.25-inch bay for an optical drive, and space for four PCI cards.  Construction is from aluminum.
The Abee Japan smart SC120D case is available – in Japan at least – now, priced at 19,800 yen ($202).  It comes in black or silver, and measures 133 x 618 x 339 mm.
[via Akihabara]