AAXA P4 projector: The worlds brightest Pico Projector with 75 minutes of battery life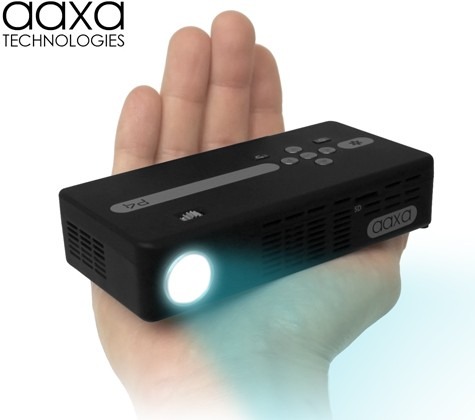 Pico projectors are nifty little objects but AAXA is making them more then that with the new AAXA P4 battery powered pico projector. Announcing the P4 as the worlds brightest battery-powered pico projector offering 80 lumen in brightness while weighing less than one pound — and having good battery life too. Pictures and details are available below.
Many pico projectors or too dim or weak, or don't have long batteries that last through an entire presentation. Yes there are much brighter options available but not portable and battery-powered. This is one of the smallest and most portable projectors around while offering great brightness and a battery that should last through an entire presentation. With the AAXA P4 all you need is your laptop and the projector and you can take your presentation anywhere you go.
The AAXA P4 Pico Projector is powered by a 750MHz Windows CE mobile processor, and is plenty bright too. It gets an 80 lumen high-contrast optical engine by way of Texas Instruments DLP. It features AAXA's vibrant color technology and the LED should last for 15,000 hours. Some of the other specs that make the P4 special include: 2GB of built-in memory, 1280×800 VGA input, microSD slot for extra storage, composite video input, 1-watt speaker, 3.5mm headphone jack, 720p video support, and support for 3rd party apps like Office Mobile and other Windows CE apps.
The new P4 projector is a big step up from the older P2 or other options from AAXA and is available now, priced at $399. It is currently on sale for just $339 and can be found right here.