Aaeon 820T - Tiny board features built-in TV out and 5.1 surround sound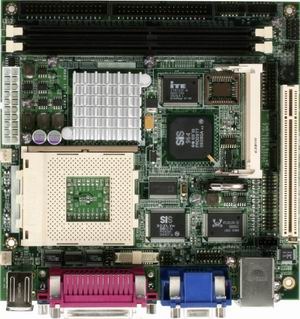 If you're looking to build your own HTPC (Home Theater PC), but want it to take up as little space as humanly possible, you might want to check out this Mini-ITX board from Aaeon.
The EMB-820T won't be a powerhouse by any means, but it will support AMD's Athlon-based embeded CPUs, which should give you enough to do most tasks. The big news is that it will include TV out and 5.1 surround sound, all on a SBC (single-board computer) unit.
You don't have a lot of room for expandability, for obvious reasons. They do include a Mini PCI and a PCI slot that can be used for a network adapter, or whatever else you should choose. The board is available now, but they have not disclosed the price.
The full specs as listed b Aaeon are as follows:
Processor — AMD Geode NX1250, NX1500, or NX1750
Memory — dual 184-pin DDR DIMM sockets, for up to 2 GB total DRAM
resolutions up to 1600 x 1200 pixels
NTSC and PAL video output
supports CRT and LVDS LCD display
4/5/8-wire resistive touchscreen interface
6-channel (5:1) audio output for 3D surround, or alternative stereo output
8 x USB ports (6 internal, 2 external)
Dimensions — 6.7 x 6.7 inches
Power — compatible with AT or ATX power supplies
Mini-ITX SBC does TV out, surround sound [via linuxdevices]