AAduino is an Arduino clone the size of an AA battery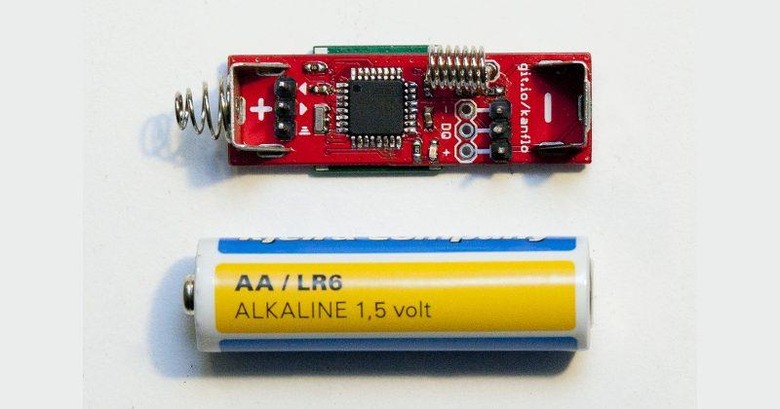 Last year, the Raspberry Pi Foundation surprised the hobbyist world with its RPi Zero, the smallest incarnation of its popular single-board computer. However, that has nothing on this even smaller incarnation of an Arduino. OK, it's not exactly an Arduino and definitely has less muscle or use than the full thing, but one can't help but marvel at the compactness of this thing. Born from Johan Kanflo's mind, the AAduino, so named because of its size, can, almost, conveniently fit inside a 3x AA battery holder for maximum space footprint efficiency.
Kanflo was looking for an ISM (industrial, scientific, and medial radio band) node smaller than the Tiny328 from Nathan Chantrell. The Tiny328 measured 22.9 x 36.3 mm. The AAduino? It's longer at 44.9 mm but narrower at 13.8 mm. The size isn't an accident actually. It was designed so that it would closely match the dimensions of an AA battery. Why? So that the board can fit inside the slot for an AA battery in a battery holder, right beside the two AA batteries that will power the board.
The board uses an Atmel ATmega328P, a very simple microcontroller with 32KB of flash memory, 1024B of EEPROM, and 2KB SRAM. Those are not typos. Its 8-bit CPU can do 20 MHz max, but Kanflo clocked it down further to 8 MHz to save on voltage. The RFM69C module is the part that provides ISM support. The AAduino also makes use of two DS18B20 temperature sensors, leaving room for one LED indicator.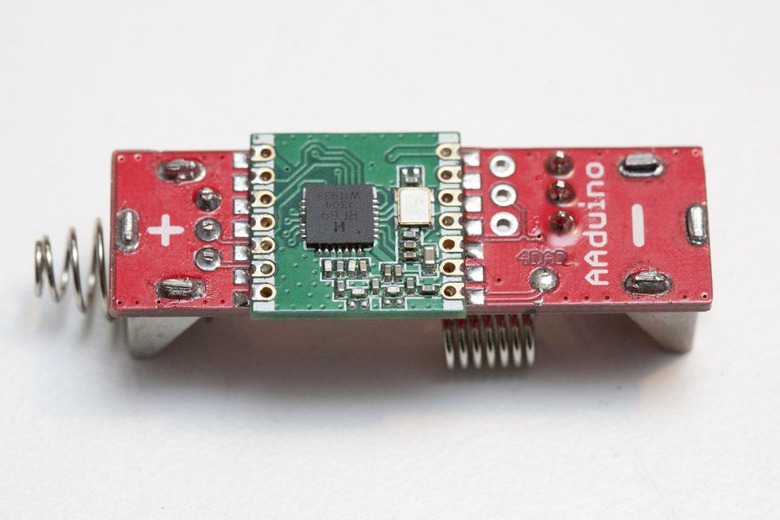 An amusing aspect of the board is how Kanflo attached battery terminals, including a spring, on the board itself. This allows the AAduino to slot into the battery slot like a regular battery.
Granted the AAduino isn't going to match an Arduino or Raspberry Pi in terms of what it can do. In fact, unlike a more general purpose Arduino, this clone is specifically designed for ISM use, which can range from, for example, sensing temperatures and communicating with appliances. ISM transmitters can also be used for alarms, wireless sensor networks, and monitoring. And, with Kanflo's design, you can fit one inside a battery case you can simply buy from eBay, and no one will be the wiser.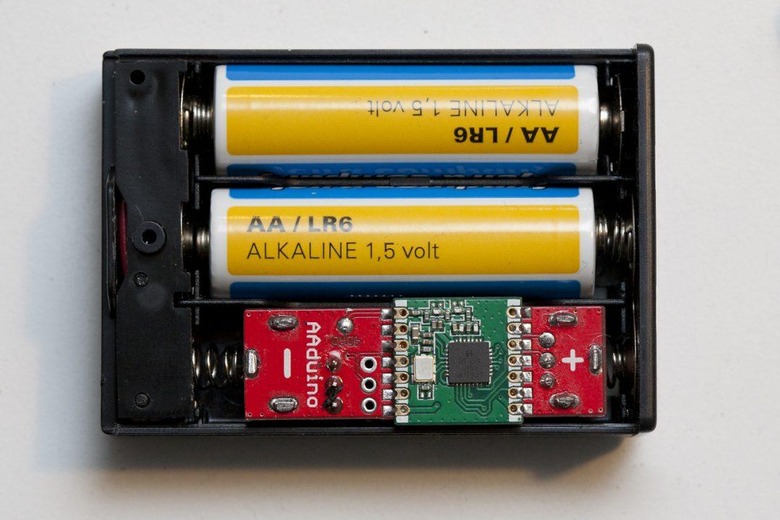 SOURCE: Johan Kanflo