A Van-Sized Meteor Exploded Over Cuba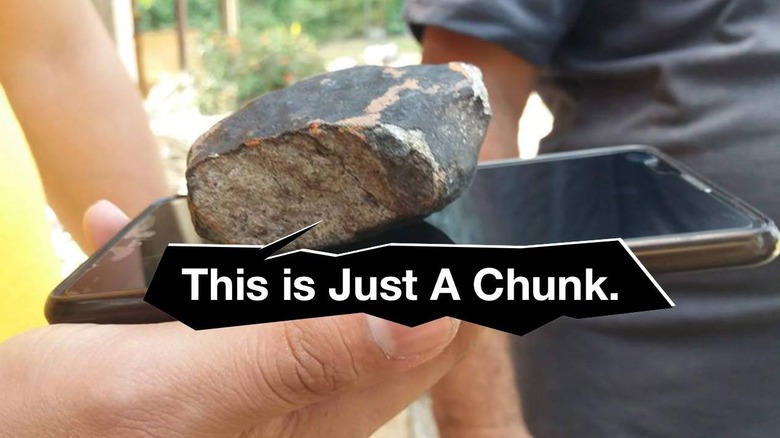 In the first of February, 2019, a van-sized asteroid-turned-meteor exploded over Cuba. This explosion and subsequent disintegration happened at a scale and height that allowed leftover pieces to be recovered in its aftermath. This space rock entered our Earthly vision at around West Palm Beach, Florida, and entered the atmosphere somewhere between there and Pinar del Rio, where it landed. We are in no current danger of any similar falling fireballs – none that've yet been detected, that is to say.
The most interesting video shot during the unfolding of this event was captured by Juan Alberto Perez Pozo. The video captures the smoke trail of the meteor after it'd passed overhead – then there's a boom! Said boom happened well after the rock itself exploded – such is the nature of the speed of light and sound.
Once the shockwave hit, it's been suggested that glass windows broke in the area – but we've not yet seen proof of said glass. Not that it's SUPER important, but still – gotta see it first. What we CAN see is a collection of pieces of this meteor in photos on Twitter.
Reporteros de @TelePinar en el #MuraldelaPrehistoria #Viñales #PinarDelRio constatan caída de piedras negras de alrededor de 7 cm luego de un gran estruendo. @fatimaTelePinar investiga #Cuba pic.twitter.com/NLLvVcr18U

— Rolando Segura (@rolandoteleSUR) February 1, 2019
This space rock was seen in views captured by the GOES-16 satellite seen in a recorded moment from GLM, Split Window Difference, and Sulfur Dioxide views, as shown in the tweet below. This is seen by Brendon from Twitter, a fellow who likes to follow weather. Look near the center and press play – it appears and disappears in an instant.
Remnants of the meteor over Viñales in western Cuba evident in #Goes16 GLM, Split Window Difference, and Sulfur Dioxide viewshttps://t.co/yQsbCadv4ghttps://t.co/WRmGQbnXPC pic.twitter.com/L4gLjCF4n6

— Brendon (@brendonme) February 1, 2019
Juventud Rebelde suggested this afternoon that Cuba's Geophysics and Astronomy Institute were sent to Pinar del Rio to investigate the meteor strike. This investigation resulted in a newscast confirmation that, yes, it was indeed a meteorite strike.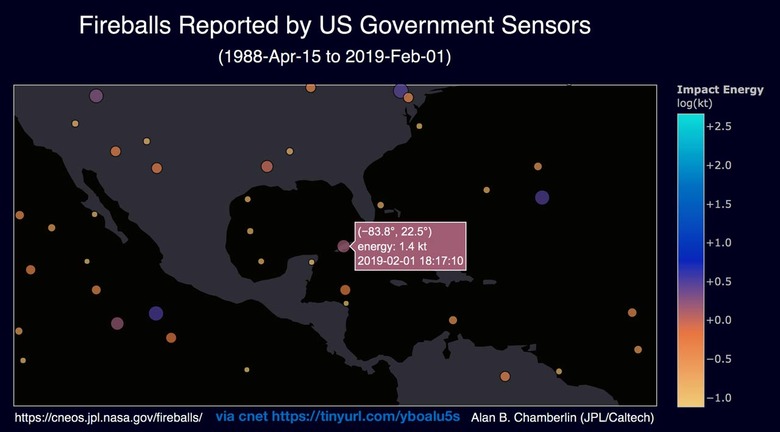 The actual strike happened around the Mural of Prehistory in Vinales. This painting is a massive mural on the face of a rock by Director of Mapping at the Cuban Academy of Sciences, Leovigildo González Morillo. This mural can be found by searching an online map with coordinates 22.6195,-83.7428. Meanwhile, anyone who found a piece of this meteor might want to keep it as a doorstop for a while. Just in case!