A "Sneak Peek" at Pentax's X70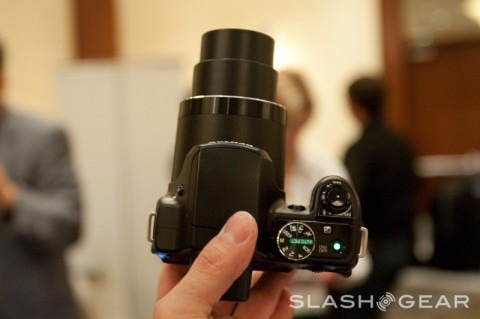 My first stop at PMA 2009 Sneak Peek Luncheon was Pentax booth, I knew something was up when a small group Japanese reporters gathered at the rather disappointing pre show event. I was told to return couple hours later, and there it was. Empty spots now filled two new bodies, not the new hybrid standard I was hoping for, but a 12Mp ultra zoom with 24x optics dubbed X70. It drew crowd nevertheless, and the show actually peaked for a minute there.
Other than the typical 24x mega optics and a reasonable 2.7-inch LCD, the Pentax X70 is also capable of capturing 720p movies at reduced 15fps, or WVGA at 30fps. Physically, the Pentax is probably the smallest and lightest ultra zoom we've seen and the chassis is slightly flimsy.
With Pentax on broad, the Super Zoom market is now slightly crowded with three manufacturers offering the 12Mp and 24x optics; the Nikon P90 packs 3-inch tilting LCD and shoot VGA movies; while both the Kodak's 980 and Pentax X70 record 720P movies with fixed LCD. Those are the new comers with suggested retail price of $399. Olympus also has a similar class digicam launched at CES 2009; the SP-590Z features 12MP image sensor, records VGA video but is optically superior among the group with longest tele-end reaches 676mm (35mm equiv).
PENTAX X70 FACT SHEET
Versatile 24X optical Megazoom lens accommodates a range of subjects

Within a compact, lightweight body, the X70 features a high magnification optical 24X zoom lens offering a focal-length coverage between a wide-angle 26mm to a super telephoto 624mm (in the 35mm format). This is ideal for wide-angle scenic shots or group photos, as well as getting closer to the action at a sporting event. Coupled with the Intelligent Zoom function, the X70 zoom range may be extended to approximately 150 times (for a focal length of an astonishing approximately 3900mm in the 35mm format) without compromising the optical performance of the zoom lens.

High image quality

With 12.0 megapixels, a high-performance imaging engine, and the high quality PENTAX Megazoom lens, the X70 delivers super clear, high quality images in any shooting mode. Images at 12.0 megapixels are also suitable for printing at most large print sizes including 8x10, 11x17 and even larger poster size prints.

Large, easy-to-view 2.7 inch color LCD monitor

The PENTAX X70 features a large, bright 2.7 inch color LCD monitor with approximately 230,000 dots of resolution. An Anti-Reflection coating helps minimize glare from sunlight for more effective outdoor viewing. Also, the X70 comes with an electronic viewfinder for easy image composition and review in the brightest lighting conditions. You can also access the camera's menus and other functions via the electronic viewfinder, so you will always be able to change settings no matter how bright it is outdoors.

Compact, lightweight design

The compact, lightweight design of the X70, one of the smallest and lightest cameras in it's class, make it easy to transport and use. However, the small size does not mean features are compromised. The X70 includes a full range of automatic and manual features and functions.

Reliable Shake Reduction for sharp, blur-free images

The X70 incorporates an "image sensor shift" Shake Reduction system to assure sharply focused, blur-free images even under demanding photographic conditions such as when shooting at full telephoto or when shooting a sunset or indoor scenes with very low light. By accurately detecting the amount of camera shake using a high-performance gyro sensor and shifting the CCD image sensor vertically and horizontally at high speed, the X70 offers an outstanding camera-shake compensation effect, equivalent to approximately three shutter steps.

High-speed Continuous Shooting mode to capture the decisive moment

The X70 lets the photographer capture the subject continuously at a maximum speed of approximately 11 images per second and up to 21 images in succession.* Coupled with the Auto-Tracking AF mode that keeps a fast-moving subject in focus all the time, the X70 is sure to capture that once in a lifetime, decisive moment in sharp focus. The X70 is perfect for shooting sports action and active children and pets.

* When the continuous-shooting mode is selected, the image size is fixed at 5M (2592 x 1944 pixels).

Fast Face Detection AF&AE captures up to 32 faces in focus in approx. 0.03 seconds

The X70 Face Detection function is effective for capturing casual snapshots of people by optimizing the focusing and exposure of up to 32 faces in a single image in approximately 0.03 seconds. The X70 also offers other user-friendly functions including Smile Capture which automatically releases the shutter the instant it detects the subject's smile, and Blink Detection which warns the photographer when the subject's eyes are closed at the moment of capture.

Movie capture in high-definition TV image quality with anti-shake protection

The X70 captures high quality movie clips, equivalent in image quality to that of high-definition TV (1280 x 720 pixels) at 15 frames per second. The X70 also features Movie SR mode,** which effectively minimizes annoying camera shake during movie capture. The X70 can also record video at 848x480, VGA and QVGA resolutions at 30 frames per second, for full video capture flexibility. As a result, the photographer enjoys high-quality, blur-free movie shooting with minimal effort.

** When the Movie SR mode is selected, the angle of view becomes narrower than normal shooting.

PENTAX X70 FACT SHEET (cont)

Multi-mode exposure system

The X70 offers a choice of four exposure modes: Programmed AE, in which the camera automatically selects the optimal combination of aperture and shutter speed for a given subject and Aperture Priority AE, Shutter Priority AE and full Metered Manual modes, in which photographers are free to select either (or both) aperture and shutter speed to suit their photographic needs.

Auto Picture mode for the automatic selection of seven different shooting modes

The X70 features the advanced PENTAX Auto Picture mode, which automatically selects the most appropriate shooting mode for a given subject or scene by detecting the subject's lighting, movement and other conditions. This user-friendly mode not only makes the right mode choice for the photographer (from Landscape, Portrait, Night Scene, Night Scene Portrait, Flower, Sport and Standard modes), but also features an Auto Macro mode, which automatically switches the camera's focus range to macro in close-range applications.

Auto sensitivity control up to a high ISO of 6400

The X70 comes equipped with an Auto Sensitivity Control function, which automatically shifts the sensitivity level in relation to the subject's lighting condition and the lens focal-length setting. This allows the photographer to use a high shutter speed in dimly lit locations, such as night scenes or indoor sports events to effectively minimize camera shake and subject blur. The auto sensitivity control range can be set between ISO 50 and ISO 6400, and is range adjustable.

Additional Features

• Image Format Choice proportions of 4:3, 3:2, 16:9 or 1:1.

• Scene mode palette for easy selection from 20 scenes, including a new Baby mode for accurate exposure and skin tones when taking pictures of babies.

• Overexposure compensation function to prevent blown out (or clipped) highlights.

• A Super Macro mode may be used to shoot as close as 0.4 inches (one centimeter) away from a subject for stunning close-up details.

• Digital Wide mode quickly stitches 2 images together for an extra wide-angle image (equivalent to 20mm in the 35mm format).

• World time clock displays standard time in 75 cities in 28 time zones around the world for extra convenience when on the road.

• Frame Composite mode (with 90 built-in image frames) offers fun and creative ways to style up your shots.

• Approximately 33.6MB of built-in memory. Also compatible with SD and SDHC memory cards.

• Red-eye reduction function corrects for red eyes as the result of flash photography. Red-eye reduction can be applied during capture, or as a post-capture filter.