A single character can crash your iPhone's messaging apps [Updated]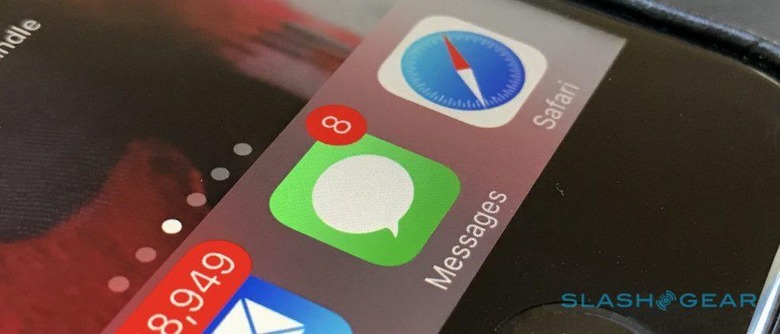 A new iOS bug that can crash not only Messages but third-party messaging apps has been discovered, potentially leaving the app unusable by receiving a single character. It's the latest in a series of bugs that have affected iOS, and its messaging abilities in particular, though it looks like Apple will be fixing this particular one with iOS 11.3 if not before.
Still, until that updated version is released – or, indeed, until Apple pushes out a patch before that point comes – it's a frustrating and potentially very disruptive issue. Spotted by Mobile World and The Verge, it involves receiving an Indian language character. That automatically crashes the messaging app.
As well as Apple's own Messages app, it's also enough to bring down third-party apps like Facebook Messenger, Gmail, WhatsApp, and Outlook for iOS. Indeed, according to tests it'll crash the macOS versions of Safari and Messages, too. Even more frustrating, it's not just a case of restarting the app and picking up where you left off.
Indeed, attempts to reload Messages after the rogue character had been received saw it get stuck trying – and failing – to bring that message in. According to tests, the only way to fix it is to wait for a new message to come in – or ask a friend to send one – and then delete the thread with the Indian character.
The public beta of iOS 11.3, which is currently available for those wanting a taste of the next big iPhone and iPad software release, does not exhibit the same issue. Apple expects to finalize iOS 11.3 this spring, at which point it will be pushed out to iPhones and iPads in general. It seems likely that the company won't wait until that to address this particular flaw, however, given its potential to frustrate.
Its discovery comes roughly a month after another Messages bug was identified, which affected both iOS and macOS devices. Dubbed "chaiOS" it involved a single URL which resembled on the face of it a valid GitHub link. However, it was enough to cause iOS' Messages app to freeze or crash altogether, while on macOS Safari or Messages could slow down significantly or freeze up completely.
While it seems unlikely that this new flaw would become widespread, it's still something Apple is probably keen to get tidied up sooner rather than later. That's usually involved a minor update as the Cupertino firm's engineers figure out the best fix.
Update: Apple plans to push out a new update sooner than iOS 11.3, it tells The Verge, which will address the bug.