A shocking twist to an old game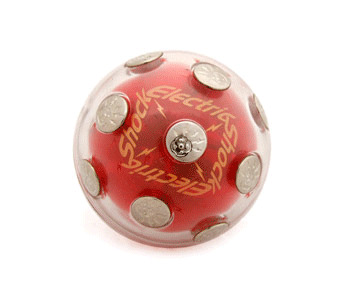 Everyone remembers the game of hot potato. When you think back on it, it was a pretty silly game with no consequence. Now what if you could make that potato truly "hot"?
This little Shock Ball intends to do just that. Just flip on the timer and start tossing it. Eventually, someone is getting shocked. You know what they say, it's all fun and games until someone gets hurt, then it's hilarious. That one phrase was probably what sparked the idea for this little toy.
The good thing is that when the shocks aren't quite as shocking as they once were, you can just plug it into the wall to recharge. You can pick one of these up for $40. I don't recommend it for your children though.
Shock Ball: What Doesn't Kill You Makes You Funner [via crunchgear]