A Place For Your Porn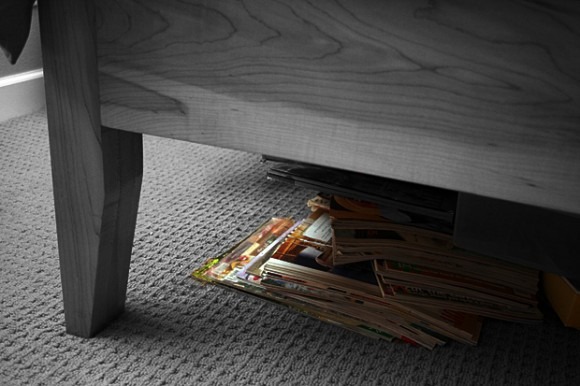 I think the .xxx domain name is one of the best ideas to occur to the Elders of the Internet since sliced bread; sliced bread, of course, being a metaphor for Internet porn. I have heard arguments on both sides of the issue, and I can't see how creating a .xxx domain could make matters any worse; it could only help bring porn under some sort of control.[Image credit Amstershiresauce]
Porn is at the forefront of the Internet as a frontier for freedom. The BlackBerry ban in Saudi Arabia and the possible upcoming ban in the UAE are partially about the secure way that RIM handles its email traffic, but the ban is in no small way about porn. These theocracies want porn sites banned from their local Internet, as if there is such a thing, in practical terms if not semantic terms.
So, first the arguments against the .xxx domain. First, it shines a glaring spotlight on pornography, an industry already known for glaring lights. It's hard enough to keep children away from pornography, let alone husbands. Imagine if porn got its own top level domain? All you would have to do is type in any word you like followed by the .xxx domain.
This logic is not only flawed, it's horribly anachronistic. Not only is it just as easy to enter any random nasty term into your browser with a .com address on the end, we've actually moved far beyond such simpler times.
Here's my favorite example. 5 Guys burgers opened recently in my town. They aren't listed yet on Google Maps, so I thought I'd go to the company Web site. Until very recently (within the past month), 5Guys dot com was a pornography site specializing in, you guessed it, scenes with five guys having sex. Whitehouse dot com was a pornography site until a few years ago.
It's hard to avoid porn on the Internet, even if you have legitimate purposes in mind. Occasionally a friend will send a link to a taped concert using one of the many online storage sites. Inevitably, the ads on those sites are for pornography. Actually, they are pornography themselves, many depicting hardcore sex in animated banner ads.
Pornography doesn't care about the spotlight. It's like drugs. People will find it if they feel they need it. It doesn't need to find you. It's almost impossible to avoid.
There was a time when I enjoyed the dirty, dank, free-wheeling aspect of the Internet. The part that let adults be adults in a way that our culture tells us we should be ashamed of or hide behind closed doors. It wasn't having a child that changed my opinion. It was teaching children. I taught students 14 to 16 years old. Some of them honestly wanted to stay away from the seedier corners of the Internet and found it difficult. As novice Internet surfers, they found it impossible to keep the bits they found distasteful from seeping into their experience.
I'm not saying we should ban adult content altogether, I'm just saying that we should give it a place where it can feel free, and where the rest of us don't have to worry if we'll accidentally stumble across its path.
So, how do we make sure that pornography stays in the .xxx domain? Won't this just create a land grab where established sites try to double their real estate on the Internet by taking a second domain. At first, yes, that will happen. But I don't think that we should legislate the issue. There is a better way.
We need to convince consumers to only buy their pornography from .xxx domain sites. It's time for the consumer to take control.
It shouldn't be too difficult. I don't see why a consumer would care if they were buying from a .com or a .xxx site. If the buyer is trying to be discrete, there are plenty of easy ways to be discrete about which address you visit, how you spend your money, etc. But the only way to convince the adult industry to regulate itself and move to a consolidated space on the Web is if buyers send a clear message that it's important. Buyers will be more effectively represented here by their dollars than their Senators.
This won't solve all of the problems pornography creates for Web crawlers, but it is a good start. It won't help RIM, much. The problem with pornography is that it's a reflection of the very limits of a society's relationship with its sexuality, and those limits are dramatically different in every culture. What is acceptable here may not be acceptable in Japan, Saudi Arabia or Kenya, and vice versa, to name a few disparate cultures. So, who gets to set the standard for a .xxx domain?
It's the Internet. Nobody sets the standards. We all do. If we're going to take a free market approach, whatever sites earn more money on their .xxx domain than on their previous domain, those will be the ones that move.
The real question is whether this becomes a slippery slope. If porn finds a place in its own domain, when do political movements branch off and claim their own continent on the Web? Should their be a .right and .left? A domain for socialists and a domain for capitalists?
Should there be a domain for Christianity, another for Islam, and more for Buddhists, Judaism, Baha'i? How would that affect the way we see each other and interact with each other? What happens when a Muslim theocracy bans all sites outside of the Muslim domain?
I don't think it would quite happen that way, but it leaves plenty of potential power in the hands of ICANN. We end up with a catch-22. Either governments can reject ICANN's .xxx domain naming concept, which separates a government from the global policies and freedoms set forth by the Internet; or, we can accept the .xxx domain, knowing that it could lead to further parceling and segregation on the Web. Either way, we end up divided.