A New Brain Age Game Is Coming To Nintendo Switch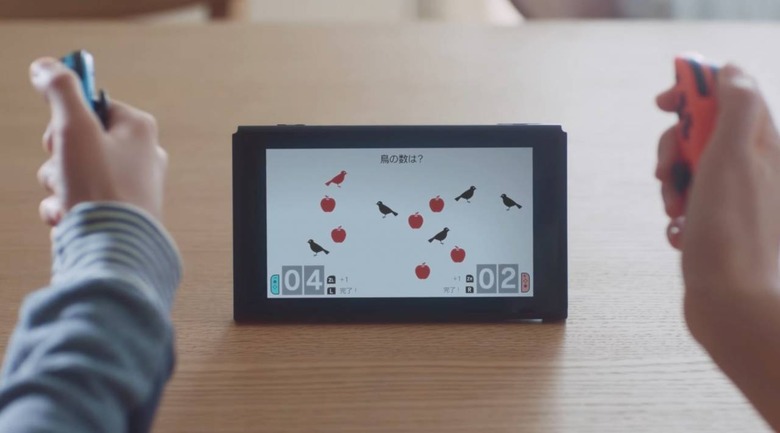 It's been quite some time since we last saw Nintendo release a new Brain Age game, but it looks like that's going to change by the end of the year. Nintendo has announced a new Brain Age title for the Nintendo Switch, and though it's only confirmed for Japan at the moment, we imagine it'll eventually be coming to North American and European shores as well.
It's been seven years since Brain Age: Concentration Training, the last mainline Brain Age game, was released for the Nintendo DS, so we're overdue for a new entry in the series. Nintendo of Japan has already published some videos previewing the game, which go through some of Brain Age's features.
In addition to the standard puzzles you'd expect out of a Brain Age title, this game also uses some of the Switch's unique functionality. For instance, it uses the Joy-Con's IR blaster to read the shape of your hand for games of rock-paper-scissors and for addition exercises known as "finger calculation." As with many Nintendo Switch games, you'll be able to hand over one of the Joy-Cons to a friend for local multiplayer too.
Judging from the trailers Nintendo has released so far, it seems that the many of the minigames in the new Brain Age will require you to hold the Switch in a vertical orientation. You can use the Switch's alarm function for daily reminders to play, and you can compare scores with friends over email. You'll also be able to compete with friends and strangers in global competitions online, but you'll need a Switch Online subscription to participate.
All in all, this new game is more or less what we'd expect from Brain Age, only on the Nintendo Switch. The physical version of the game, which comes bundled with a stylus, will run ¥3,480 (around $32), while the digital version will cost ¥2,680 (around $24). The stylus will be available separately at ¥800 ($7.41) for those who purchase the game digitally. This latest Brain Age entry will be out on December 27th in Japan, and we'll be keeping an eye out for official word on a US release.