A Hovering Mouse for under $80? Sadly not.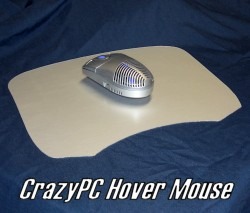 Update: Oh dear, it looks like this is one of those November April-Fools jokes.  I guess all you arthritic gamers will just have to suffer quietly in the corner.  Rarely do arthritis sufferers and hard-core gamers get mentioned in the same product blurb, so CrazyPC have scored at least one bonus point before we even get to whatever it is they're hawking.  And then you feast your eyes on the wunder-device itself: the Hover Mouse.  Taking advantage of "advanced, patent-pending electromagnetic hovering technology", it promises a 100% friction-free mousing experience, floating a centimetre above the mousemat at all times.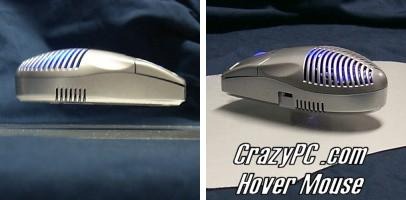 When you're faced with incredible floating peripherals, it's almost unnecessary to mention their full specs.  Still, I'm a focused man and so you'll be interested to hear that it has a 6000DPI optical sensor, is wireless as well as gravity-defying, clad in a "proprietary metal alloy composite billited mousing surface with attractive brushed aluminum finish" and illuminated tastefully with blue LEDs.  Oh, and there's a scroll-wheel too.
Yours for $74.99, in stock and available now.Product Page [via Hacked Gadgets]