A fidget spinner exploded and others may do the same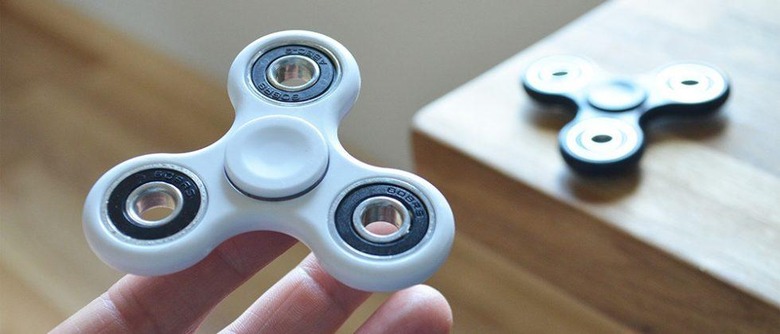 Are fidget spinners the new 'hoverboard?' Such may be the case after one family reports that their son's Bluetooth fidget spinner caught fire and exploded while charging, raising concerns about the quality of these battery-equipped models. Unlike ordinary fidget spinners, which operate using bearings and little else, a Bluetooth fidget spinner is a bit more modern, packing in connectivity to one's phone...and a battery that can overheat while charging if the product is poorly made.
One family in Alabama reported to local FOX affiliate WBRC that their son's Bluetooth fidget spinner had been charging for less than 45 minutes when it burst into flames. Luckily the boy was in the room when it happened; he was able to douse it with water from a nearby sink and the only damage was a scorch mark on the carpet. Had it been charging in an empty room, the event could have been catastrophic.
The name of the model isn't known, or at least hasn't been publicly stated; the local news station reports that the family attempted to find the company but couldn't, with the only hints of the fidget spinner's origins being a 'Made in China' stamp on the box. This isn't unusual, particularly when buying unbranded novelty items from budget stores and online auction websites.
We may know more in the future, though, as the Consumer Product Safety Commission has been notified of the incident and is investigating. In the meantime, you should avoid purchasing items like this that pack a battery but that are of questionable origin. The issue isn't limited to just Bluetooth fidget spinners, as we've seen in the past — counterfeit hoverboards, headphones and more are also prone to this issue.
SOURCE: FOX 6