A day at Porsche Experience Center LA: Disney World for gearheads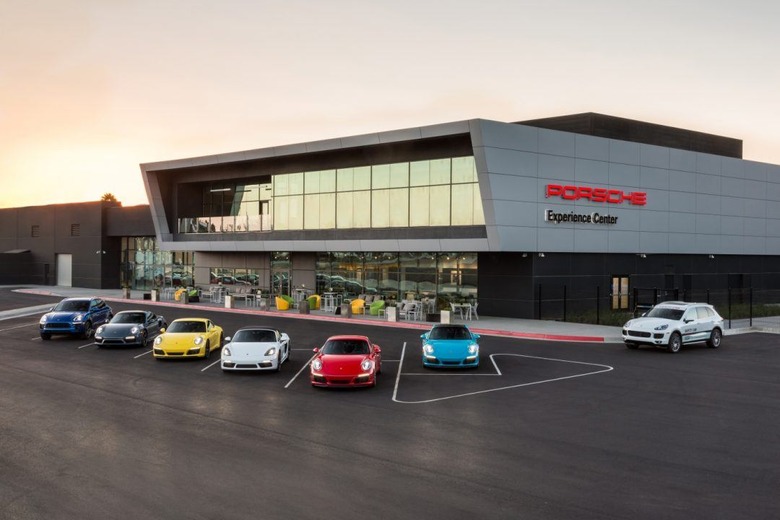 If California was a country, it would make up the fifth largest market in the world for Porsche. What better place, then, for the US' second Porsche Experience Center (PEC). The first opened roughly a year ago in Atlanta, and also serves as the home base for Porsche North America. The new $60 million, 53-acre facility in Carson, California is also Porsche Motorsport North America's new headquarters, not to mention being officially open for everyone to enjoy. Porsche invited SlashGear out to Carson for a first-hand experience; after all, the PEC is all about getting hands-on.
You don't have to be a Porsche owner to get into the PEC, though California isn't short of them: 23-percent of all Porsche cars are sold in the state. Why Carson City? Porsche looked at its ownership maps and figured it was the most logical location, at the heart of the where its buyers live. Smack in the middle of LA's 110 and the 405 freeway, the PEC can be seen by hundreds of thousands of people driving by every day. It's expected to bring in 50,000 visitors annually with a mixture of tourists, corporate sponsored events, and of course potential Porsche buyers.
This is no mere showroom, mind. It's hard not to be wowed by the 4.1-mile driver development track, the many different driving experience modules – more on which in a moment – plus a race car exhibit, world class restaurant, and shopping at the Porsche Design retail store. More importantly, it's a place for visitors, potential Porsche buyers, and Porsche owners who want to improve their driving skills and take advantage of their car's features, whether it's off-roading in the Macan and Cayenne SUV, or testing out launch control on a gloriously long stretch of track.
My track time lasted about an hour but general visitors can register for a 90-minute driving experience session with a Porsche Drive Coach. Price ranges from $384 to get behind the wheel of a Porsche 718 Boxster, rising as you get into more powerful exotica like the Carrera 911. There's a total of eight driving experience modules in all.
Porsche is expecting a wide variety of pre-existing skill levels to show up at its track, but the goal is the same. After a 90 minute session, have improved driving skills and more confidence in the performance and handling assistance each of the automaker's cars have to offer.
Of the eight, the Kick Plate is one of my favorite modules. Starting from a standstill, you accelerate to roughly 25-30 mph onto a flush-mounted, hydraulically-actuated plate placed in front of a wetted epoxy surface. As the car drives over the plate, sensors cause it to move randomly left or right, simulating a slide that could occur anywhere in ice, snow, or rain conditions. If you've never been in a situation where you're at the wheel of a car that's out of control, the tail end starting to spin forward, you're in for quite the sensory experience.
Of course, the goal isn't just to put you on a real-life rollercoaster, but to teach you how to handle it. I've been through similar driving scenarios but never on a near-frictionless surface; in the 718 Boxster, it was easy to assume that the car's own systems would save the day, but knowing what to do as driver is equally important. If the tail end kicks to the right, you need to quickly countersteer to the right – yes, in the same direction – while gently applying the brakes.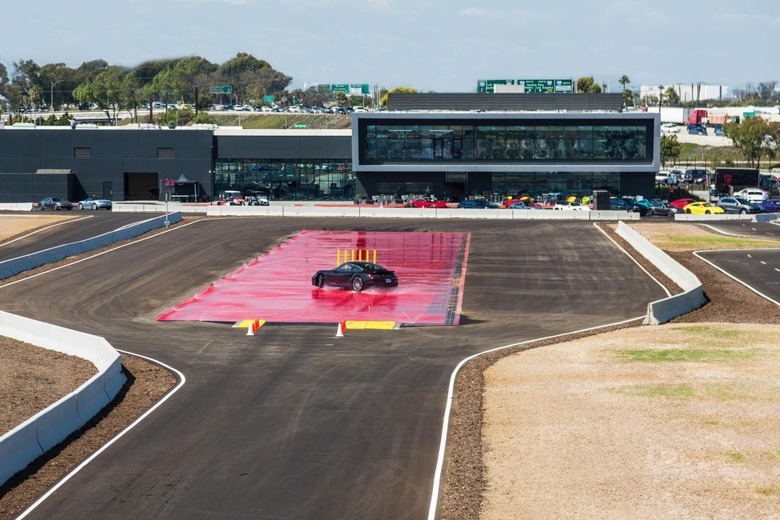 If, though, you completely screw up like I did, you simply hold on for dear life, slam hard on the brakes, and wait. Because the tail end is already moving to the right, should you turn the steering wheel to the left, you'll end up making things worse by increasing the speed of which the rear swings around. It all works the same way – only in the opposite direction – if the tail end kicks out to the left. A true professional driver is capable of keeping the car on a wishy-washy-straight line. That, my friends, wasn't how it worked out in my case. I spun, and spun, and spun some more, dragging my internal organs along for the ride.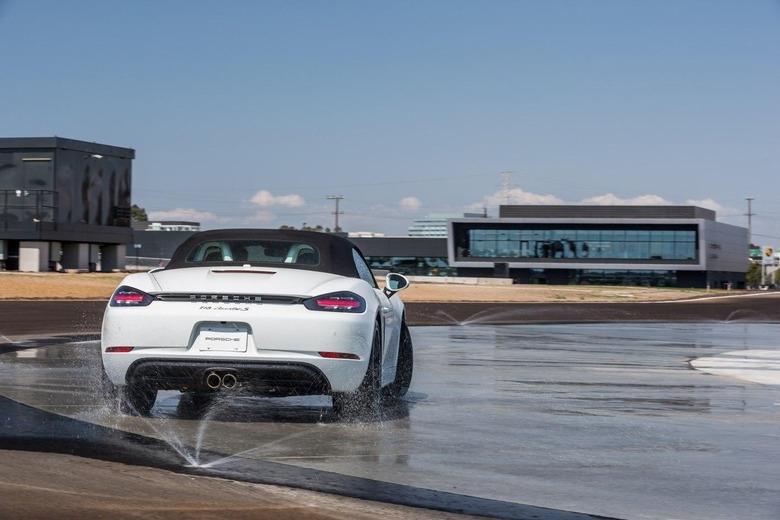 I then dragged my complaining stomach over to the Low-Friction Circle, which aims to demonstrate what oversteer can be like when you're pushing a high-power Porsche on a sloped, polished concrete surface. Another step up from there is the Low-Friction Handling Circuit: figure on the same smooth surface, but with tight curves and on-and-off camber concerns thrown in. If you've never been taught to drift, well, this is your first lesson.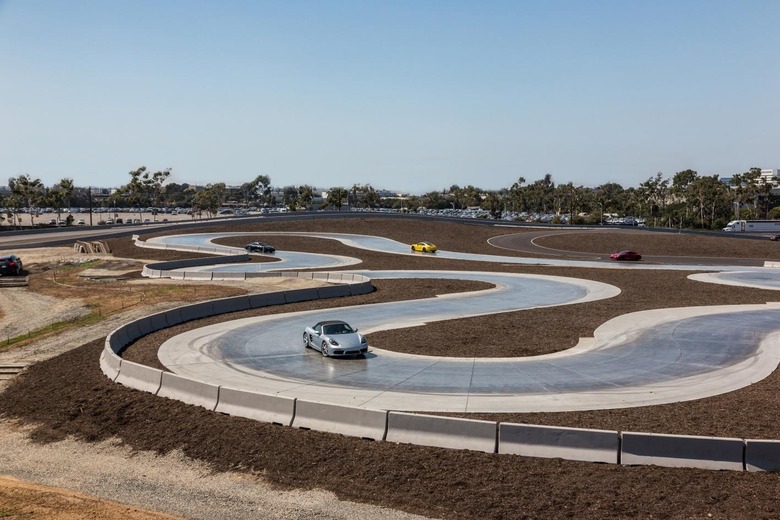 Porsche doesn't make it easy on you. The low-friction course's already glass-like surface is thoroughly wetted-down, and then you're expected to navigate several tight turns while remaining somewhat in control. It's imperative to remain calm, be quick to react, and yet smooth with your steering inputs; once you've mastered that, it's possible to use the gas to help steer the car.
Sound complicated? It is, but if you remember only one thing, it's that where your eyes look is where you're likely to end up. If you're in the middle of an icy field and there's one single tree, if you look at it even for a moment, you're going to hit it. Once you get a handle on things, you're going to walk away with the knowledge and experience of a new life-saving driving skillset. Due to time constraints, I didn't make it over to the "Ice Hill", a 7-percent slope with kinks in the middle. That, too, requires rapid hand-eye coordination to keep the car from spinning out of control.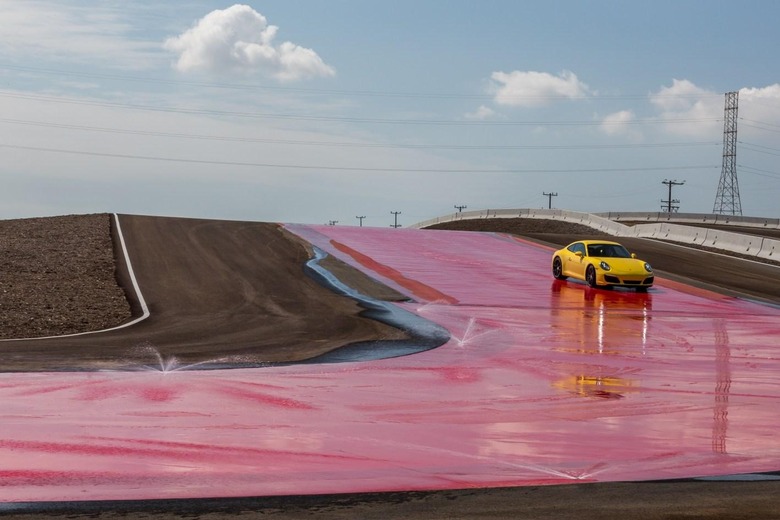 Switching gears to a Porsche 911, I took advantage of the driver development track's roughly three-quarter mile stretch of straight road, to test out the car's Launch Control. That left me positioned nicely for the course's replica of the famous banked Karussell or Carousel from the Nürburgring's Nordschleife, and an opportunity to experience some serious G-force. The main attraction, though, is the 1.3-mile handling course, designed with plenty of tight, twisty roads: very much like what you'd find in Europe. Once again, smooth is fast and fast is smooth. This part of the experience demands you look as far into the horizon as possible, while all the time being smooth with the steering wheel, gas, and brake. When you get it right, it's rewarding. When you don't, well, your co-driver – or in my case the instructor – pays for it. Be sure to check out the video below to see what can go wrong.
Finally, the designers of LA's Porsche Experience Center carved out one damn fine off-road route. Ascending up and down a 40-degree hill, taking on a gigantic teeter-totter balance board made up of logs, and driving through deep craters and rugged terrain add up to nothing short of an epic jaunt in either the Cayenne or Macan. If you thought these were "soft roaders" then you'll think differently by the end.
If you're pressed for time – or don't have your license yet – then Porsche has driving simulators too. Priced at $35 for a 30 minute experience, or $60 for an hour, they're the closest thing to the real deal with all of the various Porsche models and race tracks to choose from.
Meanwhile, there's the Speedster Café which has pretty much everything you'd expect to find in your friendly neighborhood Starbucks, or alternatively Restaurant 917 for a sit-down meal overlooking the entire track from its second floor perch.
Just like the gift shop is often the best part of a museum trip, I'd recommend saving some time to spend in the Porsche retail store. While the selection is limited versus what you'd find in a full Porsche Design store, it's the only location where you'll find all three of the automaker's brands: Porsche Museum, Porsche Driver's Selection, and Porsche Design. Various pieces of memorabilia, clothes, accessories, jewelry, model cars, books, and plenty of accessories all tug at your wallet.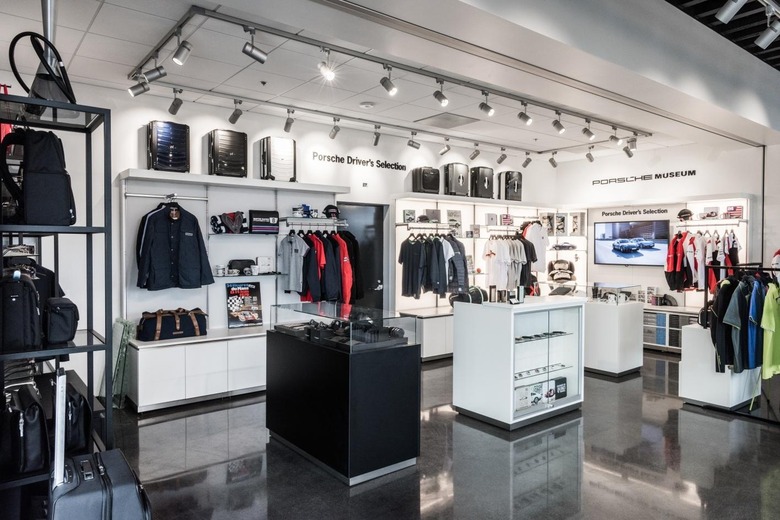 If you're a Porsche fan but can't make it out to the Experience Center at the Leipzig plant in Germany, or its counterparts at England's Silverstone, France's Le Mans, or the center in Atlanta, the Carson City PEC doesn't disappoint. Meanwhile, the automaker is expected to open its sixth Experience Center in Shanghai in 2017.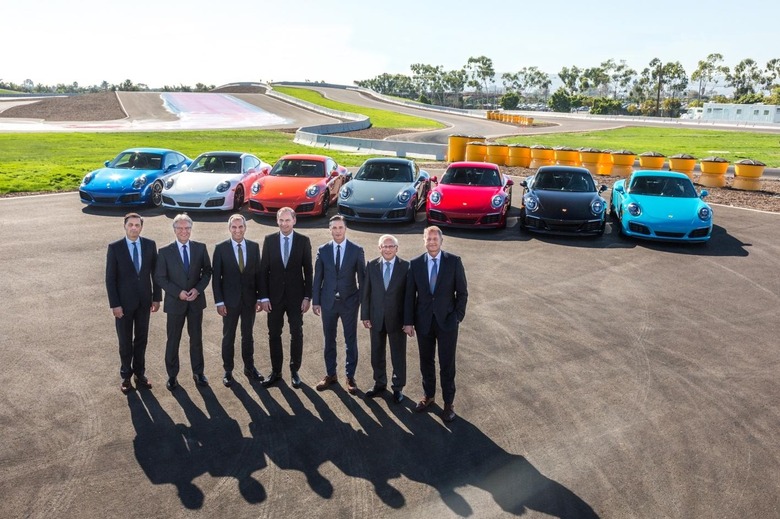 Pricing starts at $385 for 90 minutes with the Cayman or Macan S, and goes up to $950 for 90 minutes with the 911 Turbo vs 911 GT3 package. If off-road is more your thing, then the Cayenne On & Off package can be had for $440. Taking the 911 Turbo or GT3 for a spin runs $850 for the 90 minutes, while the Cayman GT4 is a little cheaper at $660. Regardless of what you decide to drive, though, I suspect you'll walk away with a big fat grin on you face. I know I did. Visit Porsche Driving for details.