A classic N64 shooter is coming to Nintendo Switch next month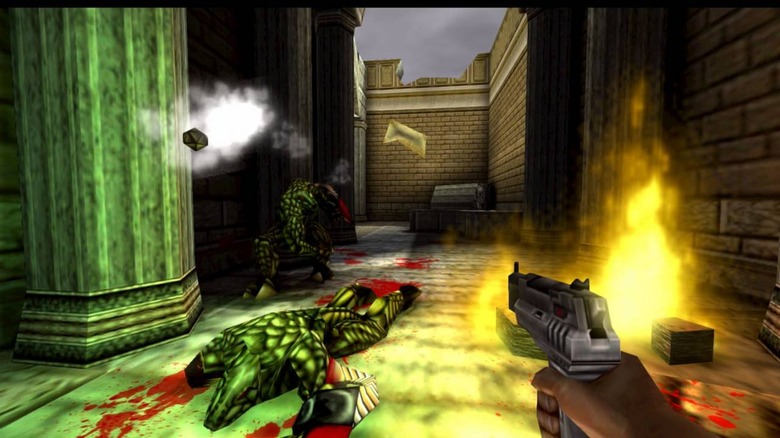 It isn't controversial to say that the Nintendo 64 was home to some excellent games, specifically a few really good shooters. It's been revealed that one of those shooters – Turok 2: Seeds of Evil – will be heading to the Nintendo Switch next month. If you'd like to take a walk down a memory lane that's filled with dinosaurs and over-the-top weapons, then you'll soon have your chance.
Nightdive Studios has revealed that Turok 2: Seeds of Evil will be landing on Nintendo Switch on August 9th. Nightdive is the studio behind the relatively recent PC remasters of both Turok: Dinosaur Hunter and Turok 2, which were pretty well received upon release. The version of Turok 2 will indeed be the remaster, so you'll be able to look forward to various improvements for modern platforms.
Turok 2: Seeds of Evil available August 9th: https://t.co/CEMmTHsHwS via @NintendoUK #retrogames

— Nightdive Studios (@NightdiveStudio) July 30, 2019
Some of the enhancements that were made to the PC version included improved graphics, a revamped UI, and some of quality of life changes that include the ability to save anywhere and improved enemy AI, so we'll probably see those in the Switch version too.
Nightdive has already brought the original Turok over to the Nintendo Switch, so though Turok 2 is only listed on the UK eShop at the moment, it's likely we'll see it launch here in North America as well. Pricing for Turok 2 hasn't been revealed yet, but the original game runs $20 on the eShop, so we can probably expect the same price point for its sequel.
So, there you have it: if you have fond memories of playing Turok 2 on the N64 back in the day, you'll soon be able to relive them. Both remasters are already available Xbox One, so now that the Switch is about to be taken care of, maybe it won't be long before we see these two games come to PS4? Stay tuned.