Samsung U.S. Got Hacked: Here's What We Know
Karlis Dambrans/Shutterstock
If you are a Samsung customer based in the U.S., you might have inadvertently fallen victim to a hacking incident. The South Korean electronics major recently sent emails to thousands of its U.S. customers notifying them about a possible security breach involving their servers. In the emailed statement — a copy of which has also appeared on the company's support website — Samsung confirms that personal information belonging to come consumers may have been compromised during the hack which supposedly took place near the end of July 2022.
While a team of cybersecurity experts continues to investigate the incident, Samsung has notified law enforcement agencies about these developments. The Korean company came to know about the security breach during a routine investigation. Upon widening the scope of the investigation, it became apparent that personal information belonging to some of its customers was "affected" in the breach. Following a quick, preliminary evaluation, Samsung swung into action and took swift steps to ensure the security of all affected systems.
With several Samsung users confirming the receipt of the email, it seems that Samsung has chosen to send emails about the incident only to consumers it knows were affected by the security breach. For the same reason, you can heave a sigh of relief if you happen to be a Samsung USA customer and are yet to receive an email from them informing you about these developments. 
What kind of data was breached?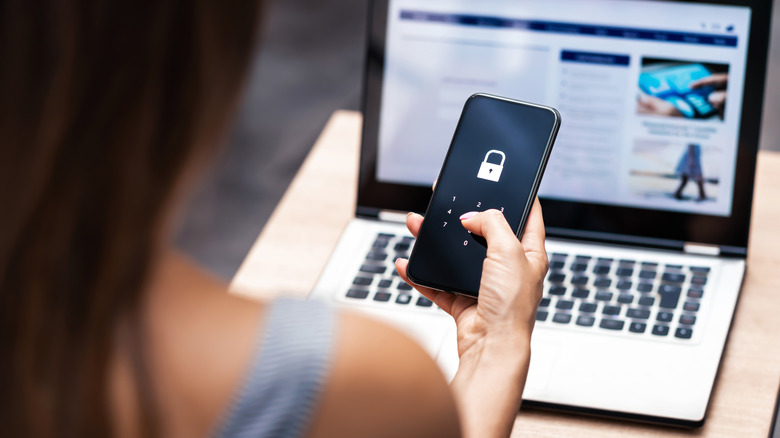 Tero Vesalainen/Shutterstock
On the FAQ section of the page, Samsung quickly clarifies that the hacker was unable to siphon off data pertaining to Social Security Numbers, credit card /debit card details, and other sensitive data stored on Samsung's servers. However, the section does talk about the likelihood of the hacker gaining access to other important information. These range from name, contact numbers, and date of birth-related information — to product registration details — all of which were saved on the affected Samsung servers.
Through the FAQ section, Samsung also wants to make it amply clear to U.S. consumers that the data breach incident has no bearing on the overall security of Samsung-made smartphones. These devices continue to remain as secure as ever, Samsung claims. Despite this, in the interest of consumer safety, Samsung has asked its users to take all necessary precautions before divulging personal information on dubious web pages.
Samsung also asks users to always remain cautious of clicking links or downloading attachments that they don't know the contents of. The company also asserted that it will take all possible measures to avoid such incidents in the future. Although it remains to be seen how successful Samsung would be, given that the company said something on similar lines following a similar incident a few months ago.