99.7% Of People In The World Still Have Not Bought A Tablet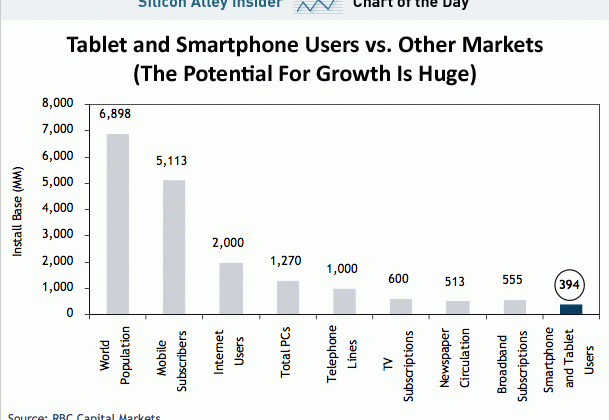 With all the rage that is the Apple iPad 2 and rival tablets such as the Motorola Xoom, Samsung Galaxy Tabs, HP TouchPad, to name a few, you would think that a good number of people have already bought into the whole tablet craze. But a recent report shows that the market still has plenty of frontier land to stake with 99.7% of the Earth's population not having bought a tablet device yet.
By the end of 2010, only 0.3% of the world's inhabitants owned a tablet, according to RBC analyst Mike Abramsky, who published a detailed 88-page report on the future of the tablet market. In the above chart, Abramsky compares the smartphone and tablet user base with other markets such as TV subscriptions, total PCs, and mobile subscribers.
Abramsky even goes on to detail that he predicts by 2014 Android devices will take the lead over Apple. He believes that Google's Android will take the lead with 40% market share, with Apple at 34%, Microsoft at 13%, BlackBerry at 8%, and HP WebOS at 5%. He predicts over 400 million tablet users and 185 million tablets to be sold in 2014.
[via Business Insider]