The Wildly Unexpected Way Amazon Is Using Ring Surveillance Footage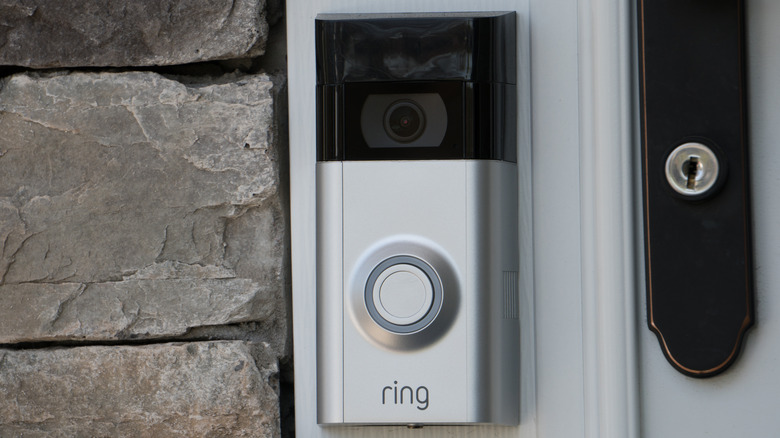 BrandonKleinPhoto/Shutterstock
Imagine a future where "America's Funniest Home Videos" falls in Amazon's pockets, but all the videos supposed to make the audience laugh are sourced from Ring surveillance cameras. As dystopian as it sounds, an Amazon-backed show that is essentially a compilation of "viral videos shared by people from their video doorbells and smart home cameras" will debut on September 26. 
Called "Ring Nation," the show will be hosted by comedian Wanda Sykes and is being produced by MGM Television, which is now owned by Amazon following a massive $8.45-billion acquisition deal. 
Emmy-winning comedian and actress, @iamwandasykes has signed on to host the unpredictable, heartwarming, and hilarious clip-series 'Ring Nation.'https://t.co/OFq5owvukv pic.twitter.com/ySrU5rVaI1

— MGM Studios (@mgmstudios) August 11, 2022
As for the content, the studio is promising viral stuff like "neighbors saving neighbors, marriage proposals, military reunions, and silly animals" (per Deadline). However, you should embrace for some cringey moments, too, because we live in a world of weird online trends where people ask their Amazon courier to dance in front of a Ring camera.
Of course, there is a high chance that you've already seen those clips floating around on social media, but a few of them might also turn out to be original. An Amazon spokesperson told CBS that "Ring Nation" will seek approval for each video from the owner and the person being shown in the video. Amazon has been criticized for fear-mongering in an attempt to market its Ring cameras over the years, and it seems that a comedy show is the next avenue to put more cameras in homes.
Whitewashing surveillance with comedy?
CC Photo Labs/Shutterstock
Amazon is not really hiding its ulterior motives behind the show. "Ring Nation" sounds like an unabashedly high-budget marketing campaign for the Ring portfolio of smart cameras and camera-equipped doorbells. "Ring Nation gives friends and family a fun new way to enjoy time with one another," says Ring founder Jamie Siminoff, who sold the company to Amazon in 2018.
The creepy aura is not entirely unwarranted, though. In 2020, EFF reported that the Ring companion app was sending data such as device hardware details, the names and email addresses of users, and sensor data to third parties.
Ring products and the related policies have garnered a bad reputation over the past few years. Already, Amazon partners with over 2,000 police and fire departments to hand over Ring footage. Amazon also gave access to Ring videos to law enforcement officials without the owners' permission.
As part of a 45-day trial project, the police department in Jackson, Mississippi, started working with two private companies to stream security footage from Ring cameras (per WLBT). In July of 2021, a group of 48 civil rights and advocacy groups urged the FTC to ban Amazon's surveillance tech. Amazon was also sued after hackers managed to breach security protocols and gain access to camera streams.