iPhone 14 May Debut In An Online-Only Event With Pro Price Hike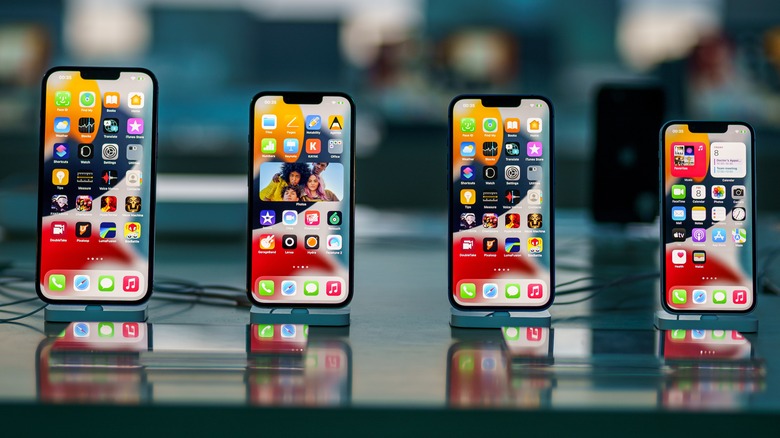 Rokas Tenys/Shutterstock
Now that Samsung has had its time in the spotlight, the mobile industry is turning its attention to the next big thing. Balancing the world of smartphones, Apple will unpack its own flagship wonders next month, though it hasn't sent invites to the press and the public just yet. It will be an interesting show, no doubt, with plenty of changes expected for the next generation of iPhones — though perhaps not all of them are good, as people will likely have to say goodbye to a favorite (but poor-selling) iPhone model. The changes in Apple's lineup, however, might also mean a change in its pricing scheme, something we will finally have all of the details about within the next month or so.
Apple often saves its biggest hardware debuts for its fall event, with September being the time for the next-generation iPhone to take the spotlight. The next Apple Watch series will arrive alongside it, of course, and it might also be joined by a new entry-level iPad. That said, Apple also has a separate event for new Macs and iPad Pros, and the iPad 10 could make its debut then instead.
As for the iPhone 14 series, Bloomberg alleges a September 9 date for the big announcement. Apple will probably start taking pre-orders then as well, but the first batch reportedly won't actually be released until September 16. Despite reports about supply chain issues over the past two months, analysts predict there will be no negative effect on schedules and supplies, so iPhone 14 would-be owners can rest assured that they will likely get their order in time.
The iPhone 14 lineup may ditch one model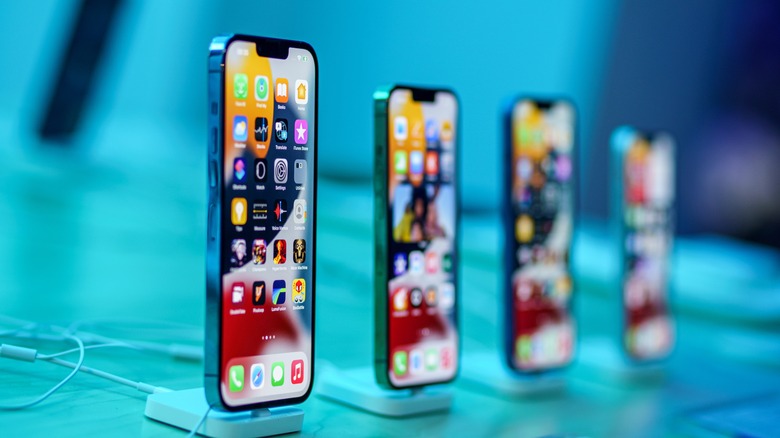 Rokas Tenys/Shutterstock
The iPhone 14 will bring plenty of changes this year, but most of them are apparently being reserved for the Pro models. The base models are also expected to feature a big change, but not one that some people will like — Apple may finally say goodbye to the 5.4-inch iPhone mini and go in the opposite direction by introducing a non-Pro iPhone Max. While that would be a tragedy for those who love small iPhones, it would also consolidate Apple's smartphone collection and make it easier for buyers to understand what's available.
The next-generation iPhone lineup will reportedly have two 6.1-inch models and two 6.7-inch models split between base and Pro lines. While there will be some upgrades across the board, the biggest changes will no doubt be seen on the iPhone 14 Pro and iPhone 14 Pro Max. The most visible will be — at least according to the rumors so far — the switch to a pill-shaped cutout, which would mean finally ditching the bucket notch that debuted with the iPhone X in 2017. New and improved cameras will likely be found inside the iPhone 14 Pro models, too, as well as a faster processor.
These upgrades won't come without costs, however, and Apple may have buyers shoulder some of that. An investor note shared by Philip Elmer-DeWitt claims the Pro models will experience a $100 price increase. The current iPhone 13 Pro already starts at $999 and the iPhone 13 Pro Max begins at $1,099, so that would be quite a significant price hike. Apple is also expected to increase the storage in these iPhone models to make those figures easier to swallow, but it may still cause some interested buyers to pause when deciding which of the four iPhone 14 models to pick.