Samsung Galaxy Z Flip 4: First Impressions Of The Latest Foldable Phone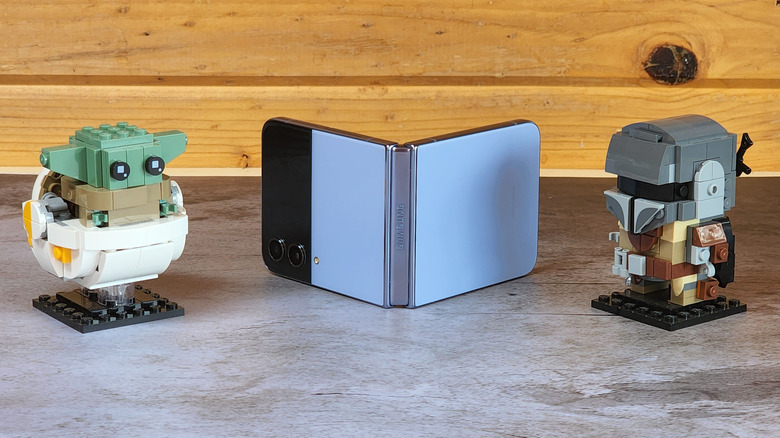 Adam Doud/SlashGear
We may receive a commission on purchases made from links.
Yesterday, Samsung unveiled its latest generation of foldable smartphones in the Samsung Galaxy Z Fold 4 and the Galaxy Z Flip 4. A full review of the Z Flip 4 will come next week, but since this is my first experience with a Flip, I wanted to share some initial thoughts. I reviewed the Galaxy Z Fold 2 for my podcast in 2021 but up until now, I'd never played with a clamshell-style foldable. I have to admit, I see the appeal.
For those of you not familiar with the Samsung Galaxy Z Flip 4, it's a great little phone that doesn't take up a lot of room in your pocket or your bag. It closes in on itself, protecting the inner folding screen, instead relying on a small outer screen to display things like notifications and widgets. When you want to interact with the phone, you open it up and it becomes the full-sized black slab of a phone you're familiar with. Otherwise, it's a tiny square that fits easily into just about any pocket.
First, let's talk about nostalgia. Clamshell phones were a hit decades ago, and this phone hits me right in the feels. There's just something fun about opening a phone to accept a call and closing it when you're done. The fact that you can still get that full smartphone experience is just the cherry on top.
Keeping it closed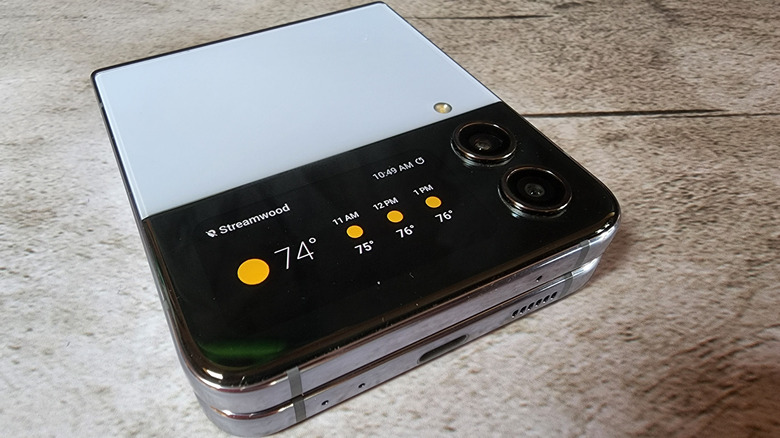 Adam Doud/SlashGear
What's hard to get used to is the idea of your phone being closed most of the time. That's the point of the cover screen, and it works well with the ecosystem of devices you may have around you. When I moved into the Galaxy Z Flip 4, I also paired up my Samsung Galaxy Watch 4, and paired it up with my Anker Liberty 3 Pro earbuds — $130 at Amazon at the time of this writing — and I was ready to go. Right away, while on a bike trip, my phone rang in my pocket, I saw who it was on my watch, and I took the call using my earbuds. This is not a unique experience by any stretch of the imagination, but it's an experience that was seemingly made for the Galaxy Flip, and I'll be honest, I was geeked that I got to experience it on my first day using the phone.
One thing that struck me on my first day of using the phone was just how smart the interactions with the phone are. For example, with the phone closed, you can access your quick toggles from the cover screen. That includes the flashlight — which is why I access quick toggles much of the time. When you're holding the Z Flip 4 closed with the cover screen facing you, the flashlight also faces you. So, rather than blinding you out of the gate, when you tap to turn on the flashlight, the phone tells you to turn it around and press the volume button to turn the flashlight on and off. Smart.
Kicking it old school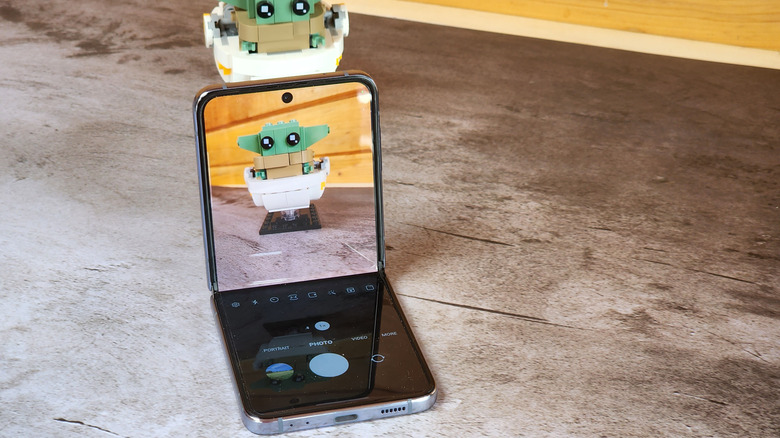 Adam Doud/SlashGear
When you're shooting video with the phone, you can have the phone half open and hold it by its bottom half, which is a much more comfortable way to hold the phone in that scenario. It's reminiscent of the olden days when camcorders were a thing. Of course, you can't talk about the Flip without also talking about using the phone as its own tripod. That allows you to shoot stable video, take selfies with the main camera, and experiment with different angles while shooting. I haven't had nearly enough time with the camera to draw any conclusions on it just yet, but it's very similar to the Galaxy Z Flip 3, at least on paper, so check out our review of that phone to get an idea of what you'll get.
Speaking of using the Flip when it's closed, when you're playing media, you can control that media with the cover screen and volume buttons. Another smart implementation here is that when the phone is closed, the volume buttons are flipped because of the orientation of the cover screen. You can also double-press the power button with the phone closed to open the camera, but it uses the cover screen to preview the camera. You can touch the cover screen to take a photo, wave at it to trigger a photo, or just point in the general direction of your subject and press a volume button to capture.
More to come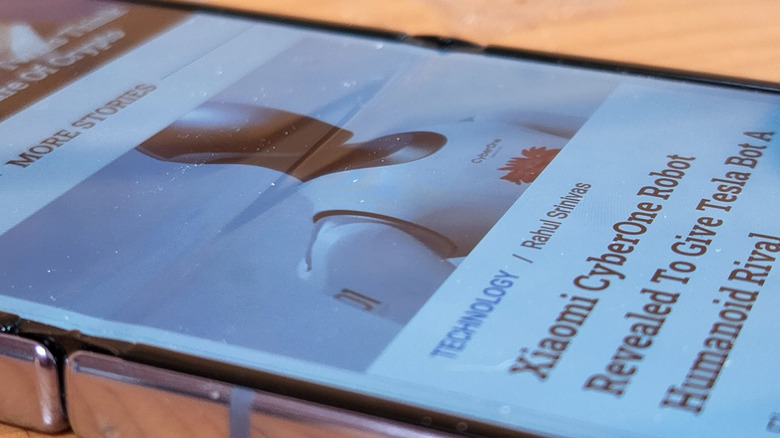 Adam Doud/SlashGear
Moving on to the inside display, the ultra-thin glass feels good to touch and move icons. It's very similar to glass, but not quite there. The inner screen is also a bit of a dust magnet, which quickly gets irritating. But let's get to the part you want to hear about — let's talk about the crease.
Oh, you bet it's there and noticeable. The screen discolors a bit at the crease, but that's just physics. Light behaves differently at different angles and no amount of UTG can fix that. All that being said, if you're looking at the phone head-on, it's far less noticeable. Really the only question that you have to ask yourself is whether or not you'll care. Personally, I don't.
The hinge gap is still there, and I still don't like it. I get that it's incredibly hard to get rid of, especially when you're trying to eliminate the aforementioned crease. Like the crease though, it'll either bother you or it won't.
Finally, Samsung included a feature that can't yet decide whether I think it's neat or just a gimmick, but when you have the phone half-open and launch an app, you can choose to launch that app on the whole screen or just the top portion. The bottom half can turn into a trackpad/mouse, or adjust the brightness or volume, grab a screenshot, or open the notification shade. The latter two feel a bit like Samsung realized it only had three useful functions to put down there, but thought it needed two more.
Lots more to come!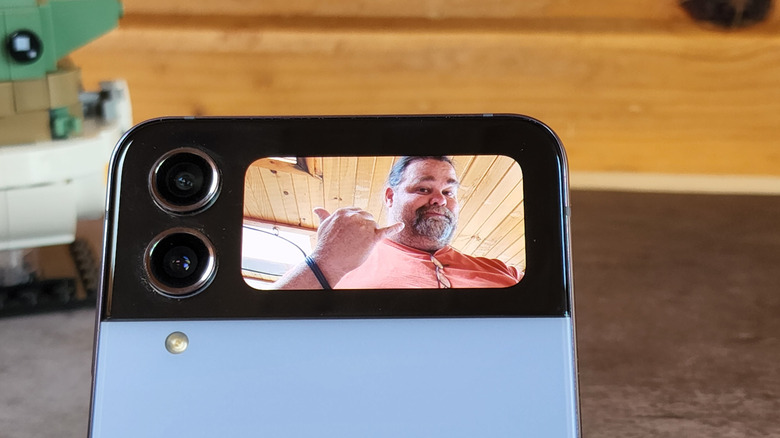 Adam Doud/SlashGear
I've got a lot of playing around with this phone before my review next week, but one final note about it is that the opened phone feels much taller than a typical phone. The 6.7-inch screen has an aspect ratio of 9:22, which makes it a tall boi. Also, since the hinge is in the middle of the phone, the power button/fingerprint scanner is pretty high up on the phone too. If you have small hands, you might want to set up face unlock.
One final note: I encourage you to check out the community of folks around foldables, the Galaxy Z Flip and the Fold in particular. Reddit is a treasure trove of cover screen animations, tips, and tricks you can do with your foldable. I have only barely scratched the surface so far, but if you own a foldable, be sure to check it out. It's absolute gold.
It's been a fun 24 hours, and I'm looking forward to the coming weeks and months as I really lean into the foldable space. There are some good ideas here, but it'll take me a while longer to figure out if they're worth the premium. If I were a Galaxy S23 Plus product manager, I'd be a little nervous.