Razer DeathAdder V3 Pro Gaming Mouse Serves Up Improved Optical Sensor In Lighter Package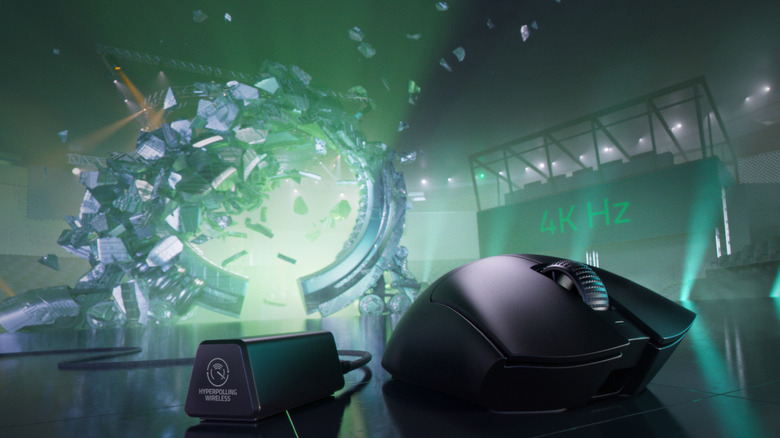 Razer
Professional esports players and shrewd PC gamers can both be particular about their gaming mice of choice. Weight, switch quality, maximum DPI, RGB lighting, and even the number of configurable buttons can contribute to the overall quality of a given mouse, and this means it's important to find the right balance of each. Razer is well-known for providing a variety of high-quality gaming mice, and some of its offerings such as the Viper Ultimate gaming mouse are so popular that they've earned their own video game-themed spinoffs.
If you're building or purchasing a new gaming PC and you aren't quite at the pro level, it's still worth treating yourself to a high-performing gaming mouse that offers a set of features not totally unlike that which the pros are looking for in their gear. Even if you're just a casual gamer, you may want to look into gaming mice like the Razer DeathAdder V3 Pro, which can grant you a pristine wireless PC gaming experience with 30,000 DPI Focus Pro 30K Optical sensors and fully-optical switches rated for up to 90 million clicks. If you're not familiar with what either term means, the mouse is highly receptive and slick-feeling on the pad, and is also responsive when you press your finger down on the front panel to click the mouse itself. It also qualifies as an ultra-lightweight mouse, weighing in at only 63 grams. 
Unlike its predecessor, it lacks the ability to sync up over Bluetooth. You can use the previous V2 Pro to play games like "Final Fantasy 14" on your PlayStation 5 from the comfort of your couch, but not the V3 Pro. Just make sure you choose the right Bluetooth keyboard to pair it with. 
DeathAdder V3 Pro may be the best mid-level wireless gaming mouse since the V2 Pro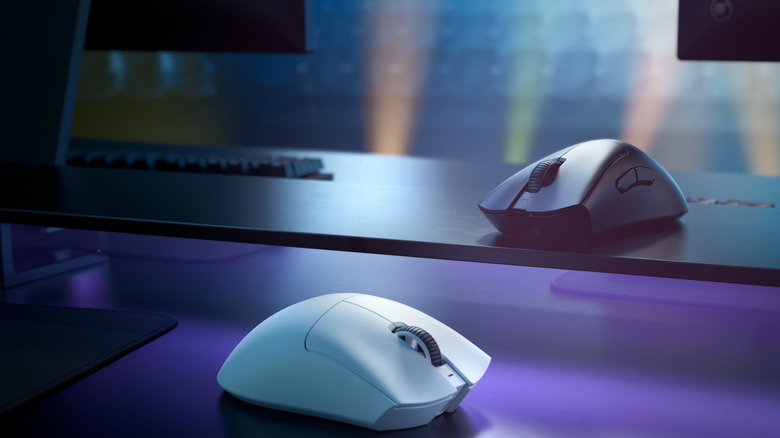 Razer
According to a reviewer's guide released by Razer on August 11, there are plenty of simple albeit iterative improvements on the V3 Pro over its 2020 predecessor. The most notable change is the switch-up from 20,000 max DPI to 30,000, a nearly 50% increase in sensor speed that means gamers using the V3 Pro will rock a far wider range of scroll speeds than their counterparts. Don't be fooled: a higher max DPI can be turned down to far lower settings, offering a smooth scrolling experience that could aid in certain games that demand precision, such as "League of Legends." It could also aid in first-person shooter games like "Counter-Strike: Global Offensive," in which faster reflexes mixed with precise DPI settings can be highly beneficial (via USA Today).
The DeathAdder V3 Pro appears to be missing some features, like the aforementioned Bluetooth support. It also lacks RGB lights (and by extension, RGB lighting control) but in place of those missing perks, the V3 Pro appears a bit more modern in general. For example, whereas the V2 Pro charged on Micro USB, the V3 Pro uses the industry standard USB-C cable for its charging needs. Razer claims that the ergonomics are a bit more suited for long gaming stretches, but as a result it also has a few less buttons — six in all, as opposed to eight. If you keep it in 1000 hz polling mode, Razer promises a 90-hour battery life before recharging, but this mouse can even reach a 4000 hz polling rate, which translates to a mere 0.25 milliseconds of input delay in wireless mode. No pricing details have been announced by Razer yet.