A New Gmail Is Here, And You're Going To See Some Big Changes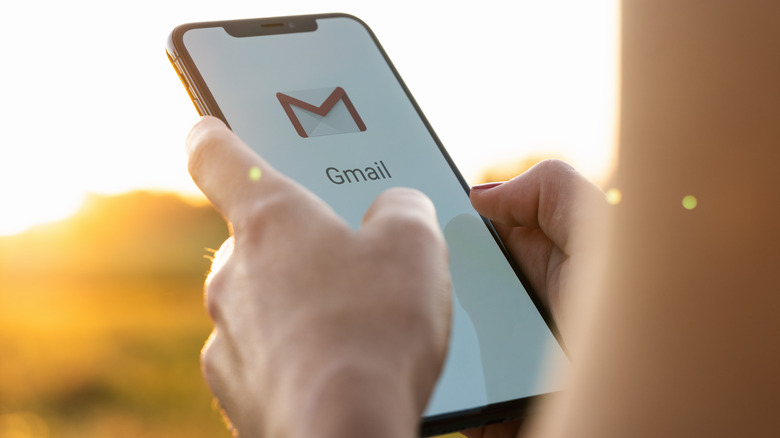 r.classen/Shutterstock
It has happened again: Gmail has just received a huge update, and undoubtedly, many people are soon going to have an opinion on it. You may have noticed the changes yourself if you've already checked your email today, and if not, it's possible that the tidal wave of updates hasn't quite hit your shores just yet — but it's coming, so it's best to get ready. In the new Gmail update, Google addresses the fact that many people now use the full range of Google tools as opposed to just email, including messaging and video calls. As a response to that, it's combining Gmail, Google Chat, and Meet into one view in an effort to simplify things.
In the announcement, Google reflects on the fact that Gmail has been around for a whopping 18 years, and that it has made great strides with the (once very barebones) web email client. Google says that it has always aspired to help people around the globe stay connected and productive, and as a follow-up on that mission, it seems to have combined parts of Google Workspace into Gmail, all with a slightly refreshed design that may have taken you by surprise.
Google showed off the new design in a quick video that takes the viewer on a trip down memory lane. Titled "The evolution of Gmail," the trailer shows the changes Gmail has gone through over the years, from the basic HTML view of 2004 to the more integrated, comprehensive design we've been seeing in some shape or form since 2012. Let's take a look at what's new in the 2022 Gmail refresh.
Subtle design changes, but more integration
Google refers to the new update as an integrated view and guides the users on the path to making the most of it. You'll have to enable Chat in order to see the changes. Once the update arrives (which may not happen immediately, but should happen shortly), use Google's Quick Settings to pick the apps that you want to see on the left side of your Gmail window. This can be limited to just Gmail if you want to keep things simple, but you can also add Chat, Spaces, and Meet.
The left side of the screen will now feature more than just other Google apps. You'll be able to add your own labels alongside the already existing Starred, Snoozed, and Important to quickly sort your emails. Further down, you'll see conversation bubbles from your Chat feature, including small snippets of incoming and outgoing messages. You won't even have to open the whole message to reply — you can just choose to send a quick response through the main Gmail window.
Aside from the new design that appears a little softer than the previous iteration, Google also makes it easier to find past emails with the addition of search chips. The company also promises to deliver a Gmail overhaul for tablet users later this year, including new accessibility features and emojis. Don't worry, though — if you don't love the way the new Gmail looks, you can always turn the new design off in the settings.