How Driverless Delivery Vehicles Really Work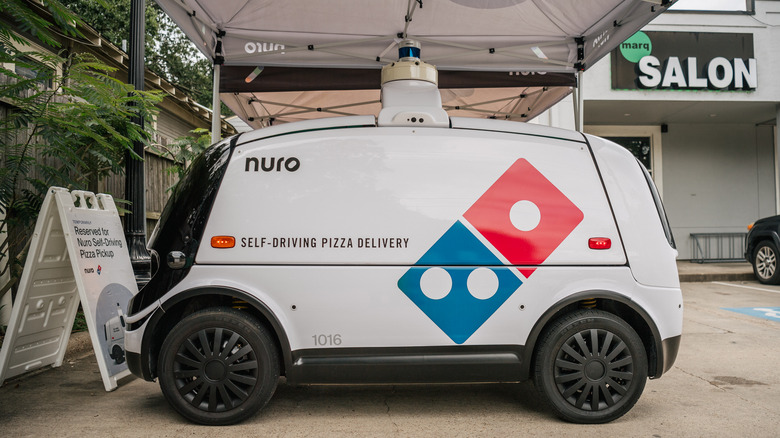 Brandon Bell/Getty Images
The electric revolution is in full swing and has opened the doors to an autonomous, self-driving future. Today's modern cars are capable of Level 2 autonomy using an array of ADAS (Advanced Driver-Assistance Systems) driving aids like adaptive cruise control and automatic emergency braking, to name a few. However, legacy automakers like Mercedes-Benz, General Motors, Ford, and BMW are forging Tesla's path in perfecting Level 3 autonomous driving.
Self-driving cars are just a stone's throw away from production reality, but there's a new breed of electric vehicles making waves for their innovative applications of self-driving technology. We're talking about a silent (literally) revolution led by driverless delivery vehicles. Online retail giant Amazon acquired self-driving startup Zoox in 2020 for $1.2 billion to deploy autonomous vehicles for ride-hailing services.
Meanwhile, driverless delivery vehicle maker Nuro raised $600 million in funding in late 2021 and signed a five-year partnership with Google Cloud to further hone its products. In January 2022, Nuro presented its third-generation driverless delivery vehicle and called it the most advanced and safest zero-occupant vehicle the company has ever made.
The future of retail deliveries
Nuro began partnering with Walmart in 2019 and CVS Pharmacy in 2020 to deliver groceries and medicines to customers in Houston. Then in April 2021, Nuro sealed a partnership with Domino's Pizza to provide freshly baked pies to Houston-based clients. Moreover, Nuro was the first autonomous vehicle to operate legally on public roads despite having no windshields and side mirrors. It all sounds fine and dandy, but how does everything work?
The newest-generation Nuro has a compact, driverless footprint that takes up less road space. It may be small, but it has compartments to hold nearly 500 pounds of groceries. The storage compartments have heating and cooling functions to ensure food stays hot or cold while in transit. The vehicle has a modest rear-mounted electric motor and a substantial battery pack that lasts a full day of deliveries from a single charge (per Nuro). 
Driverless delivery vehicles: How do they work?
The Nuro gets around town using cameras, LiDAR, and radar which provide a 360-degree view of its surroundings (per Nuro). Customers can place their orders online and use an app to track their orders. The customer will receive a security code when the vehicle arrives at the curbside. Then the final step is to enter the security code on the side-mounted touchscreen to open the cargo compartments and reveal the goodies inside.
Driverless delivery vehicles like Nuro are making lives more accessible and economical by eliminating the need for in-person errands. It also helps curb CO2 emissions by operating with zero emissions and using 100% renewable electricity to recharge the batteries. "Five years ago, we set out to build an autonomous vehicle and delivery service designed to run errands, giving people back valuable time," said Dave Ferguson, co-founder and president of Nuro (via Business Wire). "With the introduction of our new flagship model and the ground-breaking of our new production facility ... we are excited about the opportunity to fulfill our vision of improving everyday life through autonomous delivery at scale."