Your Future Electric Car May Be Powered By Samsung Batteries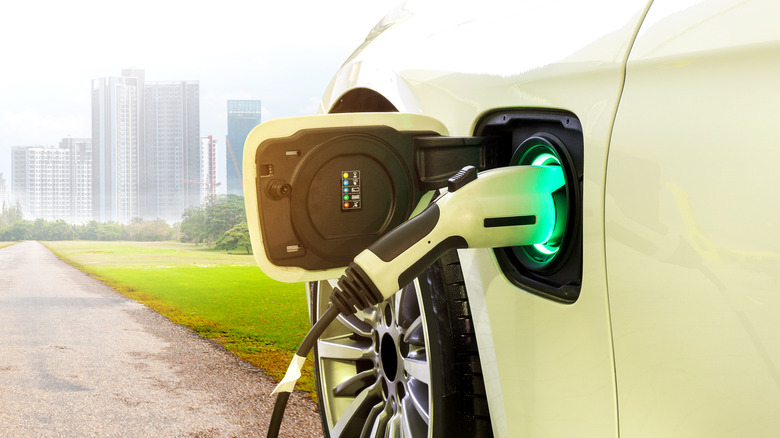 Smile Fight/Shutterstock
Even though Samsung is a global conglomerate known to manufacture everything ranging from smartphones and gadgets to ships and camera sensors, the brand might not be the first you think of when you're looking at electric vehicles — or anything related to EVs in general. However, the growing interest in EVs around the world seems to have piqued Samsung's interest, and the company appears to be increasingly involved in expanding its presence in the EV space.
The first indication of Samsung's newfound interest in EVs came to light earlier this month after it was reported that they were in talks with Tesla to become one of the EV maker's camera suppliers. While we do not know yet whether the Samsung-Tesla would go through, we can say with some degree of confidence that Samsung has big plans as far as the EV and battery space is concerned. Samsung is also in the final stages of supplying BMW with OLED screens for an upcoming premium sedan. Now it would seem that Samsung's interests are expanding again.
Everything to know about Samsung's $1.3 billion battery factory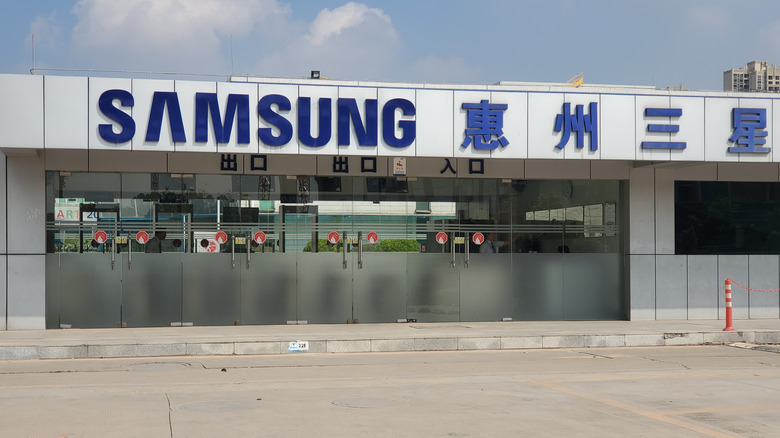 Chintung Lee/Shutterstock
According to a recent Reuters report, Samsung is setting up a $1.3 billion factory in Malaysia to make cylindrical batteries — the same kind widely used in EVs. When complete, it will become Samsung's second battery-making facility in Malaysia, significantly increasing its battery-making capacity.
The Reuters report states that Samsung's upcoming battery factory will come up in the region of the Seremban area, located just south of the capital city of Kuala Lumpur. The plant will be built in stages, with the first batteries from the facility likely to emerge in 2024. Samsung estimates to complete the construction of the plant by 2025, following which the facility will churn out batteries at full capacity.
While Samsung maintains that the batteries made at this facility will be used for various applications, including power tools and micro-mobility products, a good chunk of these batteries may likely end up on EVs. The Samsung subsidiary involved in the business of making batteries is called Samsung SDI. The company already has a presence in the battery space with plants located in countries including South Korea, the U.S., China, and Hungary.
Samsung, which has been developing two cylindrical battery types for the past few years, could use this upcoming Malaysia plant to not only diversify its battery business but also increase its capacity to churn out batteries at a much faster pace. By Samsung's own estimates, the company intends to increase its production capacity from the current figure of 20 PPM to more than 300 PPM. The new factory in Malaysia will help the company achieve this target faster.