Here's When Hyundai's Robotaxi Will Hit The Road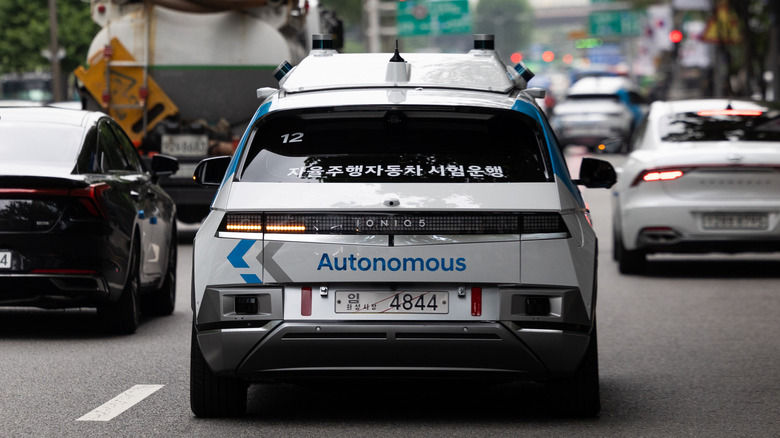 Bloomberg/Getty Images
Made possible by Motional, a joint venture between Hyundai and Aptiv, the all-electric Ioniq 5 robotaxi will combine the Hyundai Ioniq 5, which has been critically acclaimed since its debut, and advanced driverless technology. According to Venture Beat, Motional and Aptiv both have a 50% stake in the company. For the joint venture, Hyundai reportedly invested $1.6 billion and other resources while Aptiv offered its technology, IP, and team. Since then, Motional has strived to give people the freedom of mobility by making driverless vehicles safe, reliable, and accessible.
After two years of operations, Motional launched the world's first robotaxi pilot in 2016. In a Tech Crunch report, Motional confirmed the delay of its shared services plans due to the COVID-19 pandemic. However, initial tests in Las Vegas proved successful as customers booked private, self-driving BMW 5-series robotaxis through the Via app. With more than 100,000 rides, Motional claims an impressive zero at-fault accident rate and 98% five-star reviews. Now the company has finally revealed when the robotaxi will hit the road.
The future of driverless cars with the Ioniq 5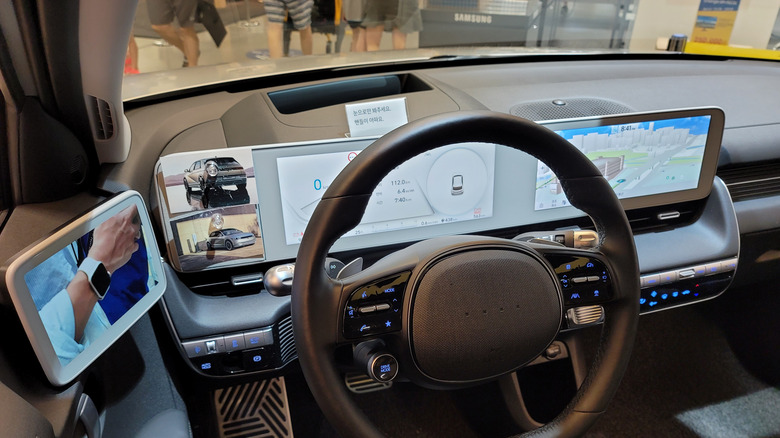 Geewon Jung/Shutterstock
Hyundai has announced that the Ioniq 5 robotaxi will be available starting in 2023 worldwide. Aside from being used as personal vehicles, there are already plans for the Ioniq 5 to play an important role in the future of AVs. In 2021, Sarfraz Maredia, Uber VP and Head of Uber Eats in the U.S. & Canada, announced a partnership with Motional for its delivery services. A press release published in May 2022 explains that the automated delivery model pilot program lays the groundwork for transporting commercial goods.
"Autonomous delivery signifies the next phase of Motional's commercial roadmap. This service will provide the learnings and experience needed to make Motional the trusted AV provider for on-demand delivery networks. We're proud to partner with Uber on this important milestone and begin introducing Uber Eats customers to autonomous technology," said Abe Ghabra, Motional's Chief Operating Officer (via PRNewswire). 
Lyft Autonomous General Manager Jody Kelman also mentioned the ridesharing giant's plans for the robotaxis in its network through a first-of-its-kind partnership with Motional. In a Wall Street Journal report, Lyft revealed that it expects to roll out its fully-driverless robotaxis throughout major U.S. cities as early as 2023.