New Volkswagen Amarok Pickup Revealed, And It's A Lot Like The Ford Ranger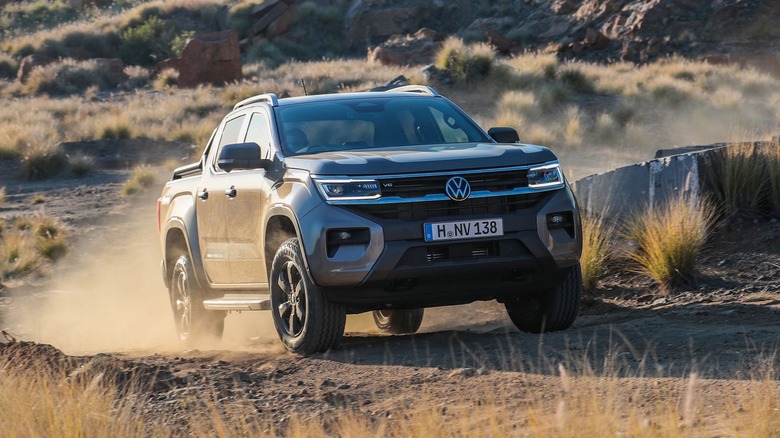 Volkswagen
Volkswagen has finally come out with the second-generation Amarok to the delight of car enthusiasts in Europe, South America, and Africa. This release followed a 12-year-long wait for the next Volkswagen Amarok pickup truck, which has become a popular vehicle across Europe for its powerful twin 3.0-liter V6 turbocharged direct injection diesel engines offering up to 268 hp and 428 lb-ft of torque. This new 2022 Amarok was first teased all the way back in March 2021, complete with the potential for a standard release in the United States. Unfortunately, now that finalized release details have been shared, it would appear that this new Amarok isn't likely to show up in dealerships in the United States any time soon.
Volkswagen and Ford have been in a partnership with one another since all the way back in June 2018, when the companies initially sought to explore what they described as a "strategic alliance." This meant sharing essential resources and technologies in the pursuit of developing commercial vehicles together. Since then, the two colossal manufacturers have expanded their partnership to include electric vehicles and self-driving cars. As this high-level alliance remains in play, it makes sense that both the 2022 Volkswagen Amarok and the 2022 Ford Ranger look very similar in terms of internal mechanics and chassis design since the technologies used in both models borrow heavily from one another.
Volkswagen's new pickup isn't just a rebadge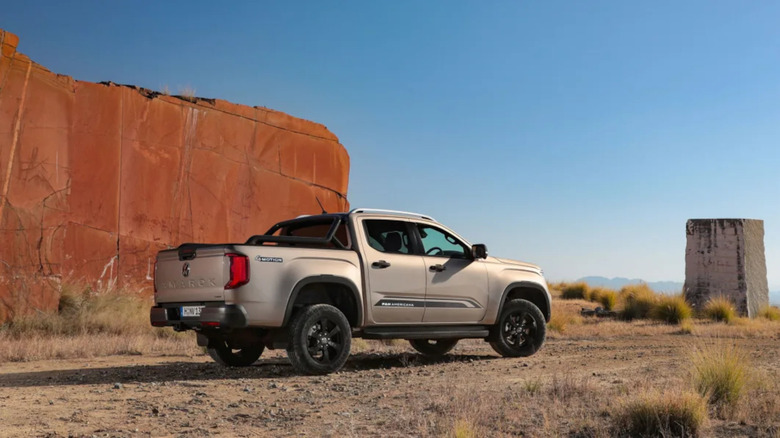 Volkswagen
The Volkswagen Amarok looks like a rebadge of the 2022 Ford Ranger at first glance, but despite the similar appearance and internals borrowed from the latest Ford Ranger, the second-generation Volkswagen Amarok is still very much a Volkswagen at heart. Though fans of the original may be elated (or disappointed) to find VW has completely eschewed the design of the first-gen model in favor of a longer, slightly taller, slightly narrower ride built from the ground up with a more spacious interior and a longer wheelbase.
Provided you live in one of the markets where the vehicle is available, you'll soon be able to purchase the new Amarok either as a single or double cab, but it seems like both bodies stretch just shy of four inches (3.8 in, to be precise) longer than those of their previous-gen predecessors. The wheelbase itself has been extended by almost seven inches, while the width of the pickup is down by about an inch and a half. It's a bit taller as well, but only by a negligible half-inch.
The 2022 Volkswagen Amarok is set to roll out later this year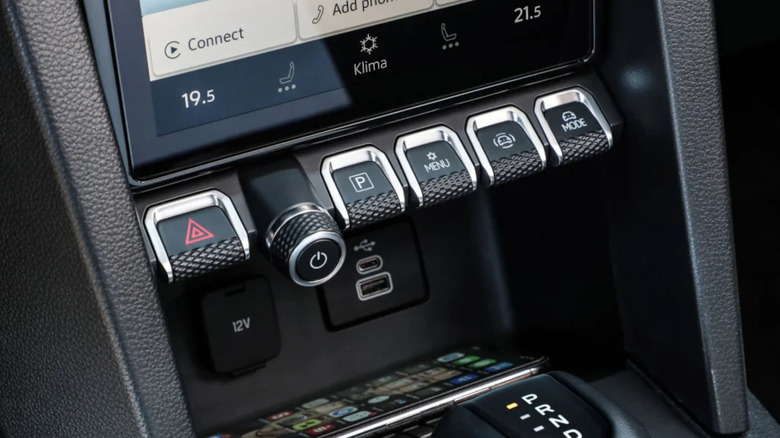 Volkswagen
The 2022 model seems to come with a range of options in new turbodiesel engines as well as just one option in a turbocharged gas-powered engine. The top-tier diesel engine offered in the Amarok lineup is a turbocharged 3.0-liter V6 that can push 250 hp and a whopping 442 lb-ft of torque, but the 2.3-liter four-cylinder gas engine (302 hp and 333 lb-ft) may be familiar to fans of the 2022 Ford Ranger. It sounds like the Volkswagen 4Motion AWD system will come to the Amarok in two variants: part-time 4x4 and full-time 4x4, with an extra RWD option. Though the engines and transmission options available to you will depend on which market you purchase your vehicle in.
For now, it sounds like we'll need to wait until at least September before the 2022 Volkswagen Amarok rollout begins in earnest, though it was technically released on July 7. No further pricing information has been released by the manufacturer thus far, but we do know that the vehicle's primary markets will be in Europe, which is where we expect to see dealerships gradually begin to receive the second-gen Amarok as the year progresses.