2022 BMW 230i Review: On The Shoulders Of Wee Giants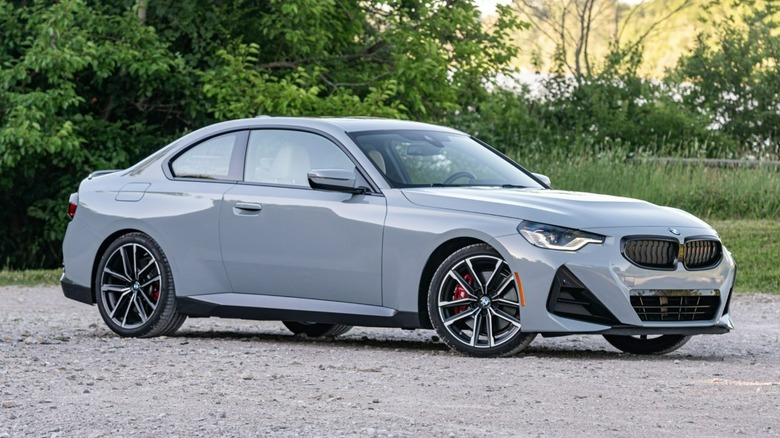 Chris Tonn/SlashGear
When considering the BMW brand, it's hard to ignore the extremes. Those top-trim models with badges like M and Competition dominate the headlines with lots of power, as well as making eyes water with their significant sticker prices. Middle-aged bloat makes these cars bigger and heavier, and in return they require buckets of power to reach the performance numbers demanded by those chasing numbers.
Big power, big numbers, and big money are not what made BMW legendary, though. No, the reputation of the Bavarian automaker was burnished with compact sedans and coupes such as the iconic 2002. The vast majority of these earliest BMWs were not wild, near race-spec cars (or crossovers for that matter) barely tamed for the street. Instead they delivered genuine driving enjoyment without demanding much of the driver.
This 2022 BMW 230i Coupe is a refreshing change from the absurdity afflicting the range toppers throughout the lineup. Moderate power, a comfortable ride, and a rewarding driving experience once defined entry-level Bimmers. Here, it almost feels like a throwback to a simpler time.
Coupe? Or Gran Coupe?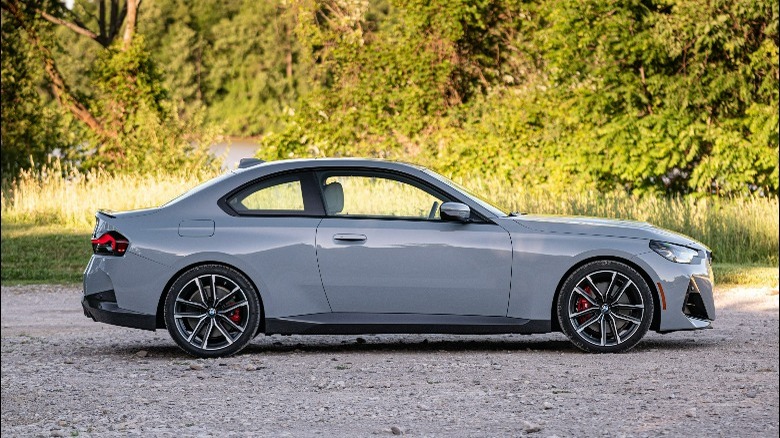 Chris Tonn/SlashGear
For those keeping score at home — or furiously clicking away at the automaker build-and-price tool — there are two distinct versions of the current 2-series BMW. This coupe you see on these pages is something of a traditional BMW, with a longitudinally-arranged engine and rear-wheel drive (although xDrive all-wheel drive is an option).
The four-door model seen elsewhere is the 2-series Gran Coupe, even though the word "coupe" is generally defined as a two-door vehicle. That car has a transversely-mounted engine like a front-drive car; indeed, the 2-series Gran Coupe shares a platform with the Mini Countryman. These are two completely different platforms divided by a common badge.
Interestingly, while this 2-series coupe shares a layout with the majority of BMWs to come before, it's not built in Germany. This car is built for all markets in the BMW factory in San Luis Potosi, Mexico, and in two flavors. My test vehicle is the 230i: rear-wheel drive with a two-liter turbocharged four cylinder engine. The other coupe on this platform is the M240i xDrive (there's that superfluous letter again) with a turbocharged three-liter six and all-wheel drive.
Performance on tap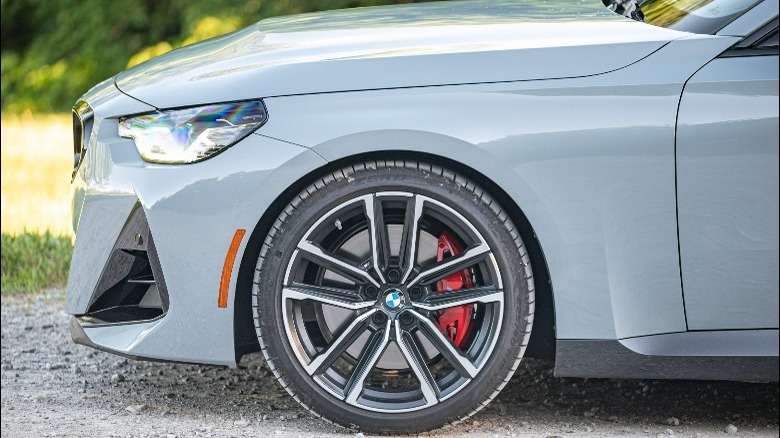 Chris Tonn/SlashGear
The two-liter engine in this 230i produces 255hp and a healthy 295 lb/ft of torque. The M240i, conversely, yields 382hp and 369 lb-ft from the turbocharged inline six. Both engines are exclusively paired with an eight-speed automatic transmission.
For the enthusiasts following along, those power figures might look familiar. Indeed, these are the same engines offered in the BMW-derived Toyota Supra. You could make an argument that the 2-series is basically a Supra with more upright styling, and it might not be that much of a stretch. Many have noted, too, that it seems BMW horses are larger than most, and that the 255hp is likely under-reported.
Those same enthusiasts might screech about the lack of manual transmission. Indeed, this is one area where my nostalgia trip to the Seventies and Eighties doesn't quite hold up; it's hard to beat the manual for driver engagement. And yet, the eight-speed gearbox in this 230i is one of the best torque converter-based transmissions I've ever experienced. Shifts both up and down are quick, yet smooth. I never found myself wishing for a different gear. I never felt the need to even grab the well-placed shift paddles to drop a gear for passing or to power out of a corner. It's that good.
Subtle muscle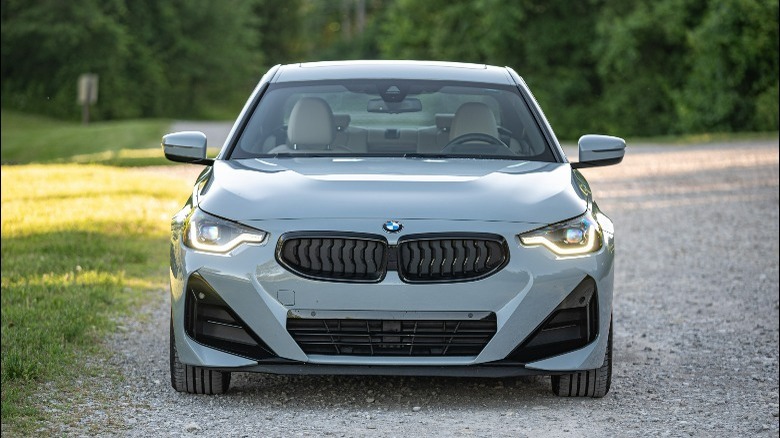 Chris Tonn/SlashGear
It seems that BMW has, of late, been daring shoppers to ignore a bevy of frankly garish styling touches, each one more outlandish than the last. The signature twin-kidney grille, once a simple pair of chromed rings inset upon a rather traditional face, has now become a meme of its own, expanding in size seemingly large enough to devour small children.
Mercifully, the 230i has been spared the Kenworth-scale mouth. Here, the look is understated and unadorned. The grilles, in fact, have electrically-actuated flaps to open and close based on cooling needs, leading to improved aerodynamics when closed.
Overall, the 230i is handsome, with the classic long hood/short deck proportions emphasizing the performance intent. I especially dig the muscular look to the rear quarters, subtly flared over the wide rear tires.
Comfort and convenience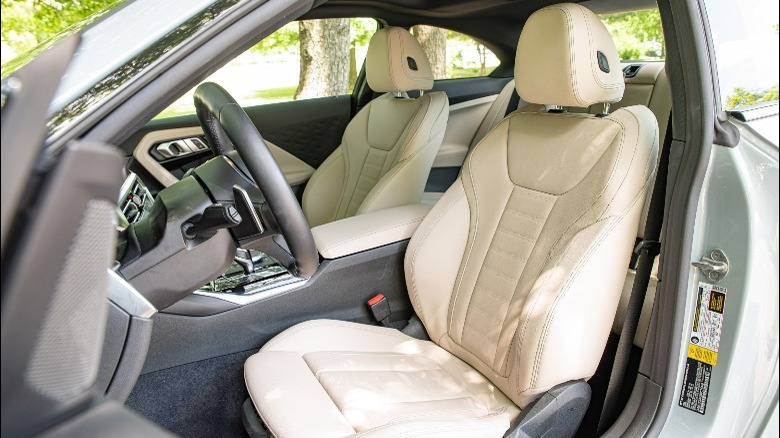 Chris Tonn/SlashGear
In most — not all, a caveat I'll explain shortly — BMW models I test, I briefly ponder whether the automaker will notice if I unbolt a driver's seat and keep it for my own. The number of adjustments available make it simple to find a position allowing me to both relax and to maintain perfect control of the vehicle, and the 230i is no exception. Having extendable thigh bolsters, for example, is one way to keep my legs from going numb over a long drive, and I could easily drive this BMW across the country without pain.
The crazy M and Competition-labelled cars will, on occasion, be fitted with seats just barely more civilized than the one-piece Kevlar shells used for all-out motorsport. The last M4 I drove left me with bruised thighs for weeks after, simply from the pinch of a seat too narrow for this cheeseburger-loving American. Yeah, it made awesome noises and flew through the corners at obscene speeds, but I would often weigh my interest in driving against the likelihood of eating an entire bottle of ibuprofen thereafter to manage the pain. No such non-steroidal anti-inflammatory calculus is involved when choosing to go for a drive in the pain-free 230i.
iDrive is no longer an issue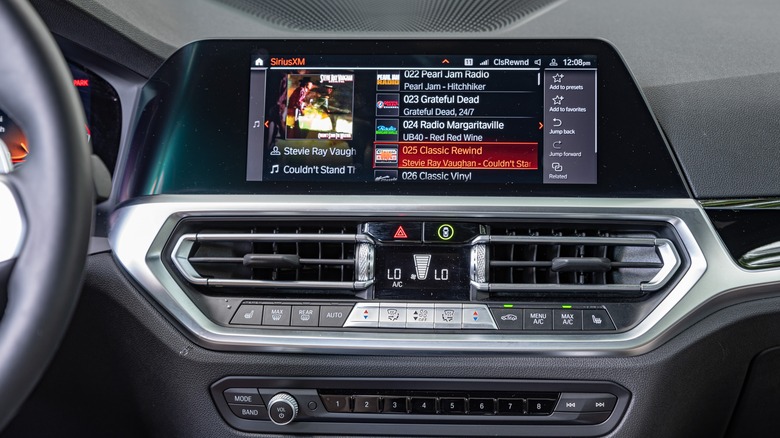 Chris Tonn/SlashGear
For those who haven't driven a BMW for a few years, let me tell you something: iDrive is good now. In it's seventh generation, it's evolved from a glitchy, impossible-to-manage infotainment control boondoggle into a well-adjusted, intuitive system that is clear and pretty easy to use. Standard wireless Android Auto and Apple CarPlay are quite welcome here, too, with a layout across the optional 12.3-inch screen that allows for both nav and music to be displayed side-by-side. The optional Harmon Kardon 14 speaker audio system fills the cabin with clear, loud music.
I'm impressed, too, with the accommodations in the rear seats. While at 6'4" there is absolutely no way I'm spending any time in the back seat, both of my teen daughters stretch to about five feet seven inches (and growing) and they managed to sit there without complaint. While I don't recommend a two-door four-seater for a growing family — the long doors make egress from tight parking spaces more of a challenge than it's worth — this is a car that can manage to be more responsible than a two-seater.
Behind the wheel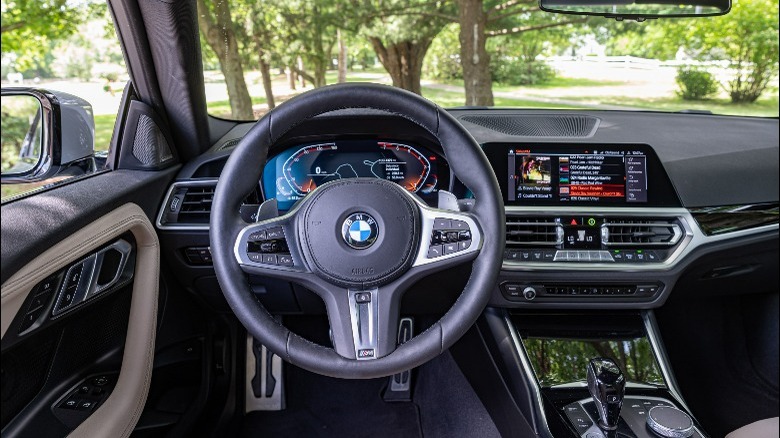 Chris Tonn/SlashGear
Should you wish to go drag racing in your 230i, BMW has incorporated launch control. With a precise dance between the driving mode and traction control button, the shift lever, and a couple of feet on the pedals, sixty is theoretically yours in 5.5 seconds. Sadly, I have neither the equipment to accurately test these numbers, nor a place to do so without jeopardizing both my license and my livelihood, but I can attest that the smallest BMW coupe gets off the line quite nicely.
I've never been a fan of the steering feel I get from any BMW. No matter the era, no matter the performance level; I've always felt that the power steering has been a bit overly boosted, numbing the feedback I get through the wheel.
The 230i is improved, though it's still not quite on par with some standouts for steering feedback like a Miata. The electric power steering here — with the optional M Sport Package that is fitted to my tester — offers a variable-assist level to firm up the wheel, and can be switched between comfort and sport modes as desired.
The Ultimate Driving Machine, indeed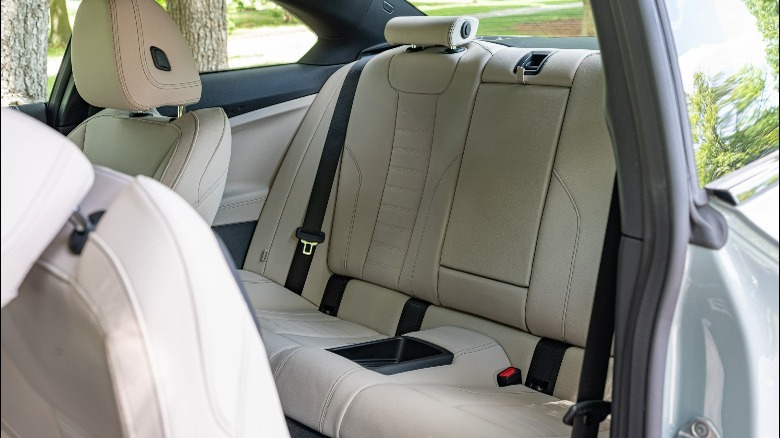 Chris Tonn/SlashGear
The beauty of this car, however, is not sport modes, launch control, nor the surprisingly big ponies beneath the long hood. The key here is balance. When a car is well balanced, it doesn't need buckboard-stiff springing, massively grippy tires, and a ton of power to permanently etch a grin onto the maw of even the most jaded driver.
Yet the suspension on the 230i is compliant and comfortable. Freeway commutes are dispatched without jarring from a too-stiff performance suspension, while the reasonably-sized optional 19" alloy wheels wear tires that – while low profile – don't feel overly firm over the expansion joints and potholes ever-present on our surface streets. This is a car that can comfortably haul you to work, then haul behind while taking the long way home should the stresses of the workday demand some apex therapy.
The EPA rates fuel economy as 26 mpg city, 35 mpg highway, and 29 mpg combined. That may be, much like the horsepower figure, a bit conservative. In mixed driving that skewed more toward the city end of the spectrum — 30-45 mph backroads in moderate traffic — I saw an indicated 33 mpg over my test period. It's neither a hybrid nor an EV, but excellent economy like that out of a car that can perform as well as the 230i does can assuage a bit of climate guilt.
Pricing starts sensibly, then spirals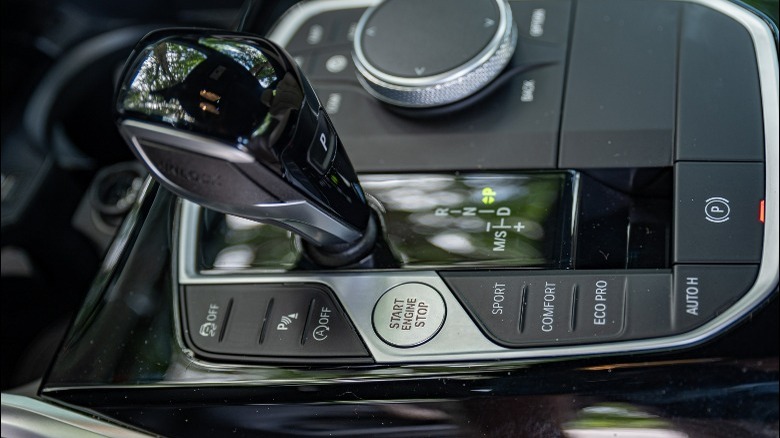 Chris Tonn/SlashGear
The 2022 BMW 230i starts at $38,350 plus $995 in destination charges. The vehicle tested here stickers for $48,945 including those destination charges – some installed options include:
$550 for Brooklyn Grey premium paint

$1450 for Oyster Vernasca premium leather seats

$1900 for the Dynamic Handling Package – the M Sport limited-slip differential

$850 for the Shadowline package (dark exterior trim in lieu of chrome)

$3250 for the M Sport package – the variable effort sport steering

$2650 for the Premium package – heated steering wheel and front seats, adaptive LED headlamps, and the Live Cockpit Pro navigation system

$875 for the M Sport package Pro – M Sport brakes, the sport-tuned transmission, Harman Kardon audio
The M240i xDrive coupe, meanwhile, starts at $48,550. You're getting more than just all-wheel drive for your $12,200 upsell, though, given the bigger engine and the trimmed 0-60 mph time.
2022 BMW 230i Verdict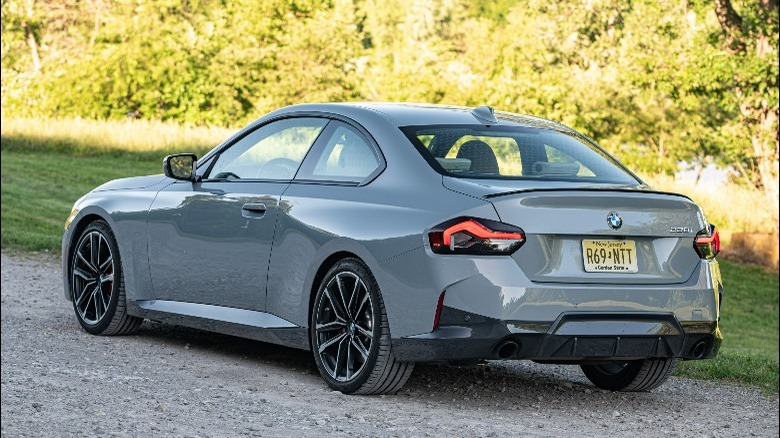 Chris Tonn/SlashGear
BMW does enjoy adding on to an attractive base price, I'll concede, but for under $50k there aren't a ton of performance car choices with this level of refinement and prestige. Toyota's Supra 2.0, for example, currently starts at $43,540: it may share the BMW's speed, but whether it holds up on those other metrics is a bigger question.
That's a matter of taste, and an argument Toyota fans and BMW fans are unlikely to settle any time soon. Similarly, I'm not here to argue that this 2022 BMW 230i Coupe should be in some automotive probate court, claiming the birthright of the icon that is the 2002. Rather, this serves only as a reminder that — no matter how far those twin kidneys have strayed from the light — the Bavarians can still deliver a genuine driver's car.