Your Samsung Phone May Not Be As Water Resistant As You Thought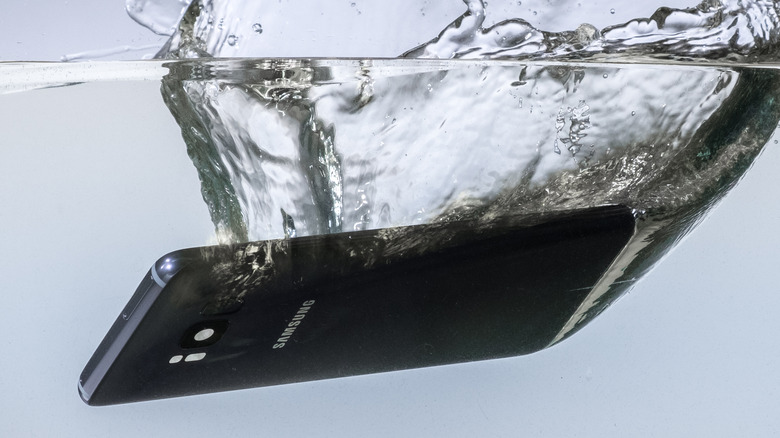 Karlis Dambrans/Shutterstock
It has become common for companies to advertise the water-resistance capabilities of many of their smartphones. The extent of water and dust resistance is usually determined by the IP rating set by the International Electrotechnical Commission (IEC); it is typically represented by the letters IP followed by two digits. Smartphone buyers have gotten used to these terms, and IP rating figures like IP57 and IP68 have been judiciously used for advertising the varying degrees of water resistance offered by gadgets.
But what happens if a manufacturer fails to deliver on its water-resistant rating claims and the consumer damages their phone? In Australia, a group of consumers who claimed that Samsung lied to them about its phones' true water resistance capabilities has successfully sued the company. Following a three-year legal tussle, an Australian Federal Court ruled in favor of the consumers and fined Samsung AUD $14 million ($9.7 million) in penalties, Reuters reports. 
According to the report, Samsung made dubious claims about the water-resistance capabilities of some smartphones it sold between 2016 and 2018 in Australia. The ruling comes nearly three years after Australia's competition watchdog — the Australian Competition & Consumer Commission (ACCC) — launched an investigation against Samsung.
Even flagship-grade smartphones were affected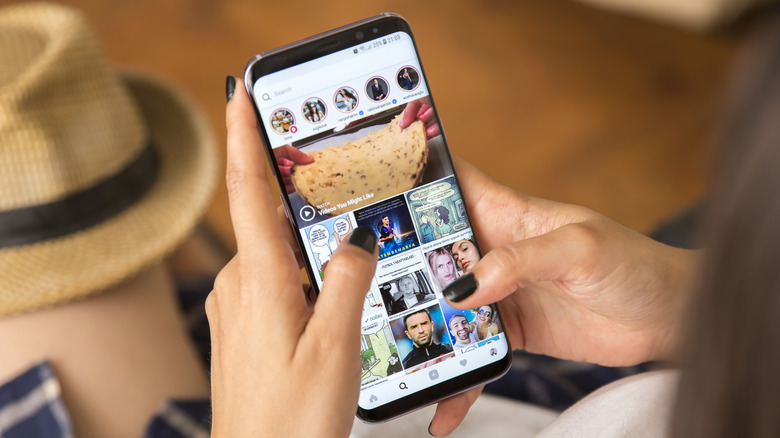 Nadir Keklik/Shutterstock
According to the ACCC, between March 2016 and October 2018, Samsung Australia authorized several marketing campaigns through Facebook, Twitter, and Instagram, as well as the company's own website, in which several smartphone models were claimed to be suitable for use in swimming pools and seawater. Among the phones sold with these claims were the Samsung Galaxy S7, S7 Edge, the Galaxy A5 (2017), Galaxy A7 (2017), the Samsung Galaxy S8, S8 Plus, and the Galaxy Note 8. In total, the ACCC estimates the company sold more than 3.1 million of these devices in Australia over a three-year period.
What Samsung's advertising campaign failed to tell users was that the charging ports of these smartphones could corrode if users attempted to charge them before they were dry. Meanwhile, ACCC Chair Gina Cass-Gottlieb said that Samsung did not warn consumers about these possible problems in the nine advertisements the company commissioned to promote the products. Several of Samsung's marketing materials from the time had images of people using these smartphones in water in a bid to further drive the notion that these devices were truly water-resistant.
Should you worry about your 2022 Samsung smartphone?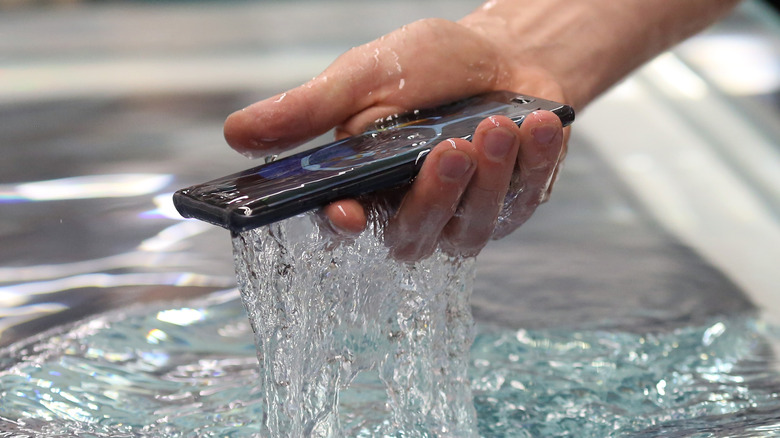 Bloomberg/Getty Images
The latest ruling against Samsung only affects very old Samsung smartphones — most of which aren't in use anymore. It does not affect any IP-rated product from the company's current line of products, including the likes of the Samsung Galaxy S22 series and many of the company's mid-range Galaxy A series smartphones. However, if you're still rocking an older S8 Plus, for example, it may be a good idea to double-check that the charging port is dry before charging the device.
A major reason for newer devices having improved water resistance is that penalties for similar offenses have only gotten stricter since 2018, according to the ACCC. Most of Samsung's alleged breaches happened before fresh amendments were made to the Australian Consumer Law. These amended laws impose greater penalties on companies indulging in similar offenses. Samsung, like most other companies, has been more careful in this regard given that the legal battle had been underway for well over three years. Nevertheless, are you an Australian citizen who owned one of the smartphones mentioned in the list above? If yes, the ACCC recommends contacting Samsung directly for any queries you may have about this.