How The Boring Toyota AE86 Became An Exciting JDM Legend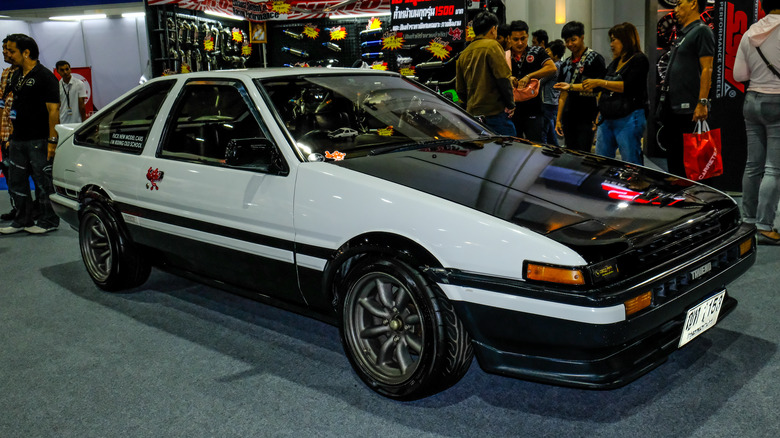 Creative Stock Studio/Shutterstock
The Toyota AE86 wasn't always known as a JDM legend. It went largely unnoticed until a sudden turn of events sent it skyrocketing to pop-culture stardom. There were a number of notable Toyota sports car models in the '80s, namely the Celica Supra, MR2 coupe, and the Corolla. While the Corolla's rear-wheel variant, the AE86, wasn't exactly as sleek as the rest of Toyota's sporty fleet, it still became a cultural icon decades after its release. So, how exactly did the dark horse manage to outshine the rest of the herd?
It all started with a man known as the "Drift King," Keiichi Tsuchiya. Aside from being an accomplished pro racer, Tsuchiya also popularized drifting, a driving technique that involves oversteering through a sharp turn resulting in a controlled skid and the maintaining of speed where deceleration would otherwise be necessary to stay on the track or avoid a collision.  
Tsuchiya later became a technical supervisor for the widely popular racing show "Initial D" (via MotorTrend). For those unfamiliar, the series features Touge racing, which involves drifting through windy mountain roads — it seemed only natural for the sport's pioneer to be involved. Tsuchiya's personal ride — a panda-colored Toyota AE86 Sprinter Trueno — was the one that served as inspiration for the series' hero car, thus giving birth to a major cult following.
The making of a JDM icon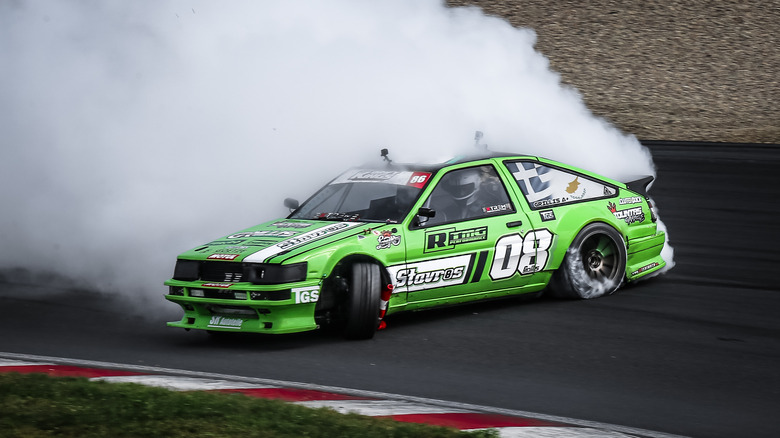 Michele Morrone/Shutterstock
The AE86 and its RWD configuration was quite an oddity in racing back in 1984, a time when FWD Corollas were becoming the norm. For Tsuchiya, however, the "Hachi-Roku," or 86, was instrumental in driving him to win. In a YouTube video interview, the Drift King revealed how badly he wanted to drive the AE86, which served as a motivating factor earlier in his career. Before Tsuchiya was even allowed to race in one, his team managers told him he would first need to win in a Toyota Starlet. He did just that and more, even winning the Fuji Freshman Series six consecutive times while driving an AE86, inspiring numerous aspiring racers in the process.
One of these inspired drivers was Japanese GT racer Manabu "Max" Orido, who said in the interview that driving an AE86 became a status symbol that represented the Drift King. Although Tsuchiya was already racing in an AE86 in the mid-80s, he still couldn't afford one of his own. His path to personal ownership included buying two crushed AE86 units and Frankensteining the parts to build one himself. 
The Initial D car that boosted the AE86's popularity
The television show "Initial D" debuted in 1995, and as the series progressed, it portrayed the AE86 as a car that could beat virtually any ride it was pitted against. The series showed an AE86 starting as a simple tofu-delivery car, but its driver's skill and tenacity turned it into a legend capable of beating much faster vehicles. Before the "Initial D" car effortlessly slid down the notoriously tight corners of Mt. Akina, Tsuchiya was already doing something similar in real life. According to his website, the Drift King honed his skills by driving down windy roads in mountain passes around Nagano Prefecture for lack of a more appropriate track to practice.
His AE86 and signature driving style eventually became synonymous with mountain pass racing and drifting in general, both of which developed equally large fanbases over time. This paved the way for numerous popular shows and competitions including "Initial D," D1 Grand Prix, and Formula D. Tsuchiya credits the AE86 for turning him into a professional, per his interview. While the AE86 is a JDM legend to many, Tsuchiya suggested that he sees it as a reminder of how he started. 
Whether you're a fan of the "Initial D" car and Touge racing, or simply inspired by Tsuchiya's iconic ride and real-life accolades, the AE86 will always leave an impression that says big things can definitely come from small packages.