The 5 Best Deals From The Meta Quest Summer Sale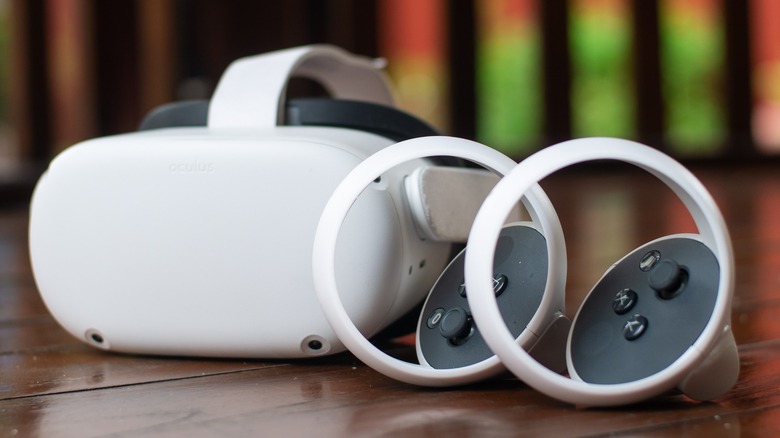 Abel Brata Susilo/Shutterstock
The Meta Quest is an amazing platform, available at a reasonable price, that has given millions of people worldwide access to high-quality VR gaming. Unfortunately, while the Quest is relatively inexpensive, the games you play on it usually aren't. They tend to retail for full price and can cost upwards of $40 each. Unlike Steam, which has sales more often than Bethesda releases "Skyrim" ports, Meta rarely puts a large number of Quest games on sale. 
The company does offer daily deals and bundles, but waiting for a big-name title or a game you've had your eye on to show up at a discount can be frustrating. Enter their Summer Sale, where discounts of up to 40% have been applied to some of the biggest games on the platform. You do need to make a bit of an impulse buy though, as the sale won't last forever: it ends on Sunday, June 29, at 11:59 PM ET. To make those impulse purchases a little easier, we've rounded up five of the best games on sale this weekend and explain why we like them.
We cheated and actually crammed more games into this list than we claimed in the title, and even then some very difficult cuts had to be made. Huge titles that didn't make our list but that are still worth checking out (especially at a discount) include "Pistol Whip," "Sniper Elite VR," "Zero Caliber," "Eleven Table Tennis," "Arizona Sunshine," "Super Hot," and "After the Fall." That additional list is still just a fraction of what's on offer, so check out the sale and pick out a bargain or two!
Population: One
One of the most popular games on the Meta Quest is available at a 23% discount, bringing the price down to $22.99. If you've ever played "Player Unknown's Battlegrounds" or "Fortnite" and thought "this game would be even better if it was happening in real life," then "Population: One" might be a must-buy for you. The virtual reality first-person battle-royale-style shooter is as close as it gets.
The gameplay usually revolves around small three-player squads, though other modes are available. The game's "Metropolis" update has just added a huge, city-style map to explore — that is if you don't get domed by a 12-year-old who is violating both Meta's terms of service and your chances of playing games with people equally middle-aged and terrible. Which you will. A lot. Community issues aside, this is one of the best VR games money can buy, and over the next few days, it will cost you less money than usual. Additional value is added through the fact that buying the Quest version will net you a free PC copy through the Meta Rift store.
If you're looking for a unique selling point, "Population: One" does actually have one. Its vertical combat system means you can eliminate your opponents from any angle you choose. You can navigate the map via a flight system, climb, or just run around the streets like you have no clue what you're doing until someone puts you out of your misery. There is a real emphasis on the climbing aspect, and you can scale any object on the map. "Metropolis," which has more square footage than the whole previous map combined, was not the only update planned, so buy it now and stay tuned for more. There are also frequent special events to keep players interested.
Resident Evil 4
The VR version of "Resident Evil 4" is a Quest port of the 2005 award-winning survival horror hit from Capcom. Players take on the role of special agent Leon S. Kennedy, who is searching a remote Spanish village for the U.S. President's kidnapped daughter when a bunch of mind-controlled villagers decide to make his day harder. If the GameCube version made you uncomfortable back in the day, the Quest version is probably going to leave you with sleepless nights. You can now absolutely terrify yourself for just $35.99, a 10% discount. That doesn't sound like a lot, but this is an entire port of the game and it's also one of the biggest titles on the Quest. If you've recently paid $10 for what is essentially a tech demo, rest assured you'll find "Resident Evil 4" a good value, even at full price.
Unlike the GameCube version, the VR title is entirely in the first person as you're standing in Leon's virtual shoes. The game also comes with an additional mode for you to play. "The Mercenaries" is a wave-based shooter with 20 levels to play through. Stand there as packs of Gandos show up to rearrange your organs. Fight them off to unlock rewards along with that sweet, sweet, sense of completion. Survival horror experiences really do get the most out of VR platforms like the Quest as the platform hijacks two of your senses in a way other formats can't. And although there are plenty of survival horror experiences and zombie-based shooters available, "Resident Evil 4" comes with a plot and atmosphere that is quite difficult to match.
Drunken Bar Fight
If you're the kind of person who enjoys causing havoc on a night out but doesn't want to risk ending up with a spell in the hospital or a police record, you can now be that guy virtually and at a discount. "Drunken Bar Fight" is 29% off until the sale ends at midnight on Sunday, meaning you can pick up the popular punching simulator for $11.99.
For those who can't grasp the clue in the title, "Drunken Bar Fight" is a game that involves going into numerous virtual venues, drinking virtual alcohol, and then attempting to clear the place out through the use of extreme violence before someone lands a lucky punch and drops you. You aren't limited to unleashing the fury with just your fists either: a variety of weapons are on hand to help you dish out punishment to various innocent revelers. The weapons include a BB gun, pool cues, a flail, bar stools, bottles, fireworks, and nunchucks.
You aren't just limited to a bar either. Six venues are currently on offer, including an alleyway, club, supermarket, police station, a wedding reception, and a recently added airport. If you're not the trouble-causing type, there is also a little roleplaying potential. Simply hanging around the virtual environment and socializing will often lead to someone taking offense at your presence and putting you in a situation where you'll be forced to defend yourself. "Drunken Bar Fight" has been continuously updated since its initial release, so the chances are you'll get more than you initially paid for if you buy it now. Four-player co-op is on offer if you have real-life friends who want to join in, too.
I Expect You to Die
If you've ever fancied yourself as a bit of a James Bond type or just like cracking elaborate puzzles, you'll be happy to know the spy-themed escape room game "I Expect You to Die" and its sequel "I Expect You to Die 2" are both 28% off during the Meta Quest summer sale.
In "I Expect You to Die," you play an elite secret agent who ends up in sticky situations courtesy of their nemesis, Dr. Zoraxis. To escape those situations, you need to work your way through a series of puzzles and dodge various deadly traps. Once you've played through the game a few times, you'll look smoother than James Bond ever did as you calmly dodge knives, deflect lasers, and defuse bombs. In all honesty, you'll get there through a lot of trial and error as you mess up and fumble around continuously. The error usually results in your death, after which the mission restarts. The game expects you to die and you will, a lot. The sequel brings you six new missions and an entirely new plotline.
These games are ideal for people who have limited space as you play them both sitting down with a little help from a telekinesis mechanic. Because you're stationary, you're unlikely to struggle with much VR sickness. As a result, "I Expect You to Die" and its successor are fantastic options for VR virgins and experienced headset users alike.
All of the VR Star Wars
Technically this is three games, but the Meta Quest Summer Sale includes the biggest range of "Star Wars" discounts since May 4. The entire three-episode "Vader Immortal" bundle is available for $20.99, which is 29% off. "Tales from the Galaxy's Edge" and its DLC pack have had 28% knocked off their retail price and are now $24.99. Finally, for those who like "Star Wars" but balk at the idea of swinging a virtual lightsaber or offing stormtroopers with a virtual blaster, there is "Star Wars Pinball" available for $17.99.
"Vader Immortal" may not be the best "Star Wars" game ever released, but it is one of the best VR experiences currently available. The main storyline sees the player, a smuggler, captured by an Imperial ship. After messing around with an artifact, Vader himself takes an interest in you. For those interested in mild spoilers (if you aren't, skip the rest of this paragraph), what follows over the three episodes is a prison break, shootout, lots of cave exploration, tomb raiding, galactic Ancestry.com, a battle involving a droid army, and a lightsaber duel with the big man himself.
The other "Vader Immortal" game mode is the lightsaber dojo, and that really is where the limitless fun begins. You get to wield a lightsaber while you're attacked from all sides by robots. Some of them shoot at you, while others engage you in melee combat. You defend yourself by deflecting blaster bolts, using the force, and just lobbing your lightsaber at things. It's great fun and endlessly replayable. "Tales from the Galaxy's Edge" is based on the Disney park with the same name; it places you in the role of a pirate-battling repairman. "Star Wars Pinball VR," meanwhile, is exactly what you think it is.