Today Intel revealed the 8th Gen Core m3, Core i3, Core i5, and Core i7 mobile processors. This release includes both the U-series (Whiskey Lake) and the Y-series (Amber Lake) primarily made for thin and light laptops and 2 in 1 form factors. This generation supports up to 4 cores in a 15W envelope with gigabit wi-fi via integrated Intel WIreless-AC 160 MHZ hardware. Inside this architecture is support for USB 3.1, dedicated quad-core audio DSP, and a whole batch of other features included in a variety of potential final products.
In the mix Intel's included embedded DisplayPort 1.4 support, 2 DDI (DP 1.2/HDMI 1.4 and HDMI 2.0a w/LSPCON), and both DDR4 and LPDDR3 2 Ch support. This new build supports Thunderbolt 3 (PCIe 3.0 +CPU DDI) and PCIe 3.0 support. You'll also find integrated Gigabit Wifi with CNVio/PCIe 3.0, and Intel Optane Memory works with PCIe 3.0 here as well.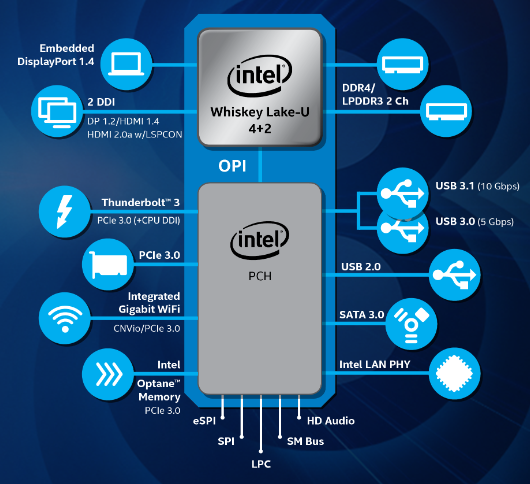 This new system (in Whiskey Lake) works with USB 3.1 (10 Gbps) and USB 3.0 (5 Gbps) support, USB 2.0, SATA 3.0, and Intel LAN PHY. HD Audio is here with other connections of several sorts: SM Bus, LPC, SPI, and eSPI. But why is all of this important for you, the end user? Why should you care that Intel is releasing a new set of processors for laptops?
Because in the very near future, laptops will have these Intel processors inside, and they'll be coming with new features that've not been offered in their respective form factors before. The most important example is probably the inclusion of Gigabit Wi-Fi with Intel Wireless-AC in thin and light laptops and 2 in 1 machines. This new generation of processors is also supposed to bring far more power efficiency to these two sorts of PCs specifically.
New U-series processors support Dolby Vision HDR and Dolby Atmos immersive audio. So watch out for far more versatile mobile-friendly laptops in the very near future – especially when it comes to entertainment.
The first 8th Gen Intel Core i7, i5, and m3 Y-series processors are i7-8500, i5-8200Y, and m3-8100Y. These builds were said to deliver "balance for mobility" and "incredible performance" somehow in the same package – aimed at "super thing-and-light devices" that'll also have "fast Wi-Fi and LTE connectivity" to boot.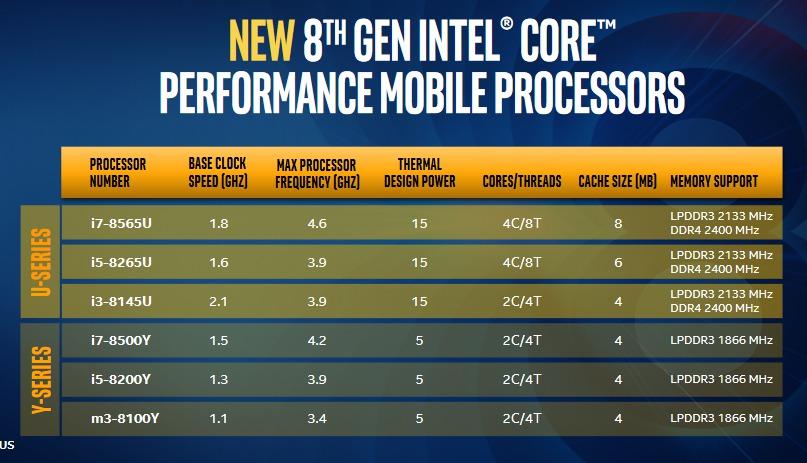 Above you'll get some idea of the processing abilities of these new bits of architecture as provided by a chart made by Intel – heed that! These processors will bring their mobile processing finesse to computers in PCs from PC manufacturers "beginning this fall." Have a peek at the timeline of other 8th-gen Intel updates in the wide, wide world of processing hardware in the timeline below.