How Much Does It Really Cost To Import An R32 Nissan Skyline GT-R?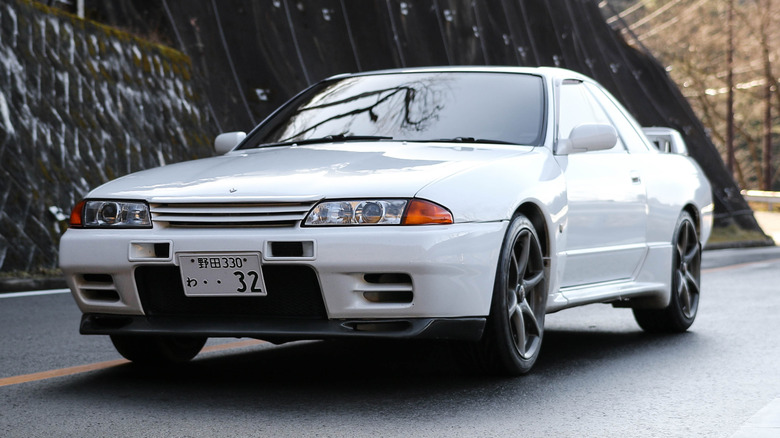 WildSnap/Shutterstock
The Nissan Skyline GT-R is an iconic part of Japanese street racing history and has had much success at professional racing events, including the Japanese and the Australian Touring Car Championships. Jeremy Clarkson of "Top Gear" once referred to the Nissan Skyline as Japan's only real contribution to the category of sports cars. It has also been featured in film franchises such as "Fast & Furious" and games such as "Forza" and "Need For Speed." The cars aren't officially available in the U.S. but if you want, you can import the BNR32 (also known as R32) model of the Nissan Skyline GT-R — but only if you are willing to spend what it takes to bring one home.
The R32 Skyline GT-R was the second generation in the range and was produced between 1989 and 2002. Because the earliest models were made 33 years ago, it surpasses the federal threshold — known as the Imported Vehicles Safety Compliance Act — that allows only cars older than 25 years to be imported into the country. However, we must warn you that a sizeable cost and a monumental amount of paperwork is required before you can call yourself a proud owner of the R32 Skyline GT-R.
Series of expensive tests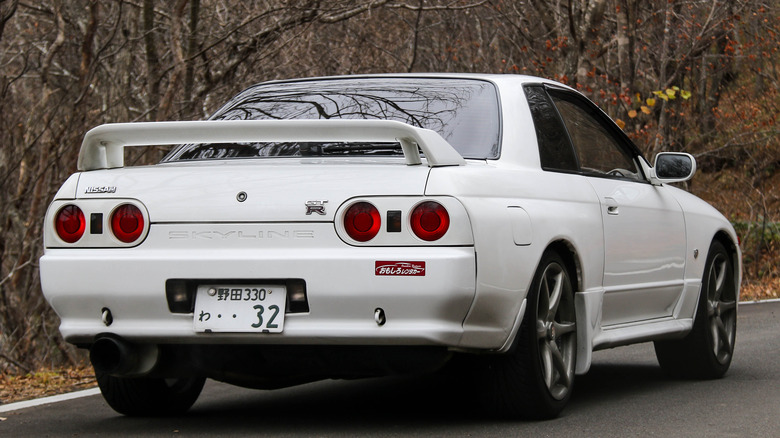 WildSnap/Shutterstock
To import any car older than 25 years — such as the R32 Skyline GT-R — it must get a clearance from the National Highway Traffic Safety Administration (NHTSA). The NHTSA lists eligible models itself, so that is the easy part, and you can get these cars easily in 48 of the 50 U.S. states, except Hawaii and California. Besides, to import a classic or vintage car that you can drive around in the U.S., it must be vetted by the Environmental Protection Agency (EPA). As per MotorTrend, the EPA rules that any car to be imported must be at least 21 years old and unmodified, which means it should be free of any upgrades such as turbo engines.
If you are in one of the two states mentioned above, there are some regulatory challenges. First, you must get California's Air Resource Board (CARB) clearance. Any imported cars built after 1975 must be taken to a lab for rigorous emissions testing, and every visit costs at least $1,500. You will be required to get a state-approved referee who will help you find a specific lab for the testing. If you fail, you will have to pay an additional $1,500 for another visit.
It's easier to buy one for display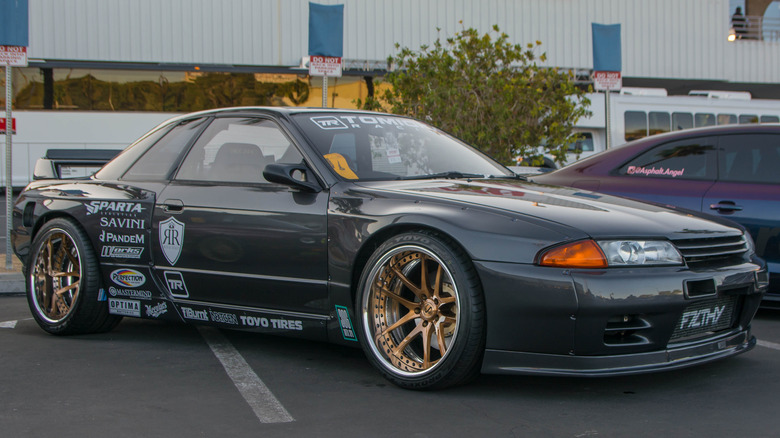 Johnnie Rik/Shutterstock
After the lab tests, there's a series of other payments waiting to pull some cash from your pocket. These charges include the Terminal Handling Charge (THD) that you pay at the arriving port for unloading a container, a tariff tax to the federal government, customs fees, and port fees. It doesn't end there, as you also have to pay bond fees, filing fees, and processing fees. You would be better off hiring a customs broker if you do not want the car to end up sitting at the dock, covered in dust and spiderwebs.
Notably, you can also get the R32 Nissan GT-R at importers such as Toprank Importers, but you will have to shell out over $10,000 (via Donut Media) over the car's price, which may seem a lot for a 25-year-old car. Meanwhile, federal laws also allow you to import vehicles that are less than 25 years old, but on the condition that they will be used only for display and not for driving. If you want to own a vehicle only for your collection, this route might be an easier way out.