EU Makes USB-C Mandatory On Phones From 2024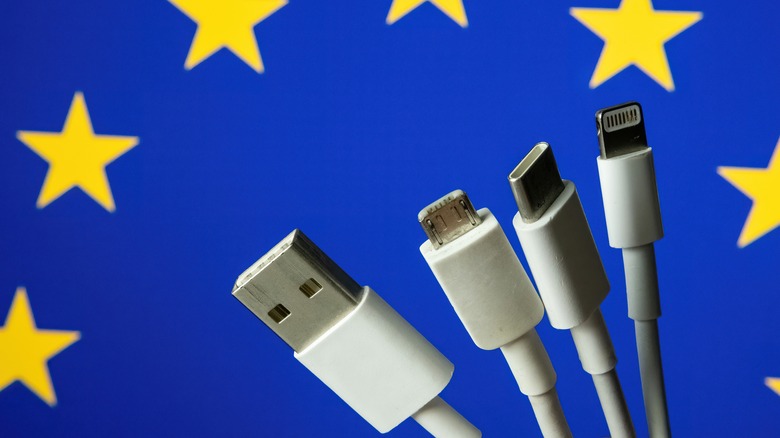 mundissima/Shutterstock
It's been almost a decade since lawmakers began urging the European Commission to consider a proposal to mandate a common charging standard for all electronic items sold in the European Union (EU). The movement has its origins in 2014 when Members of the European Parliament (MEPs) called for the European Commission to mandate manufacturers to develop a cross-platform, interchangeable charging and connectivity standard.
Much to the chagrin of users, however, the proposal remained in cold storage for nearly six years — until January 2020, when the European Parliament finally passed a resolution calling for a standard charger for mobile phones sold within EU borders. Unfortunately, this resolution remained a paper tiger as it did not have the power to coerce manufacturers into adopting a common charging standard.
That is seemingly changing today when the European Parliament and Council negotiators amended the Radio Equipment Directive to mandate a single charging solution for "frequently-used small and medium-sized portable electronic devices."
Under the terms of this directive, all manufacturers dealing with these medium-sized electronic products in the EU will be required to adopt USB-C as the common charging port by autumn 2024.
USB-C everywhere?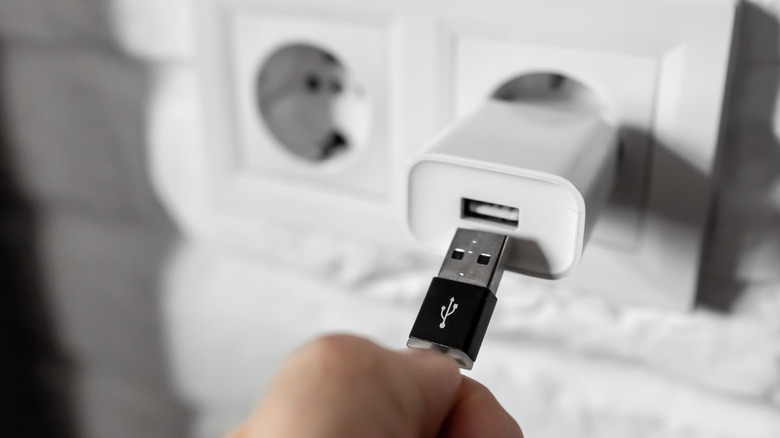 Jin Odin/Shutterstock
While the proposal for a common charging standard initially targeted the burgeoning smartphone segment, in its final avatar the directive mandates manufacturers dealing with other device categories to also adopt USB-C as their default connectivity and charging standard.
The category of devices directly affected by this directive includes mobile phones, e-readers, tablets, wired and wireless headphones/earbuds, handheld video game consoles, portable speakers, and even digital cameras. Interestingly, smartwatches, which have also been a growing category of wearables, seem to have been at least temporarily exempted from adopting USB-C as the default charging standard.
The directive also asks laptop manufacturers to adapt to the new standards within 40 months of the directive going into effect starting autumn 2024. However, given the variable power requirements for laptops that belong to different categories, it might take manufacturers much longer than 40 months to adopt USB-C as the common charging standard for all notebooks.
An interesting addition to the directive is that it mandates the charging speeds to be harmonized for all devices that support fast charging. As things stand today, smartphone brands are known to promote their own fast-charging standards — which are often incompatible with competing standards from other players.
The new directive could lead to manufacturers having to also mandatorily support an open fast-charging standard like USB-PD to ensure fast charging works as intended when their charger is used to charge a device made by another vendor.
What happens to Apple?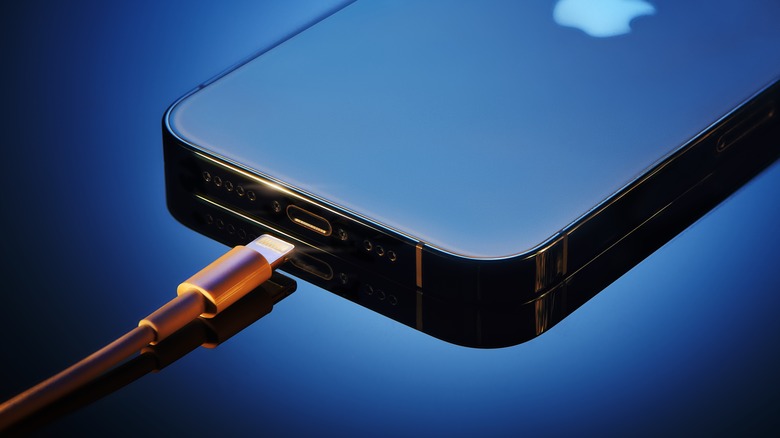 Viktollio/Shutterstock
Unlike most Android smartphone vendors who have more or less adopted the USB-C standard across the board (save for some low-end smartphones), Apple continues to use the decade-old Lightning connector even on its most recent iPhone models. Apple's existing system also makes it difficult for third-party manufacturers to make accessories for the iPhone without being officially approved by Apple.
Apple has already expressed concerns about the EU's proposal mandating USB-C chargers on its devices. The company claimed that this move would stifle innovation and exacerbate the e-waste problem the EU is trying to solve. Apple claimed that a forced move to USB-C would make millions of existing lightning port compatible accessories useless overnight — adding to the e-waste problem.
Even as Apple has reservations about an eventual move to USB-C, there have been reports indicating that Apple is already considering an official switch to USB-C in 2023 to comply with the EU mandate. While this has not been confirmed yet, there have also been talks about the likelihood of Apple completely bypassing the EU mandate by coming up with a portless iPhone that only charges wirelessly.