Why Amber Heard's 1968 Mustang Was Stolen 4 Times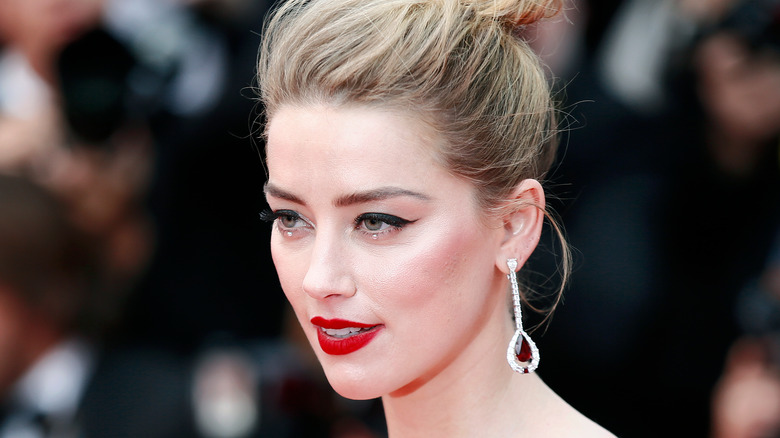 Andrea Raffin/Shutterstock
Actress Amber Heard has been undergoing a bitter divorce with Hollywood stalwart Johnny Depp since 2016 after 15 months of marriage, and the former power couple recently concluded what could be the most-watched celebrity defamation trial in recent memory. The short-lived 2015 union between Depp and Heard also unraveled their love for cars, and the actress has spoken many times about her beloved 1968 Ford Mustang.
Amber Heard is passionate about older, vintage cars. According to Drive, she used to have several classic cars in the garage, including a 1963 Checker and a 1967 Mercedes-Benz 250SL. However, the most iconic vehicle in Heard's collection is undoubtedly her 1968 Mustang. It's a first-gen pony car that got its fair share of the spotlight on the US television show Overhaulin' in late 2015, about a year before the couple called it quits on their May-December romance.
Beautiful Piece of Junk
Before celebrity auto designer Chip Foose got his hand on Amber Heard's '68 Mustang, the car was a "driveable piece of junk" or "a beautiful piece of junk," said Heard on Overhaulin'. Heard bought the car in 2003 when she was an up-and-coming actress in the City of Angels, and it "cost me every dime I had and continued to cost me for the first eight years that I lived in LA," added Heard, who refers to her classic 'Stang as Cherry Thunder.
In Heard's interview on old Top Gear by Jeremy Clarkson, she said her Texan roots had a lot to do with her love for classic muscle cars (and guns). She also mentioned that her Mustang gets "stolen a lot" and was Chery Red before it got stolen again. Before ex-husband Johnny Depp and Heard's father collaborated with Overhaulin' to stage the fourth time the Mustang got stolen, it was wearing a light gray paint before being restored to its former glory.
Fourth Time Is The Charm
Amber Heard also talked about her '68 'Stang and the many times it got stolen on Jimmy Kimmel Live. She had to upgrade the security of her vehicle each time it got stolen, but it didn't stop thieves from breaking into her car and taking it for a ride. In one instance, it was gone for over six months. On a positive note, she was able to retrieve her car after each thieving attempt, and the car got stolen a lot over her 12 years of ownership.
According to a Daily Mail report in 2011, Heard worked on her car personally after recovering it. "I park it on the street for one minute, and someone takes it for a joyride, but they always recover it," said Heard. "I just have to do the maintenance and repair the damage. My dad taught me enough about cars so that I'd never have to ask a man on the side of the road for help: I hotwire my own cars."
But the fourth time it got stolen, Amber Heard had no repair or maintenance quibbles to consider. We can't think of a better person to handle a Mustang restoration than Chip Foose, and the result left Heard in tears after seeing her Mustang in brand-new condition for the first time. After the restoration, Cherry Thunder was back with its groovy Cherry Red paint, all-white interior, and chrome Foose wheels
Where is Amber Heard's Mustang Now?
The exact whereabouts of Amber Heard's freshly-restored '68 Mustang is unknown (per Drive), but she could have sold her beloved muscle car in 2021. In her Instagram post, Heard said, "Missing my ride or die," and she shared her picture behind the wheel of her Foose Mustang.
But it's not all show and no go. Hot Cars claims the car has a new 5.0-liter Coyote V8 gas engine that churns out 420 horsepower and 390 pound-feet of torque, capable of pushing the Mustang from zero to 60 mph in 4.7-seconds, not to mention sounding like a genuine pony car. As a bonus, Chip Foose was the man behind the restoration, and it seems no cost was too high to make it look like a million bucks as every nook and crevice of the vehicle received the Foose magic. We don't know about you, but we're sure whoever bought Heard's Mustang must be grinning from ear to ear.
If you are looking to purchase a similarly high-quality, clean, restored version of this vehicle right this minute, you're likely going to need to dish out $70,000 or more. There's an example painted in Vintage Burgundy that was last sold in 2003, and a Candy Apple Red (factory color) version, both up in Laval, Quebec.
There's also a far less extravagant version of the vehicle down in Atlanta, Georgia right now for $23,900, giving us a fairly clear example of how much of an effect some fine attention to detail can have on a vintage machine such as this.