Everyone From Apple To Disney Is Rumored To Be Thinking Of Buying EA Games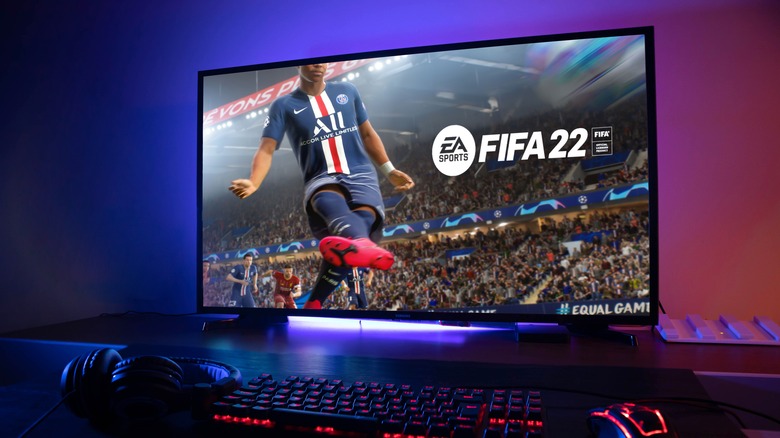 Cassiano Correia/Shutterstock
Mergers and acquisitions have become a controversial topic in the gaming industry, where it seems like just about anyone with a dream and access to Unreal Engine could get picked up by any of the gaming giants, namely Microsoft, Sony, or Tencent — and that's just to name a few. Tech giants, private holding companies, and even Disney are also dividing and conquering their own sections of the games industry, leaving no stone unturned in their quests to dominate the metaverse.
The Guardian reported in May 2022 that Square Enix sold several studios to the Sweden-based Embracer Group. The deal included studios like Crystal Dynamics and Eidos Montreal, which Square Enix sold off for an underwhelming $300 million. But that's just the tip of the iceberg. Microsoft recently began moving on its jaw-dropping Activision-Blizzard purchase, which cost the Windows company no small fee; the nearly $70 billion deal most likely broke a record for entertainment-related mergers. By comparison, Disney purchased Marvel in 2009 for a meager $4 billion (via NYT).
That said, supermassive publisher Electronic Arts — worth about $38.44 billion on the NASDAQ – has been something of a talking point for a while now. Many have taken to social media sites like Reddit to speculate on the idea of EA being purchased, and that momentum is only speeding up. In a blowout story that may not surprise those who've followed the mergers and acquisitions paper trail across the industry, Puck News reported on May 20, 2022, that EA does indeed seek to be bought out.
EA was nearly purchased by Comcast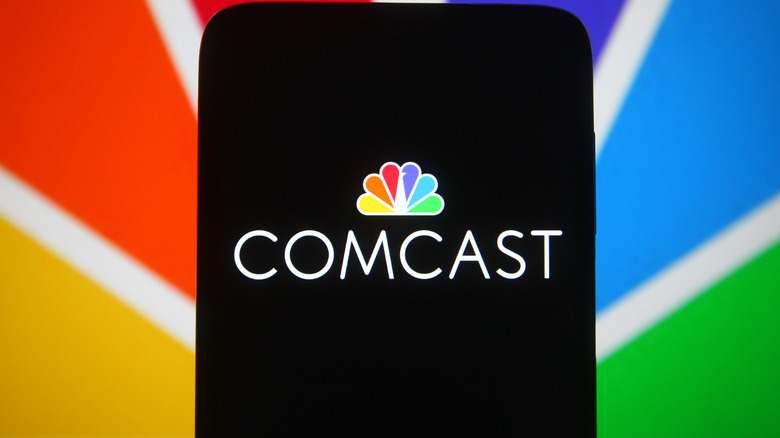 viewimage/Shutterstock
According to the Puck News report, Comcast CEO Brian Roberts reportedly considered purchasing Electronic Arts all the way back in January, when it still would have cost about $40 billion. This was apparently a response to the previously noted Activision-Blizzard buy made by Microsoft. That said, it didn't work out. As noted in the report, EA Sports Vice President of Global Communications John Reseburg stated that the company would not speculate on anything rumored about a potential merger. He pressed this point further by promoting EA's "portfolio of amazing games, built around powerful IP," but that doesn't necessarily mean Electronic Arts doesn't want a buyer.
The Puck report claims that "sources familiar" with the company's internal M&A discussions are indeed looking for ways to pursue a sale; however, it'd make sense to conclude that Comcast was simply the wrong buyer. In fact, the game publisher had apparently been in talks with Disney, Apple, and Amazon for some time, meaning that the company has the benefit of choice. All three of these companies have already made strides into gaming, albeit in a much more indirect way than Microsoft or Sony, usually licensing IPs out or, in Apple's case, catering solely to the mobile gaming market via Apple Arcade. But it's highly likely that an Electronic Arts acquisition would immediately bolster the gaming capabilities of any of the three.
EA is still looking at its options, and that means anything's possible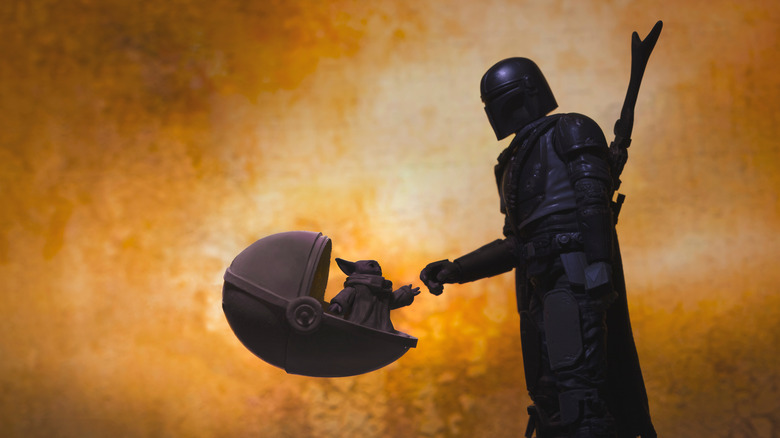 Willrow Hood/Shutterstock
The future of Electronic Arts could vary wildly, depending on which parent company acquires it — or if it even gets acquired at all. Needless to say, the Puck report simply added a plume of speculation to the already supercharged air surrounding EA's future.
However, the most likely acquirer (of the three we mentioned earlier) could be Disney, which already owns ESPN. It also licenses out some of its most fungible IPs, such as "Star Wars," to Electronic Arts and its subsidiaries. If Apple were to instead make the buy, we might expect a stronger presence of EA titles on Apple Arcade, but that seems less likely. The least likely of the three is Amazon, which hasn't had the most successful run in gaming thus far.
Puck claims that Electronic Arts CEO Andrew Wilson met with Disney as recently as March 2022, but it also indicated that there was no further information available regarding the extent of that meeting. As it clarified further, such a meeting could have been another ESPN-related sports game deal, such as an ESPN integration with the next "Madden NFL" video game, just as easily as it could have been Electronic Arts' attempt at courting a prospective buyer. None of the companies have commented on these rumors at this time.