The Truth About Lewis Hamilton's Near Race-Ending First Lap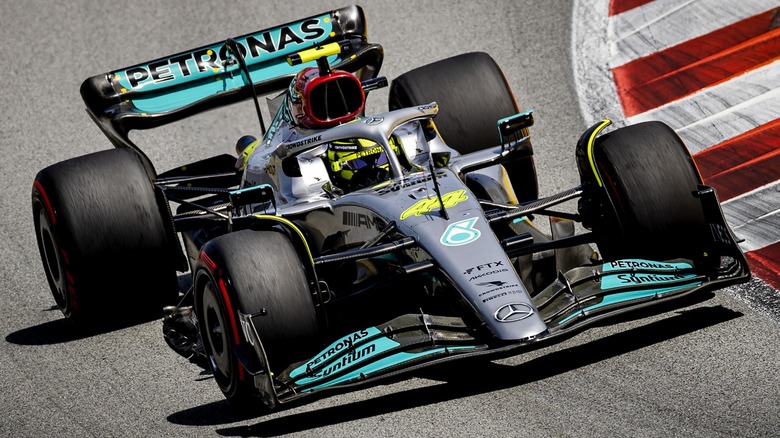 Anp/Getty
Lewis Hamilton has had a string of bad luck lately, but his near race-ending first lap at the 2022 Spanish Grand Prix just might have pushed the British racer in the right direction. Hamilton is known as the driver with the most wins in Formula One history, and while he has a reputation for success, he certainly could've had a better run at the recent Spanish Grand Prix.
The record-breaking racer finished the race behind his teammate George Russell, who was able to earn the third spot at the podium. Hamilton was left in fifth place after suffering from a momentary collision with Haas F1 Team racer Kevin Magnussen in the first lap. Those results didn't leave Hamilton in low spirits, but rather, the British race star took it as a "great sign" that signifies his team is heading in "the right direction" (via ESPN). So, how did Hamilton go from nearly quitting to being quite ecstatic in post-interviews after a potentially disastrous first lap? Well, it started with a push.
Quitting was not an option for Team Mercedes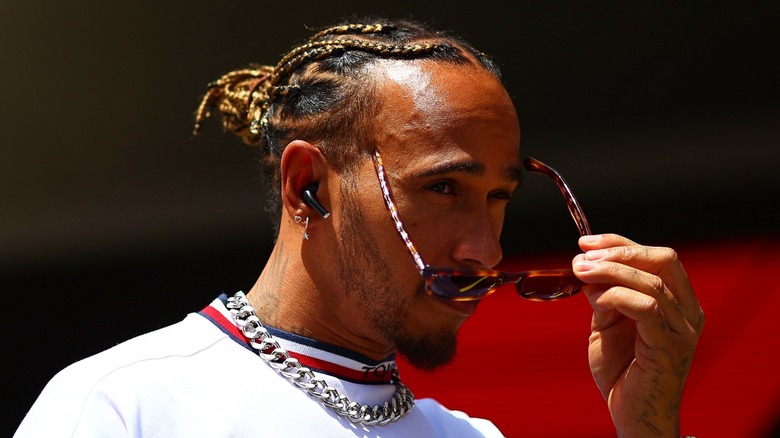 Eric Alonso/Getty
After his unfortunate contact with Magnussen, punctured tires forced Hamilton to make a pit stop. At this point, the discouraged British racer wanted to throw in the towel to avoid further straining his car's engine, especially knowing well that he was already behind by 30 seconds. His team, on the other hand, insisted on keeping him in the race. Hamilton continued racing at an impressive pace, even racking up faster laps than anyone else in the race at certain points, according to Top Gear.
Hamilton was told by his team he could still take eighth place following his incident. After almost giving up, Hamilton managed to finish the race in fifth place — exceeding even his team's estimations. In the end, Team Mercedes CEO Toto Wolff was glad they decided against Hamilton's suggestion of retiring, saying, "we are never giving up anyway." Wolff described Hamilton's pace as "stunning," even believing the renowned driver could've won the whole race had he not suffered that collision in the first lap.
Hamilton could've placed higher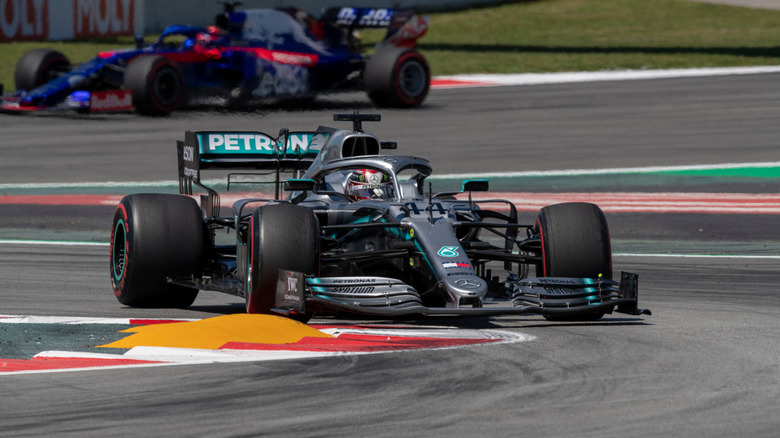 motorsports Photographer/Shutterstock
The British racer's comeback during the 2022 Spanish Grand Prix might have been an impressive feat on its own, but he potentially could have pushed even further. In fact, Hamilton was almost set to take fourth place in the race's closing stages (via F1). However, he was told by his team to drive his car "at half throttle" and to "cool it down" as much as possible to avoid a "DNF risk." In his interview, Hamilton revealed that he "was so gutted" after losing the spot to Team Ferrari's Carlos Sainz.
Hamilton explained that he wasn't sure about what was happening with his car but admitted that the day was "a lot hotter than predicted," which put more strain on the cars than usual. Of course, the record-holding driver was still satisfied knowing that he almost made it to fourth place after ending up in "no-man's land." Beyond that, finishing the race in fifth place seems to have restored Hamilton's confidence, as he told ESPN that he has "no doubt" that Team Mercedes can win in future races.