Acer Serves Up New Predator Gaming Machines And ConceptD Workstations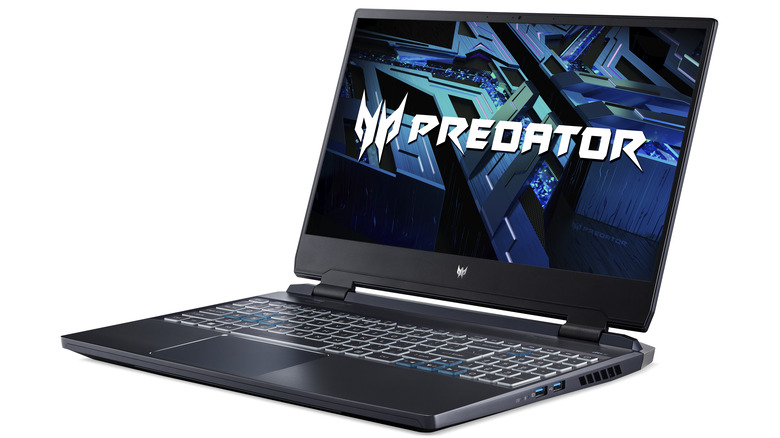 Acer
Acer has just announced the upcoming release of several new exciting products, ranging from a gaming laptop with 3D capabilities to portable monitors. The company's range expanded considerably with new, innovative products that give us a lot to get hyped about for the upcoming months. Whether you're a gamer, a professional, or a content creator, you might find yourself interested in one of these Acer products. Some of the new Acer releases fall under the SpatialLabs logo, emphasizing 3D displays to help you see your creative projects and games alike come to life before your eyes. ConceptD laptops also received a refresh, catering to a whole new host of professional users thanks to their updated specifications.
The laptop pictured above is the latest addition to the Acer Predator line. Dubbed the Predator Helios 300 SpatialLabs Edition, it promises to deliver stereoscopic 3D to more than 50 modern games, all without forcing you to wear 3D glasses. Although it's not quite the 3D you might remember from the last movie you watched at the cinema, it still makes the games appear in a much more lifelike fashion, with a lot of added depth. Each of the supported games will come with its own custom 3D profile, and the list will include both new and classic titles. All of this will be made possible thanks to the SpatialLabs TrueGame tech as well as Acer's 15.6-inch UHD 2D panel.
Such a thrilling laptop needs a set of specifications to keep up with it, and the Predator Helios 300 certainly has that. You'll be able to configure it with an up to 12th-gen Intel Core i9 processor alongside the NVIDIA GeForce RTX 3080 and DDR5 RAM. The laptop is set to release in the fourth quarter of 2022 with a starting price of $3,999.
Acer is bringing even more gaming goodies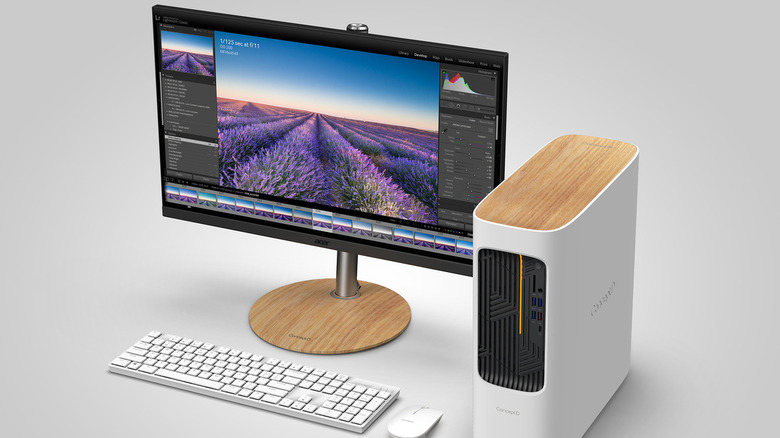 Acer
The gaming segment of Acer's latest lineup continues with a few more products, including laptops and a pair of gaming monitors. The laptops both also fall under the Predator branding, but they are called Predator Triton 300 SE and were made to offer gaming on the go at the highest possible level. If you're a fan of ultra-thin laptops that you can take with you anywhere, you probably know that their specifications often don't support any serious gaming. Acer promises to change that with the Predator Triton 300 SE, bringing a much-welcome update to the specifications. It also added a new 16-inch model with a fantastic screen.
The screen on the 16-inch Predator Triton has a WQXGA panel with NVIDIA G-Sync support, and it offers refresh rates of up to 240Hz. Whether you're a first-person shooter or a roleplaying game enthusiast, both should look equally striking and smooth on Acer's new laptop. The laptops come with a combination of the latest Intel Alder Lake processors and NVIDIA's discrete laptop graphics cards from the RTX 30 series. The 14-inch version will cost upward of $1,599 and will be available from July, and the 16-inch model launches in August with a starting price of $1,749.
Aside from laptops, two new gaming monitors join the fray. The Predator XB273K LV is an AMD FreeSync Premium 27-inch screen with a UHD IPS panel, 3840 x 2160 resolution, and a 160Hz refresh rate combined with an ultra-quick response time of just 0.5 ms. Combining an IPS panel renowned for its color accuracy and brightness with ample refresh rates makes it a good pick for all kinds of gamers, but it costs a pretty penny: $999. This monitor is followed by the Acer Nitro XV272U RV with a WQHD (2560 x 1440) resolution and 170Hz refresh rate. Less bright and less dense than the Predator, it will be cheaper, starting at $499. Both are set to release in the third quarter of 2022.
Unique & portable monitors for creators arrive later this year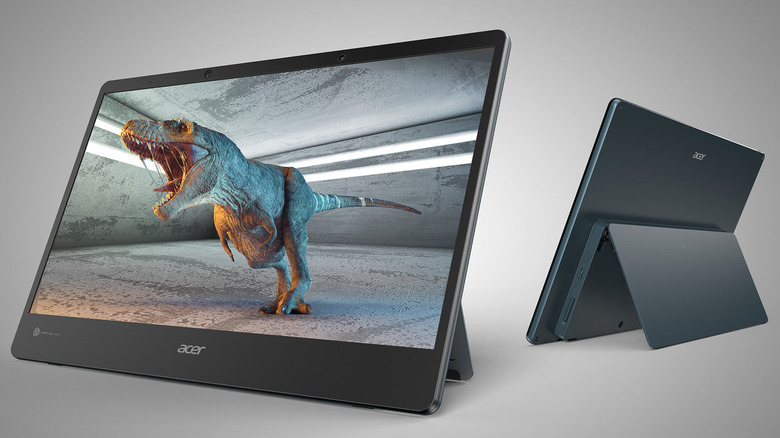 Acer
Creators who like to indulge in various art forms on the go are often forced to use a laptop, but Acer's new portable monitors just might be the answer to various workflow-related dilemmas. The company has just expanded its range by adding the Acer SpatialLabs View and the Acer SpatialLabs Pro, set to release in the summer of 2022, alongside a number of tech solutions that enable stereoscopic 3D even on the go. The monitors are fully standalone, portable, and capable of delivering 4K imagery combined with glasses-free 3D technology. This opens up a whole new level of depth and immersion for gamers and creators alike.
The new lineup includes two models: the SpatialLabs View Pro for enterprise buyers and the SpatialLabs View for consumers. Both models pack a 15.6-inch display featuring a 4K resolution, the aforementioned glasses-free 3D tech, 400 nits brightness, full Adobe RGB color coverage, and a light weight of around 3.3 pounds. According to Acer, these portable monitors can be connected to any PC, and though they'll no doubt appeal to remote workers and creators, they shine when it comes to 3D gameplay.
More than 50 games will be supported by the stereoscopic 3D mode when the display arrives; it'll include a pre-configured profile, according to Acer, for each of the games. The company promises future updates that'll add 3D profiles for other games, though it doesn't name any of the other titles that may be in the pipeline. The Acer SpatialLabs View will arrive in the U.S. starting this summer, but its price remains unclear at this time.