What's The Difference Between Google Wallet And Google Pay?
Differentiating Google Wallet from Google Pay can get tricky given the various changes both services had undergone over the years. Google first introduced its Wallet app in 2011, as a way for users to digitally store credit or debit card credentials in one place. Doing so would then allow users to pay for goods by simply tapping their NFC-enabled smartphones in retail stores that supported it. Within a couple of years after the launch of Google Wallet, Google allowed non-NFC smartphones to use the app by adding a feature that let users with a linked bank account transfer money to others (via The Verge).
Changes didn't stop there though, as some of the Google Wallet's features merged with a newer app called Android Pay, then both Android Pay and Google Wallet were consolidated into a single platform known as Google Pay. Fast forward to 2022 and Google once again decided to bring the defunct Google Wallet back as a separate entity. With both Google Wallet and Pay apps no longer conjoined, the question is: how are they different from each other, exactly?
Google Wallet Vs Google Pay features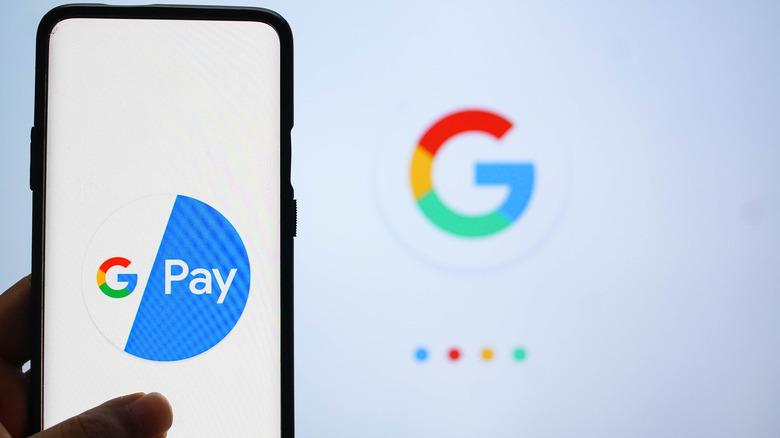 Memories Over Mocha/Shutterstock
Google Wallet can store more than just credit or debit cards, it's designed to keep digital versions of things like driver's licenses, vaccination cards, and digital passes like hotel or car keys. Google Wallet can utilize information from these digitally stored items to give automated alerts regarding travel or concert schedules, and even integrate with external apps like Google Maps. 
Google Pay, on the other hand, is a service that allows secure payments and money transfers between users and businesses. Google Pay serves as a sort of companion app that compliments the Wallet app's payment features. Google Pay is basically as a one-stop-shop for consolidating all your finances, allowing for secure payments, easy account summaries, as well as managing cash rebates and rewards. 
Sure, paying with Google Wallet is still possible, but it can only be done in stores that also accept Google Pay. In short, Google Wallet is mainly used as means to digitally store things you normally keep in your wallet, whereas Google Pay is more focused on handling your payments.
Google Wallet and Google Pay work as a team
Google Wallet makes storage and creation of digital passes convenient, not just for users, but developers as well. As shown in a Google I/O YouTube presentation, the app focuses on organizing multiple digital tickets into manageable groups for convenience. This applies for things that have already been paid for but require verification, such as food vouchers, parking spaces, concert tickets, boarding passes, and the like.
Meanwhile, Google Pay focuses on making shopping and bill payments safer. Its Virtual Cards feature works as a sort of password manager that securely stores credit card information into Google Pay accounts for easy and safe usage. In the showcase video embedded above, Google highlights various payment security measures including one-time-pins, biometric confirmations, and two-factor authentications, all aimed at making Google Pay a more reliable method of payment. While it's possible to use both Google Wallet and Pay apps on their own, they're clearly intended to be used together, as the two have different focuses that integrate well together.