Xbox Game Pass Closes Out May 2022 With Dinosaurs, Vampires, And Pac-Man
What do dinosaurs, Pac-Man, vampires, farming, skating, and crime have in common? All of them are coming to Xbox Game Pass in the very near future. The console/PC subscription service has just expanded its offerings, adding some really interesting titles into the mix. When we say "mix," we really do mean that — there's a full range of titles that are a little all over the map, so it looks like there's something in it for everyone. Some of the games are available right now, and some are just a teaser for what's yet to come, but one thing is for sure: today's announcement is packed full of gaming goodies.
Five of the games are up for grabs right now if you're an Xbox Game Pass subscriber. The first one is "Her Story," and by the sound of it, it might be a little creepy, as it comes from the writer and designer of "Silent Hill: Shattered Memories." "Her Story" is a crime fiction game that sends you on an investigation into the past of a woman who is currently being interrogated. And if the crime genre is not your scene, you might want to try "Jurassic World Evolution 2," available on the Xbox cloud gaming service as well as on the console and PC. The story of "Jurassic World" hardly needs any introduction, because really, what more do you need than epic dinosaurs set in the world we know so well from "Jurassic Park?"
There's much more to come
The three remaining games to hit the platform today are "Little Witch in the Woods," "Skate," and "Umurangi Generation Special Edition." The first of the three tells the story of Ellie, a young witch, and takes you on a journey filled with magic. "Skate" is pretty much what it says on the tin and will have you skating throughout a lively city as you get chased down by security guards. Lastly, "Umurangi" is a photography game in which the player takes photos of the fictional city of Tauranga.
"Farming Simulator 22" arrives on May 19, introducing new gameplay features, an improved build mode, and a new character creator. May 19 also brings the release of "Vampire Survivors," a gothic horror action game that will have you fighting off hordes of vampires until your fingers grow numb. This is followed by two May 24 releases: "Floppy Knights" and "Hardspace: Shipbreaker." "Floppy Knights" is a tactical card game that tells the story of Phoebe, a young inventor, and her robot sidekick Carlton, while "Hardspace: Shipbreaker" sends you on a space adventure where you'll upgrade your spaceship and fulfill contracts — it's a bit like "EVE Online."
On May 26, Xbox Game Pass will see the release of "Sniper Elite 5," a highly anticipated follow-up to an already successful series. Fans of first-person shooters will be able to enjoy new maps based on real-world locations, the addition of an enhanced kill cam, and improved third-person combat. Two more titles are making it onto the platform on May 27: "Cricket 22," which takes your cricket games to the next level with 4K visuals, and "Pac-Man Museum+," which will take you on a trip to the past with one of the most classic titles of all time.
Many new games are arriving in May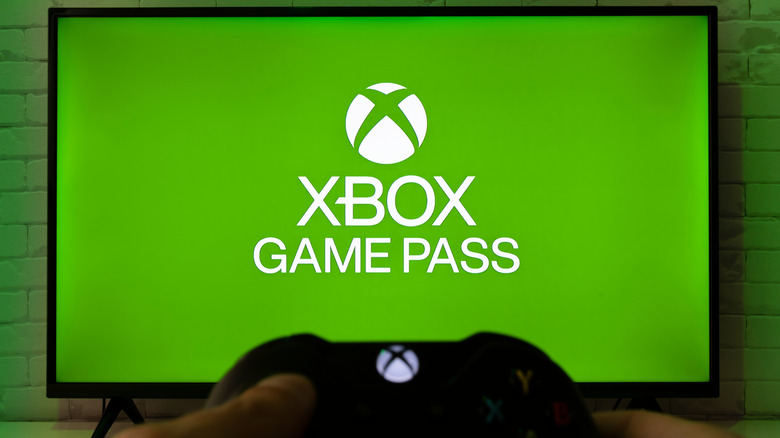 Miguel Lagoa/Shutterstock
A few smaller announcements have made it into the blog post that Xbox shared. "Grounded: The Bugs Strike Back Update" has arrived, with new base defense modes, shiny new armor, more crafting and trapping options, and the addition of a bestiary system. It's worth noting that this is a free update and will be available across all eligible platforms: Xbox One, Xbox Series X|S, and Windows 10/11. It's not an Xbox Game Pass exclusive, and Steam Early Access users can try it out for themselves as well.
If you're an Xbox Game Pass Ultimate member, you'll now be able to enjoy touch controls on 11 new games that are playable on the cloud. This opens them up to a whole new world of gaming, making mobile gaming viable for these titles. The titles in question include "A Memoir Blue," "Paradise Killer," "Townscraper," and more, which you can view directly on the Xbox website. Unfortunately, the new additions also mean that several games will be leaving the platform at the end of May 2022, including popular titles such as "EA Sports NHL 20" and "Resident Evil 7 Biohazard." If you like these games, make sure you give them a final playthrough before they're gone for good.