Withings ScanWatch Horizon Eliminates The Need To Choose Between Function & Fashion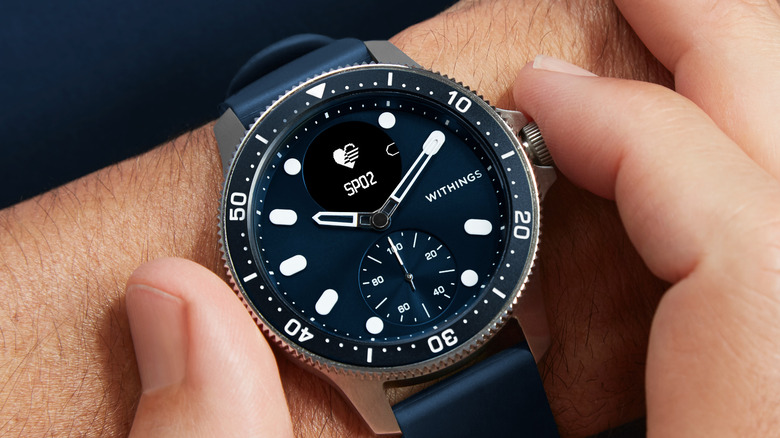 Withings
We may receive a commission on purchases made from links.
When it comes to what we wear, often enough it comes down to a simple choice: function vs. fashion. While cargo shorts may be memetically reviled, they allow wearers to equip themselves with plenty of gear that may not fit comfortably in standard pockets. The offerings in the wearable tech segment naturally lean pretty hard toward the function side of things and many smartwatches fail to deliver on fashion. Perhaps that's what the folks behind the Withings ScanWatch Horizon were hoping to change, putting forth a smartwatch that states very clearly that it's not too much to ask for both.
Offering modern connectivity and health monitoring with classic luxury style, the ScanWatch Horizon lets you have your cake and eat it too. It features a rotating bezel like any good diving watch and is water resistant up to 100 meters. Of course, most diving watches don't count your steps, monitor your heart rate, or let you record an ECG, in addition to letting you read text messages. Depending on your needs, the ScanWatch Horizon could be one of the best smartwatches for you.
The ScanWatch Horizon is stylish and keeps you connected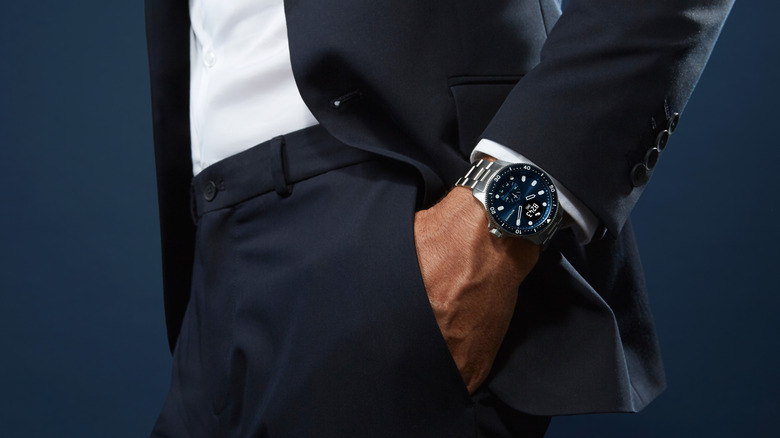 Withings
Withings describes the ScanWatch Horizon as a "hybrid smartwatch"; it offers a classic and luxurious look combined with plenty of modern smartwatch features. An MSRP of $499.95 puts it in the range of luxury timepieces from Gucci, Movado, Michael Kors, and Invicta, a realm in which it holds its own when it comes to style. But via Bluetooth pairing with your smartphone, it also lets you read messages with multiple connected apps. Just download the companion app to get started and you can enable notifications from social media apps like Facebook, Twitter, Instagram, and Snapchat to messaging apps like Gmail, Slack, Skype, Messenger, and Discord, in addition to offering notifications for your device's standard messaging and calls.
The ScanWatch Horizon's snazzy look does come with a tradeoff; the text-based alerts read out on a single line of text scrolling following the device's vibration alert. Some traditional smartwatch users may miss their devices' touchscreens and prefer to be able to see images or reply on their devices.
The ScanWatch Horizon will be available in the Withings Amazon store May 17, 2022.
Withings' smartwatch does more than look good while counting your steps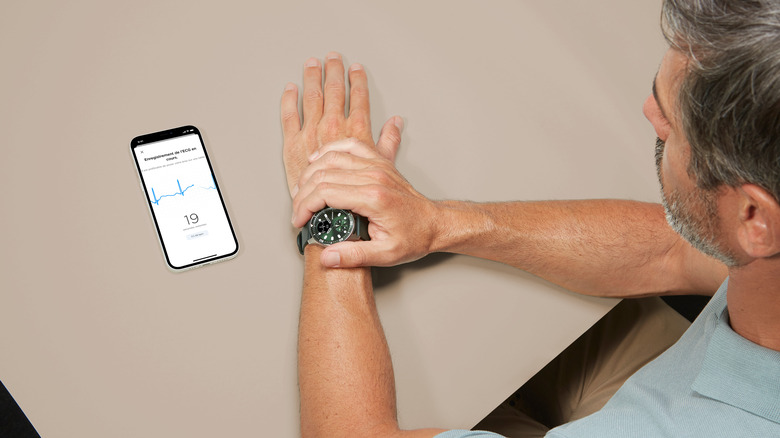 Withings
In addition to letting you stay in touch and in style, Withings' hybrid smartwatch can also monitor and track multiple health indicators. There aren't a ton of watches out there that'll tick all the fashion boxes and can also take a clinically validated electrocardiogram and measure the oxygen saturation of your blood. The ScanWatch Horizon, of course, can do that and more, including detecting atrial fibrillation and offering 24/7 heart rate monitoring with its three electrodes.
Accessing these functions is easy and doesn't even require you to open the app to take a reading; simply wake the watch up by pressing the digital crown — that's not attached to a stem for winding — and rotate to scroll through the ScanWatch Horizon's various functions. Want to take an ECG? Just press the crown and scroll five clicks clockwise (six counterclockwise) and follow the directions on the screen. The built-in oximeter can measure your oxygen saturation with a quick 30-second scan.
The ScanWatch Horizon's most understated quality is versatility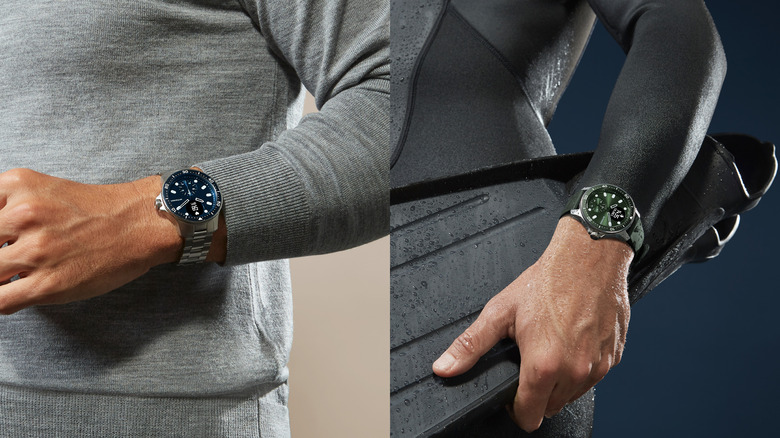 Withings
In addition to all of its technical bells and whistles, the Withings ScanWatch Horizon is versatile and offers different looks for different occasions. Out of the box, it sports a classic, stylish metal band and comes with extra links and all of the tools one would need to add said links or remove those already in place. The included pin punch, hammer, and holder allow the user to expand or downsize the band without fear of losing any pins. Available in an attractive shade of blue or green, each ScanWatch Horizon also comes with a matching silicone band for greater comfort or wearing during workout sessions or more active periods.
Switching between the metal and silicone bands takes less than a minute and requires nothing but a little finger dexterity. Just like that, Withings' smartwatch becomes a chic accessory for a night out on the town or a fashionable fitness tracker to be worn on a hike, bike ride, or anywhere else you want to keep it more casual and comfortable. Withings recommends the silicone band for a tighter fit and greater accuracy and when you need a more rugged smartwatch.