How Tesla's Aero Wheels Improve Efficiency More Than You Would Expect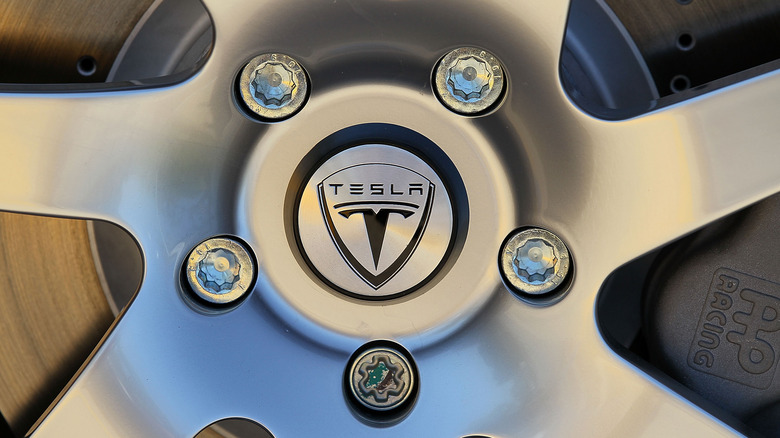 Justin Sullivan/Getty Images
When it comes to all-electric vehicles, wheels and tires make a huge difference. EV automakers offer different sets of wheels — designed to increase performance or range — and different sets of tires, including winter and summer tires. 
Tire manufacturer Continental explains why EVs need different tires: It's all about weight, torque, and sound. Due to the lack of combustion engines, all-electric cars are quieter, and normal tires and wheels are not used because they are noisier. EVs also put in more torque on the road than traditional cars. Finally, weight, the battery pack on an EV weighs more than a fully loaded gas tank in a traditional car, therefore tires are modified for extra weight. EV tires also have to perform all the security features traditional wheels and tires do — rapid braking, driving on wet and dry roads, and mileage wear — with these added challenges.
Drag and resistance play a major role in EVs, and the aerodynamic characteristics of an all-electric are exhaustively tested to reduce them. Low-resistance tires and aerodynamic wheels increase range, and grip, and reduce noise performance. Tesla uses Michelin special tires and has its in-house technology for wheels called aero wheels.
Testing a Tesla Model 3 with and without aero wheels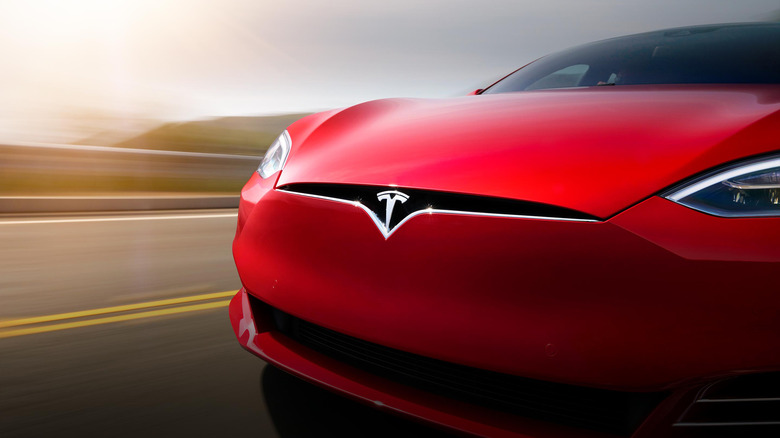 canadianPhotographer56/Shutterstock
The Tesla Model 3 comes equipped with standard 18-inch wheels with aero covers. Car and Driver tested a Model 3 to determine how much savings in energy consumption and increase in range the aero covers provided. Their tests revealed that Model 3's efficiency was more than expected. It averaged an increase of 3.4% in consumption efficiency and added about 10 miles of range.
Range with aero covers driving at 50 miles per hour increased from 312 to 322 miles. Driving at 70 miles per hour range increased from 253 to 260 miles, and at 90 miles per hour the increase of range was 4.7% totaling 199 miles. Consumption of KH/mile, driving at 50 miles per hour decreased by 3.1%, at 50 miles per hour it decreased by 2.5%, and at 90 miles per hour it decreased by 4.5%.
Car and Driver tested the Tesla Model 3 on the Chrysler Proving Grounds' five-mile oval track, at an ambient temperature of 44 degrees Fahrenheit, with tires set at 42 psi, and in zero traffic conditions.
Aesthetics of aero wheels versus aerodynamic engineering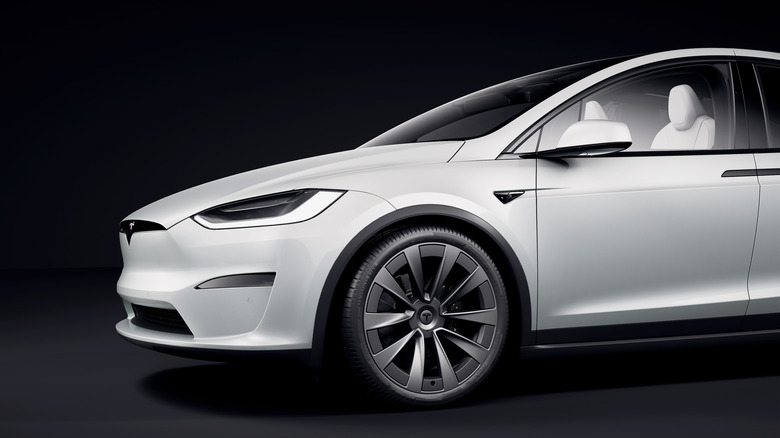 Electrek reports that since Tesla launched the first aero wheels for the Model S, the wheels have been downplayed for being "uglier" than regular wheels. While Tesla has made significant design modifications, its aero wheels still raise some eyebrows for covering most of the wheel. Tesla assures the caps on the wheels can be removed and has been for years explaining the science behind the wheels and how they improve performance.
As reported by Electrek, Robert Palin — who worked for Tesla's aerodynamic team since 2009 — explains the importance of the Model 3 wheel design. "I was the head of aero at Tesla for MS, MX, and M3, and I can confirm that wheel design and size can be the biggest influence of all on the aero efficiency of a road car", Palin said in a Facebook post republished by Electrek. Palin added that the skeleton of the wheel is alloy but its unique shape increases strength and optimizes mass.
The aero wheels' benefits increase with speed; "If you go twice as fast, you use 8x the power", Palin adds. In urban environments, tire technology plays a greater role than aero covers, and rolling resistance comes into play. Tesla uses special Michelin tires to reduce rolling resistance. Tesla's online shop sells 18", 19", 20", and 21", wheel and tire packages as well as aero wheel covers for all its models, with prices ranging from about $2,000 to $6,000.