Anker 777 Thunderbolt 4 Dock Review: Apex 12-In-1 Expansion Solution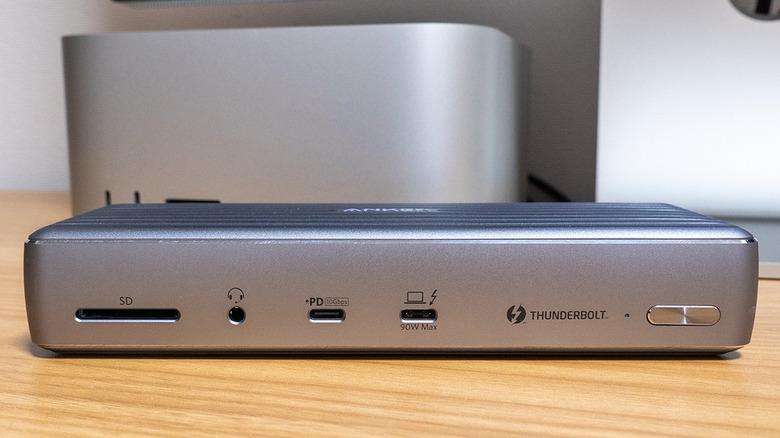 Ewdison Then/SlashGear
We may receive a commission on purchases made from links.
As many laptops switch to universal connectors like USB-C and Thunderbolt, they also, unfortunately, shed some of the more common and oft-used ports that have been in use for years. Although Apple eventually made a U-turn with its latest MacBook Pro, the industry trend has mostly been in favor of phasing out bulky connectors and ports for the sake of thinner profiles. This doesn't mean there's no longer any need for full-sized HDMI ports or plenty of USB ports, though, and the market for hubs and docks has experienced a renaissance because of this.
The Anker 777 Thunderbolt 4 Dock, which is sometimes also called the Apex or the PowerExpand Elite, represents the height of the next generation of docks, at least when it comes to models that support Windows PCs and non-M1 Mac computers. Given its appealing features and startling price tag, we decided to check out the dock to see whether it represents the tech industry's folly, as well.
Design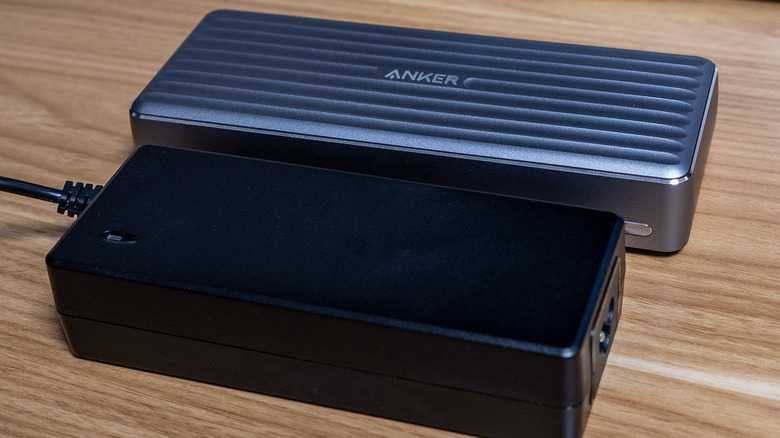 Ewdison Then/SlashGear
The Anker 777 "Apex" PowerExpand Elite 12-in-1 Thunderbolt 4 Dock, aside from being a mouthful, is also an outlier when it comes to appearance. While most hubs and docks prefer nondescript or unremarkable minimalist looks, the Anker 777 goes in the opposite direction. The ridges and grooves on top and bottom of the rather large box might immediately remind one of a travel suitcase. While distinctive and memorable, it might be sending out the wrong message regarding this accessory's portability and ruggedness. By no means is the dock designed for rough handling despite its aluminum build, nor is it even made to be portable the way a mode modest and less powerful hub would be.
This Thunderbolt 4 dock isn't meant to be carried around, at least not all the time. It is large, bulky, and weighs around 1 pound. It's meant to sit on top of a desk, horizontally or even vertically, and stay there for long periods of time. There's even a dock made specifically for it so that it can stand tall and proud on your desk, but you have to buy that accessory separately. Fortunately, the unique design works in the dock's favor, even when you have cables running out of it on both sides — and cables will indeed run out both sides because the Anker 777 values practicality over appearances. 
While some users might prefer to hide all the cables from sight to keep their desks clean, this 12-in-1 docking station prefers to make your computing life less stressful instead. It puts the most commonly used ports in the front of the hub, which includes the downstream Thunderbolt 4 and the lone USB-C port. The back has the HDMI ports and all the USB-A ports for peripherals you'd rarely take in and out on a regular basis, like monitors and wireless receivers. It's designed for friction-free use rather than looks, and given how many ports there are, you'd be grateful it was designed this way.
There's plenty of ports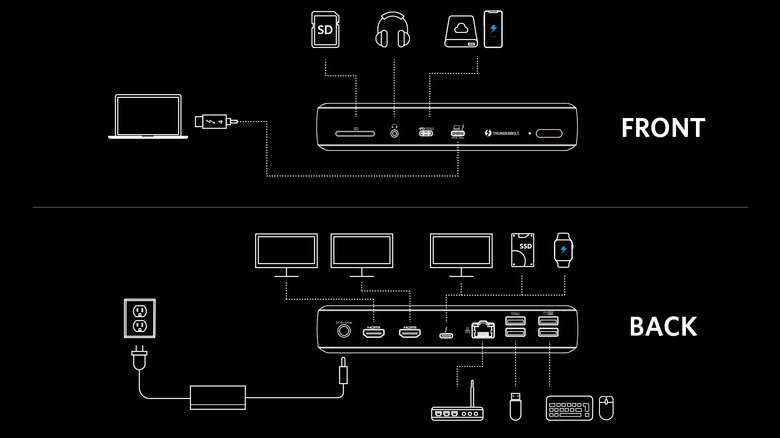 Anker
The Anker 777 TB4 Dock is nicknamed "Apex" for a good reason: it boasts 12 ports, and Anker didn't play tricks with numbers as many companies do. In fact, there are actually 13 ports if you count the 120W power supply that's needed to run the dock. Yes, with all that flexibility in connections comes the price of power consumption. There's a large power brick that is included as part of the package, and there's no escaping it if you want to use the dock.
The dock has your usual smorgasbord of connectivity options, including ones that creators and gamers will appreciate. There's a full-sized SD card reader with a spring-loaded mechanism that has a satisfying click whenever you push a card into it, a 3.5mm headphone jack that is being pushed out of laptops, and a Gigabit Ethernet port. While there are four USB-A ports, only two of them are USB 3.1, and the other two are USB 2.0.
The highlights of this dock, however, are the two HDMI 2.1 ports and two Thunderbolt 4 ports, rounding up the gang of 12. Having two HDMI ports is already a rarity among docks, be it TB3 or TB4, and having both support 4K/60Hz output will probably feel like heaven for those who have multiple monitors. Unfortunately, the dock has only two Thunderbolt 4 ports; Anker had to strike a balance between more ports and power consumption due to the 120W power brick provided with the docking station.
Performance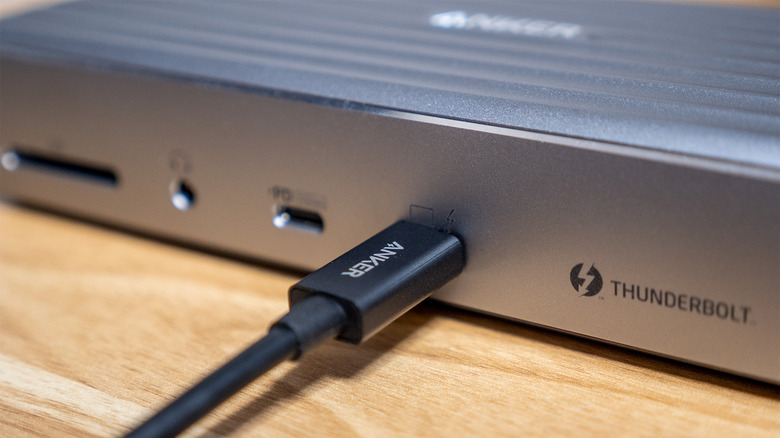 Ewdison Then/SlashGear
Anker is already ahead of the game by combining 12 ports with state-of-the-art Thunderbolt 4, and it didn't cut corners either. Every single one of those 12 ports delivers as advertised, which is both good and bad, depending on what you need or expect. The USB-A ports, for example, only dish out 4.5W of power, which is a lot lower than what most USB ports deliver to power some devices. Same with the USB-C port's 20W output, though that's not the port you'll be using to power up laptops anyway.
Of the 12, the upstream Thunderbolt 4 is probably the star of the show. Capable of 40 Gbps data transfers, it can also output 90W of power. That's plenty enough for many laptops, even larger ones, so that explains why you need to have a large power brick in the first place. But even with all the ports in active use, the dock never ran hot during testing, which is surprising considering it doesn't have active cooling. The other Thunderbolt 4 port, which is the downstream port, only puts out 15W of power, but that's also plenty for high-speed drives and even monitors. In fact, that's how you can get an 8K/30Hz output if you have a monitor that supports it. Both TB4 ports support high-speed data transfers and moving a 20GB file happens in a snap.
The Anker 777 has plenty of options for video output, but it's also where things start to get a bit confusing with its compatibility. In theory, you can have as many as three external monitors in addition to the one your laptop has. This works best on Windows 10 or 11 laptops or MacBooks that still run on Intel's processors. The M1 MacBooks, however, are hard-wired to support only one external monitor, regardless of how many ports a dock has. This might change in the future, but that has been the status quo for almost a year now.
As a Thunderbolt 4 dock, the Anker Apex is guaranteed to only work with laptops and computers that have Thunderbolt 4 ports, as well. There still aren't many laptops using this newer Thunderbolt standard, but that number is expected to rise steadily as more manufacturers adopt it. This can be a bit confusing for buyers, though, so it is best to check your laptop's specs before investing in this docking station.
Final take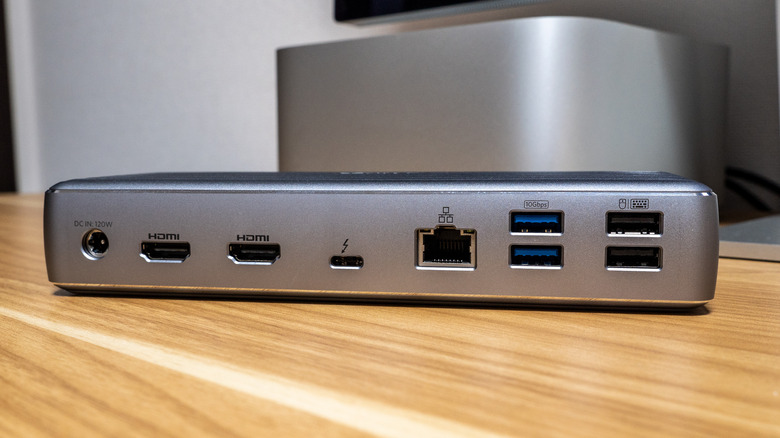 Ewdison Then/SlashGear
After a period of stagnation, USB and Thunderbolt technologies are experiencing fast-paced development and adoption. This is an almost timely development since manufacturers seem intent on reducing the number and kinds of ports they offer on laptops, at least the skinnier notebooks. This is a prime opportunity for accessory makers like Anker to establish themselves as saviors that bring back those much-needed ports. Fortunately, the Anker 777 "Apex" Thunderbolt 4 docking station is able to deliver exactly that and more with its 8K and dual 4K output options and 90W TB4 upstream connection.
In terms of performance, Anker's most multi-functional dock doesn't disappoint. It works as advertised and doesn't get too hot to handle even at full capacity. Unfortunately, its price tag makes it quite a hefty investment, literally and figuratively, and an investment that has compatibility issues with most of the existing equipment in the market today. 
Fortunately, the Anker 777 Thunderbolt 4 Dock is more forward-looking than many of its competitors, and the same ports and features it has today will still be useful when Thunderbolt 4 laptops become more common. Hopefully, Apple will also start updating its M1 machines to take advantage of Thunderbolt 4, though the technology's association with Intel could be a bit of a stumbling block. The Anker 777 Thunderbolt 4 Dock is currently priced at $349.99, making it one of the more expensive options in the market.