Sonos Voice Control Is A Privacy-First Alternative To Alexa And Google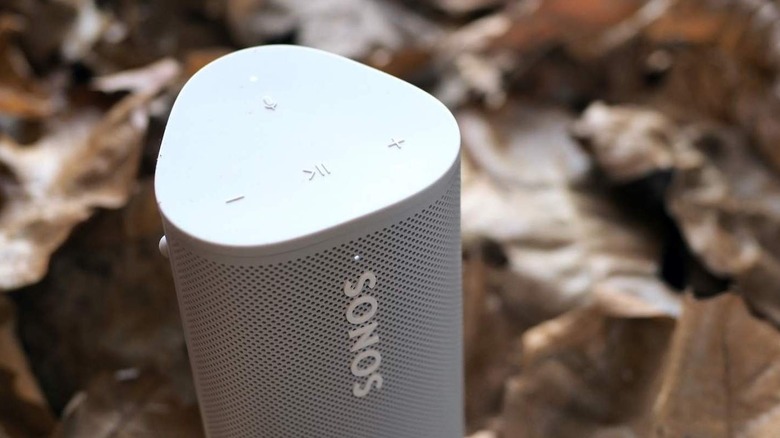 Chris Davies/SlashGear
Sonos is adding its own voice control to its smart speakers, a music-focused assistant that puts privacy to the fore. While Sonos has supported Amazon Alexa and the Google Assistant on select models for some time now, Sonos Voice Control will offer an alternative that skips the general knowledge in favor of deep integration with the speakers' core tech.
The reality is, Sonos says, some of its users never actually activate Alexa or the Google Assistant because they're turned off by the privacy implications. Sonos' microphone-enabled speakers — such as the Roam portable and the Arc soundbar — have a dedicated mute button, which disables the microphone completely, but Amazon and Google's cloud processing remains a concern for many.
Sonos Voice Control, in contrast, carries out all of its processing on-speaker. That's no small challenge when you consider it works across every microphone-enabled model the company has released so far, the oldest of which launched around five years ago. No audio clips or transcripts are stored or shared with Sonos, and there's no reviewing of the voice commands for training purposes.
Hey Sonos, where's Spotify?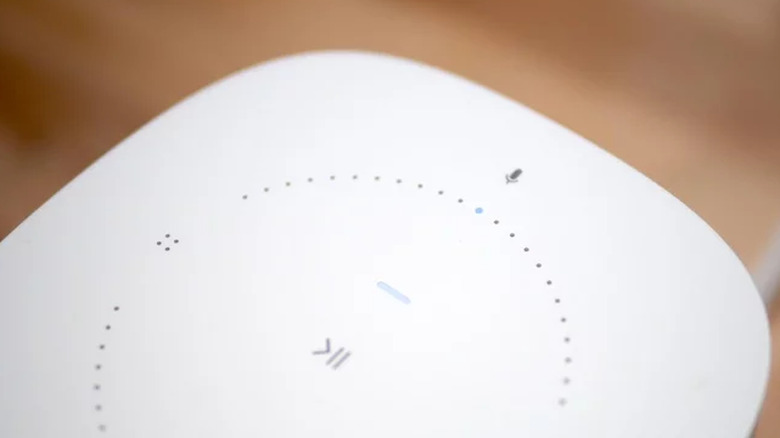 Chris Davies/SlashGear
Unsurprisingly, the "Hey Sonos" wake word is used to trigger the assistant. It defaults to picking tracks and playlists from your preferred music service, with Apple Music, Amazon Music, Deezer, Pandora, and Sonos Radio all supported at launch. Conspicuous by their absence are Spotify and YouTube Music, omissions that could be frustrating to many. There's no public timescale as to when they might be added, though you have to imagine Sonos is working on that behind the scenes; if you stream from a provider with no specific Sonos Voice Control support, you'll be able to skip tracks, play/pause, and group or ungroup speakers by voice, but not request actual tracks or playlists. 
Once you've triggered the assistant, there's a 6-second window for follow-up questions without having to use the wake word again. Impressively, as well as working on Sonos speakers on a Wi-Fi network, it'll also work on Roam and Move when the battery-powered models are away from the home in Bluetooth mode. "Breaking Bad" and "Better Call Saul" actor Giancarlo Esposito provides the voice for the service, his responses and ad-libs pleasingly laid-back compared to Amazon and Google's voices.
Music-focused, not a generalist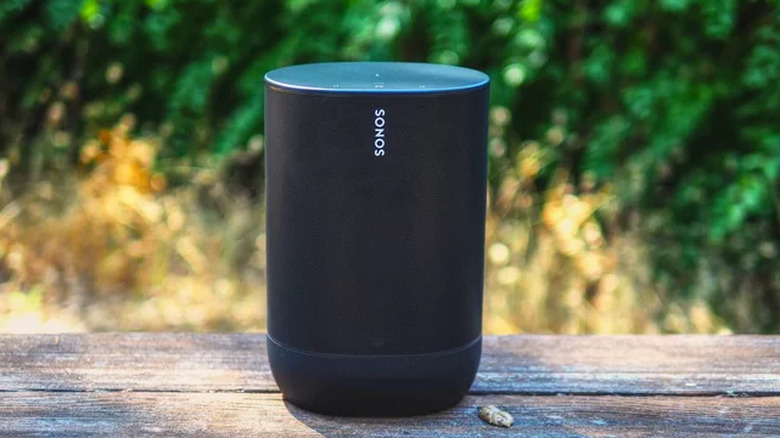 Chris Davies/SlashGear
For those who do turn Amazon or Google's voice control on, the experience can be underwhelming at times. Although they're certainly enough to summon songs, artists, and playlists by voice and control things like volume and skipping tracks, Sonos' more advanced features like multi-room typically require pulling out a smartphone and loading the app to access.
Sonos Voice Control, in contrast, will have far deeper connections with what makes Sonos speakers tick. While you'll be able to do the basics, like asking for specific songs or playlists and adjusting volume, you'll also be able to ask things like "What song is this?" and "What's the battery level?" Sonos will automatically customize the voice engine based on individual playlists on each user's preferred streaming services so as to improve speed and recognition accuracy.
It's multi-room control which could be most impressive, though. Users will be able to quickly combine speakers in different areas of the home — such as by saying, "Hey Sonos, play in the living room, too" or "Play here as well" — as well as adjust things like the volume on a per-zone basis.
Coexisting with rivals, not replacing them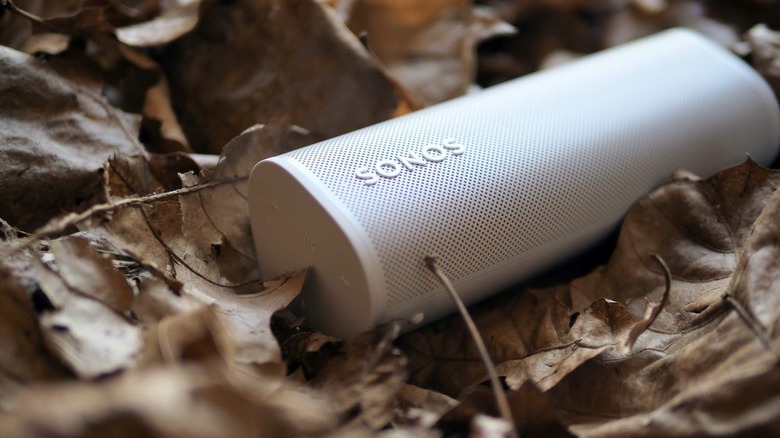 Chris Davies/SlashGear
For Alexa users, Sonos Voice Control will coexist on the same speakers. If you're a Google Assistant user instead, you'll have to choose whether to set a speaker to Sonos or Google's voice control. Mixed-assistant systems will still be supported, so you could have one speaker in a room running Alexa and Sonos Voice Control, another running the Google Assistant, and speak to any of the three to control all of the speakers on the same Sonos network in the house.
While you could argue that Sonos is getting into unnecessary duplication here, the reality is that bringing some control back in-house makes a lot of sense for the company. It won its lawsuit with Google — in which it claimed Google's smart speakers stole patented Sonos tech — earlier this year and accused Amazon of doing much the same thing. Despite that, it still works closely with both firms, but it's hard not to see this Sonos Voice Control system as an attempt to wrest back some independence.
Expect voice to play an increasing role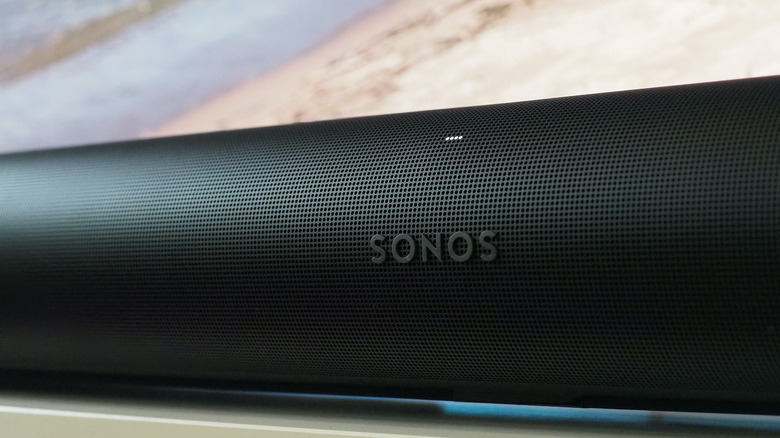 Chris Davies/SlashGear
For the moment, it'll be focused on music playback, though you'll be able to turn on features like Night Sound — which tamps down on louder noises for TV watching, useful when it's late and the rest of the house is asleep — by voice, too, as well as power on a connected TV. Down the line, though, the team at Sonos behind the system (which is built in no small part on the expertise acquired when the company bought French firm Snips in 2019) is considering other applications, which could include assistance in the setup process.
It's worth remembering that Sonos has already made tentative steps into the car realm as well, somewhere voice assistants have also begun to flourish. Again, the company wouldn't be drawn on specific plans there, either on Sonos Voice Control in automotive or more car collaborations in general, but there's certainly scope for expansion that doubles down on the privacy aspect.
If you're onboard, Sonos Voice Control goes live in the U.S. from June 1, 2022, and will arrive in France before the end of the year. You'll need a Sonos speaker with a microphone in order to use it, of course.