ASUS Vivobook 13 Slate OLED Gets Quirky Artist Edition Variants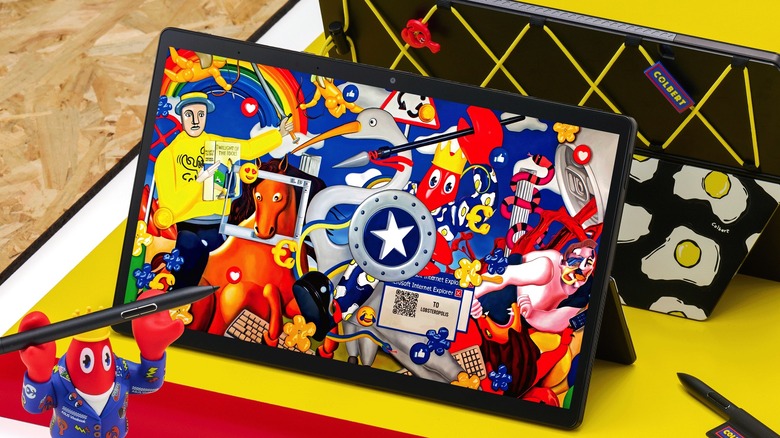 Asus
Laptop and tablet owners often fall into two categories. On the one hand, you have people who keep their portable computers as pristine as they can, trying to preserve the original design of the laptop with as few scuffs and scratches as possible. On the other hand, you have those who view the back of their devices as a blank canvas to express their personality and artistic tastes, placing stickers that tell their personal stories and fandoms, and more. 
But what if you didn't need to stick stuff onto your laptop's back to personalize it? What if the laptop or tablet itself came with decals and designs that made them immediately unique and special? That is perhaps the kind of thinking that ASUS went through with these new Vivobook 13 Slate OLED Editions that exude the spirit of some of this generation's most artistic minds.
Philip Colbert Edition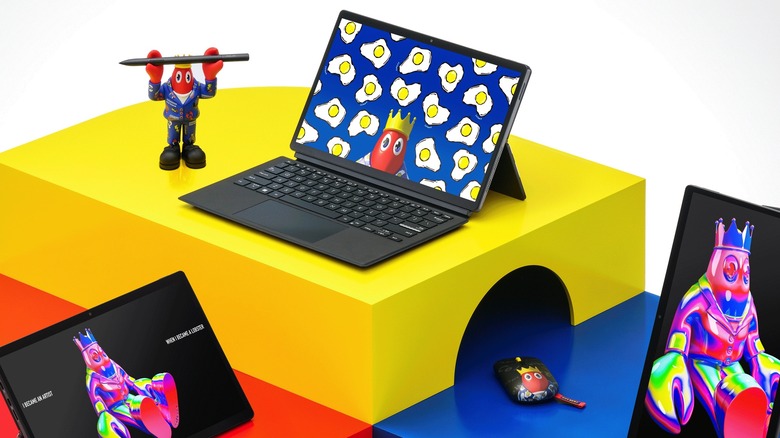 ASUS
Nicknamed by some as the "godson of Andy Warhol," Philip Colbert is best known for his cartoon lobster persona (some might even call it a "fursona") and his use of unique patterns. Both are on full display in this 2-in-1 computer, particularly the eggs that litter the lower half of the slate as well as its wallpaper. However, this special Artist Edition detachable Windows laptop isn't just about looks as it has a certain element of touch to it, as well.
The upper half of the Vivobook 13 Slate's back — the area above the kickstand — is crisscrossed by yellow elastic cords that give off a net vibe, like the net you'd use to catch lobsters. The collection also includes a figurine depicting Colbert's lobster persona. More than just a decorative piece, however, this item also functions as a stylus holder, giving artists a special place to put down their precious drawing tool in between work sessions.
Steven Harrington Edition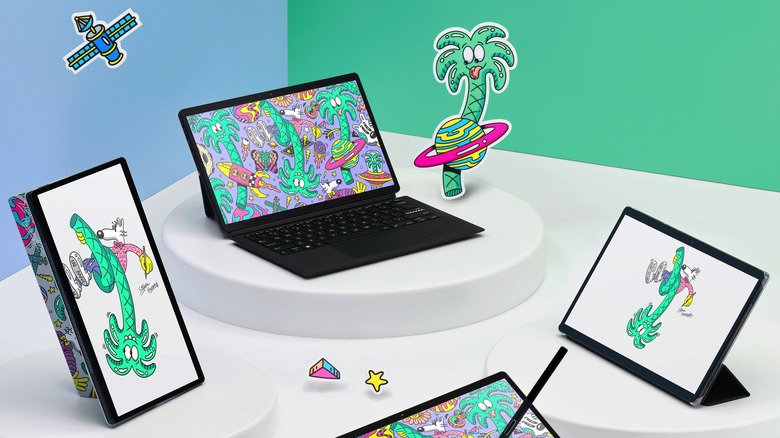 ASUS
This Artist Edition variant is less tangible and almost psychedelic compared to Colbert. Steven Harrington is famous for his unique cartoon style, one that almost borders on the abstract, utilizing fluid lines and bright colors in a rather playful way. That kind of artistic style is on full display on the back of this special edition Vivobook 13 Slate, utilizing both halves as an artist's canvas.
While the Steven Harrington variant is arguably more artistic, the collection is also a bit underwhelming in terms of what's included. You do have a mouse with the same design as the slate and a sleeve to match, but no special figurine or toy is included. This edition seems to just bring a splash of color and form without going overboard in pushing the artist's personality onto the users.
Despite the flashy designs, these ASUS Vivobook 13 Slate OLED Artist Edition laptops might disappoint when it comes to getting work done. Both run on an Intel Pentium N6000 processor that can only support 8GB of RAM. The large 13.3-inch display has a resolution of 1920x1080 pixels, which doesn't make it that pixel-dense and could come as a disappointment for digital artists, a bit ironically. ASUS hasn't yet disclosed prices for these 2-in-1 tablets, which are scheduled to launch next month, but a regular Vivobook 13 Slate already goes for about $600.