Windows 11 Xbox Controller Bar Makes Gaming Without A Keyboard Easier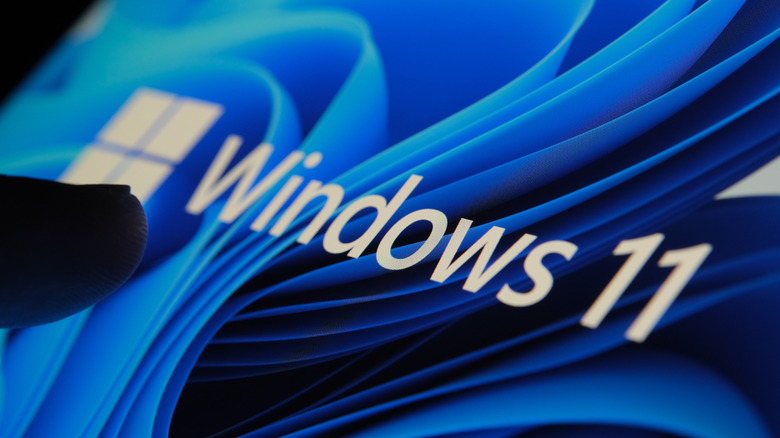 mundissima/Shutterstock
As of May 5, 2022, if you're part of the Windows Insider program and use Windows 11, Microsoft will let you test out a brand new feature called Controller Bar. Aimed at gamers who connect a controller to their Windows 11 systems, the Controller Bar feature seems to be an enhanced version of the Xbox Game Bar that has been around for several years now. Apart from letting gamers record and take screenshots of their gameplay, the Xbox Game Bar also allows volume adjustments and the ability to take a quick glance at a computer's performance stats. Music playback control is also a feature on the Game Bar, thanks to integration with its own Spotify Widget. Other features included complete social media integration and quick access to a resource management widget that lets users manage finer aspects of their system performance.
In a blog post announcing the launch of the new Controller Bar, Microsoft confirmed that the feature would first be made available to select Windows Insiders. These users will also be required to install the latest Insider Preview Build (Build 225xx) from the Dev and Beta Channels. Interestingly, the use of the new Controller Bar has an installation of the original Xbox Game Bar app as a prerequisite. Users will also need to make sure that their Game Bar build is version 5.722.5022.0 or higher.
Features of the Windows 11 Xbox Controller Bar
The Xbox Controller Bar for Windows 11 is automatically invoked when the system detects that a compatible gaming controller is paired or connected to the computer. With Controller Bar, gamers will get quick access to the most recently played games (or the newly installed ones). These titles can be quickly opened using an Xbox Wireless controller without using a keyboard or mouse.
When not playing a game, users can involve the Controller Bar feature by simply pressing the Xbox button on the controller. Controller Bar shows up to three game titles you recently played — which can then be quickly accessed. Users interested in installing the Xbox Controller Bar widget on their Windows 11 systems need to ensure a couple of things.
First, they will need to install the latest Insider Preview Build of Windows 11 and then download the Xbox Insider Hub from the Microsoft store. Once downloaded, users will need to sign in to Insider Hub using their Microsoft account credentials. Once logged in, users will need to navigate to the option called "Previews," and then join the Windows Gaming preview. Users will also need to check for updates in the Microsoft Store and ensure they have the latest version of the Xbox Game Bar. Once these steps are done, all that is needed is to reboot the system, pair a controller with the computer, and begin using Controller Bar.
Note that the Controller Bar feature is still under development, and users who install it now may face several issues. So, if you're not someone who loves tinkering around with their computers, we do not — at this point — recommend trying out the Xbox Controller Bar for Windows 11.