The One Failure That Changed Steam Forever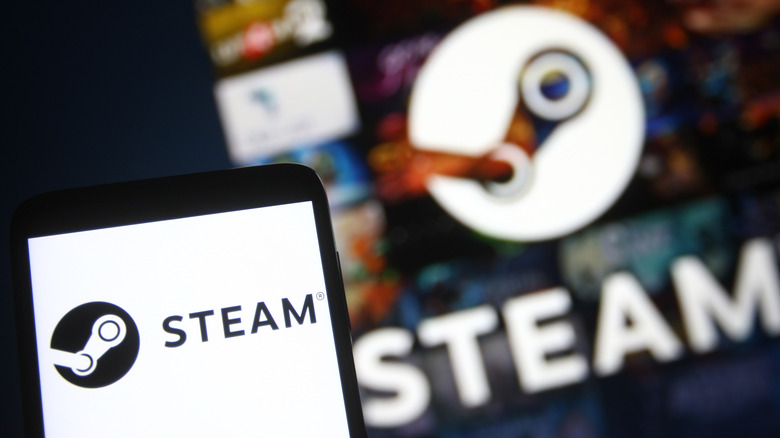 viewimage/Shutterstock
The Steam Deck is the number one seller (by revenue) on Steam, according to SteamDB, and it's been there for the last four weeks. It was the #2 seller on that list five weeks prior. It seems to be a bonafide success. But in most cases, successes are typically preceded by failures, and the Steam Deck is no different.
Some will recall that when Valve released Steam, the cloud-based video game distribution service, in September of 2003, it was glitchy, hard to navigate, and crashed when too many players logged in all at once. It did everything wrong that it was supposed to do right (per PC Mag). Valve stuck with it, though, and after years of updates and improvements, Steam became the de facto king of online gaming storefronts.
But Valve didn't want to dominate just the software side of gaming; they wanted to be the Tyler "Ninja" Blevins of the hardware side of gaming too. In 2015 they released their line of Steam Machines, now widely considered one of the worst gaming blunders of the last decade. Originally called the "Steam Box" when first introduced in 2013, the concept of what would be called at release the Steam Machine was inherently a good one. Still, since nothing was in their direct control, the execution was on the Leeroy Jenkins side of absolute disaster.
The Link and Controller weren't terrible
Valve teamed up with several hardware manufacturers to build a number of gaming boxes with different specs at different price points, but all of them ran on a Linux-based operating system. It was supposed to match the PC version of the successful gaming consoles from Sony, Nintendo, and Microsoft, but many versions actually cost more than those consoles. 
Valve relied solely on outsourced manufacturers to make the box and game developers to port over their respective Windows-based games to the Linux-based SteamOS. Despite having tens of thousands of games available through Steam, most of them weren't playable. Their absolute reliance on outsiders doomed the Steam Machine from the start.
Valve remained undeterred, though. While the overall objective to take over the console market wasn't achieved, it learned many things with its initial dive into hardware that would allow it to take incremental steps towards success. Its foray into virtual reality with the co-developed original HTC Vive and its own Valve Index headset seems to be going well. And the Steam Controller and the Steam Link weren't so much failures as they were attached to a poorly executed Steam Machine.
Steam tries to deck the competition
Enter the Steam Deck. This time Valve removed the middle man manufacturing step and kept the construction of the Deck in-house, giving them complete control over every aspect of its build. Valve's new piece of handheld hardware can run Windows and the Linux OS, so there shouldn't be the same game availability restrictions as the Steam Machine. 
Timing for a PC handheld is ripe since handheld gaming is all the rage now. According to Nintendo, more than 103 million Switch's have been sold since the end of December 2021. In January 2022, the NPD Group released its latest report on consumer spending on PC gaming hardware and accessories. Total spending reached $5.74 billion in 2021, an increase of 25% over 2020, following a 62% increase in 2020 vs. 2019. Its "Evolution of Entertainment 2021" report showed PC gamers played an average of 7.7 hours a week in 2021, up an entire hour from the 6.7 hours in 2020. Once again, proving that gamers have time and money to spend.
The Steam Deck was only recently released, so time will tell if this latest piece of Valve hardware turns out to be an unmitigated success or an abject failure. Gamers can be sure that Valve won't stop trying, and they certainly won't stop evolving. Let's hope part of that evolution involves Half-Life 3.