Mercedes Flip Is One-Off Bear-Faced Weirdness By Will.i.am
Mercedes-AMG
Only a few cars sport the combination of a turbocharged V8 engine and a four-door coupe layout as elegantly as the 2023 Mercedes AMG GT. Mercedes-AMG is choosing to showcase a special variant of the vehicle at the Formula 1 Grand Prix USA in Miami. At the event, the company will unveil a one-off model called "WILL.I.AMG," made in partnership with the famous Black Eyed Peas rapper will.i.am and West Coast Customs in a project called "The Flip."
Besides contributing to the car's custom design, will.i.am has also designed a custom logo for the car that features a bear's face combined with Mercedes's iconic star logo. According to a press note, the bear signifies the roaring sound of the vehicle.
The proceeds from all activities surrounding this vehicle will go to the rapper's charity non-profit the i.am/Angel Foundation. The money will be used to "help build a STEAM-ready talent pool that will lift families and communities out of poverty." The bear logo, called "BEAR WITNESS," will also be used for making merchandise, and part of the sales will also fund the i.am/Angel Foundation.
Fusing G with the GT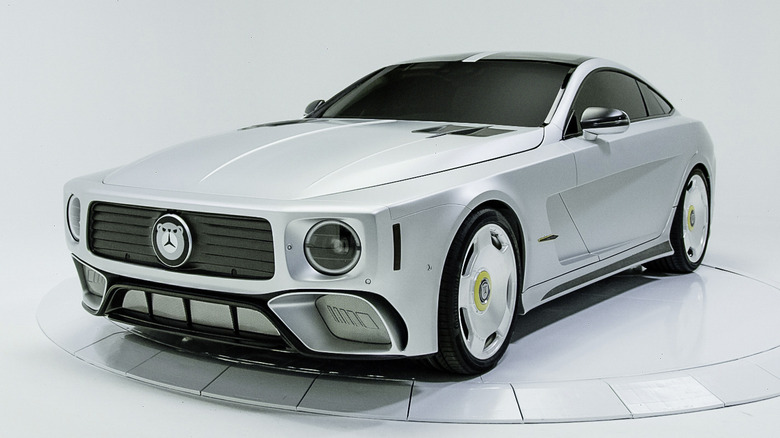 Mercedes-AMG
Although the WILL.I.AMG is primarily based on the 2023 Mercedes AMG GT four-door sedan, the exteriors are modified with hints from other Mercedes vehicles. Mercedes suggests that this vehicle borrows inspirational design cues from two other similar vehicles — the broader chassis of the SLS AMG Gullwing and the front grille and the headlamps from the Mercedes G-Class. Unlike the standard AMG GT, this unique creation by will.i.am and Mercedes features two suicide doors — with hinges in the back rather than in the front (or the top, as is the case with the Gullwing).
The roof is all-glass but split into two halves. The car gets a predominantly silver paint job with hints of black and yellow along the body. Meanwhile, the special bear logo is present on the front grille and the custom hubcaps on the wheels. As the artist suggests in the press release, "I didn't touch the engine, because AMG really does make the best engines."
The exact details about any other internal modifications, if any, have not been shared yet. We'll certainly get a better idea of the unique details and upgrades included in this vehicle soon, as Mercedes has announced a six-part documentary called "DRIVE" illustrating the entire process of customizing the vehicle. The documentary is being previewed today and all six parts will premiere at the 2022 Cannes film festival this may (out of competition).