Acer's Chromebook Spin 514 Gets An AMD Speed Upgrade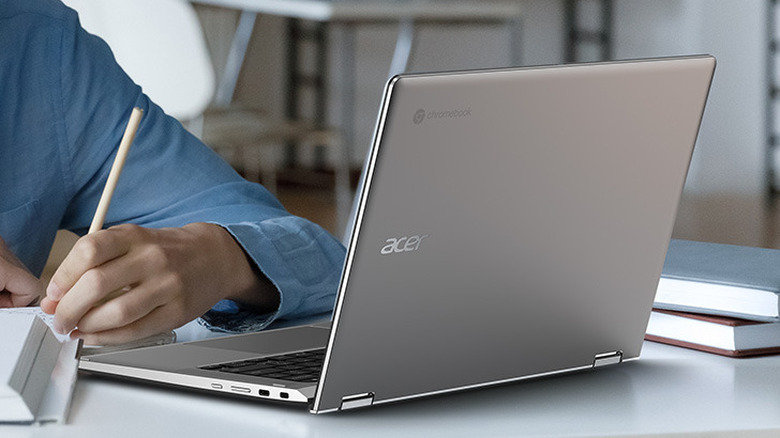 Acer
Acer has just announced the release of a new Chromebook, an ultra-light notebook made for productivity on the go, and it weighs in at just over 3 pounds. The new release is dubbed the Acer Chromebook Spin 514, and there's also a second version aimed at professionals, the Acer Chromebook Enterprise Spin 514. Whether it's in the classroom, at work, or even during your leisure time, a Chromebook makes for a good alternative to a bulky laptop if you know you'll be using it while traveling. Chromebooks may not provide the same specs as a full-blown laptop, but this new Acer model received an important upgrade — a fresh AMD Ryzen 5000 C-series processor with AMD Radeon graphics. This should ensure that it's not just slim and lightweight but also capable of supporting all kinds of multi-tasking.
The new Acer Spin 514 looks sleek and weighs very little, but it's actually a quite durable machine with military-grade MIL-STD 810H durability — the laptop has aluminum top and bottom covers to make it through unscathed if you happen to throw your bag a little too hard. While the durability is nice (especially if you tend to be a bit rough with your electronics), the thing that makes this Chromebook stand out is the fact that it's a convertible laptop. This means that it features 360-degree hinges, allowing you to use it in display mode, tablet mode, clamshell mode, and tent mode.
The new Acer Chromebook has 360-degree hinges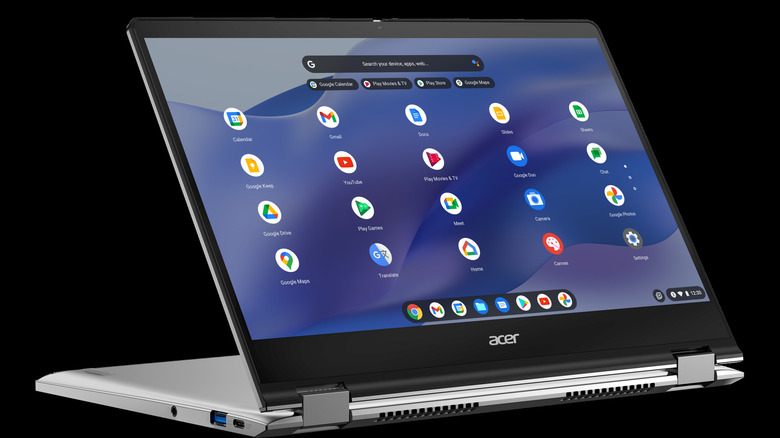 Acer
Acer's screen supports multi-touch controls, which helps you make the most of the aforementioned flexible & convertible design. You can turn it into a large tablet of sorts or stick to the traditional laptop usage if you're not a fan of that. Made with Corning Gorilla Glass, the screen should be fairly durable as well. The Acer Chromebook Spin 514's screen features a 14-inch Full HD IPS panel. Acer didn't disclose the exact brightness in nits, but IPS panels are known for their superior color reproduction, so everything should be fairly bright and pretty. The display is accompanied by narrow side bezels, with the bottom bezel being significantly wider to house the Acer logo, and the top to house the webcam. Acer offers the screen with either sRGB 100% or without.
That's right, you can't have a Chromebook without a built-in webcam — after all, they're made for people who work remotely or attend online classes. As such, the Spin 514 comes with a full HD webcam with extra flare-reducing capabilities as well as dual built-in microphones and speakers. The quality of all three remains to be seen, but it should be good enough to get you by. For those of us who tend to put a sticker over the webcam in fear of privacy violation, Acer installed a camera shutter that helps you cover the camera when your video call is over.
Several configurations to match your needs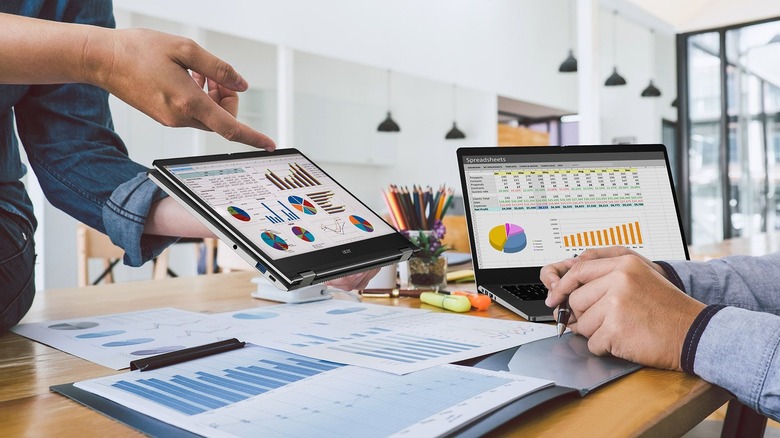 Acer
Although all the flexibility and touchscreen stuff is fun, the new Acer Chromebook Spin 514 mostly shines through its specifications. It will be available in several variants, ranging from budget options for the least demanding customers all the way up to somewhat competitive ultrabooks. Utilizing the latest AMD processors combined with integrated AMD graphics was a good move for Acer, and although we are yet to see any benchmarks of the new laptops, this should pay off in terms of performance. Despite the upgrades in components, the notebook didn't suffer in terms of battery life, with Acer promising up to 10 hours on a single charge.
You'll be able to choose between the entry-level AMD Ryzen 3 5125C and Ryzen 3 5425C, the mid-range Ryzen 5 5625C, and lastly, the Ryzen 7 5825C. As per CPU Monkey, the top processor comes with 8 cores and 16 threads as well as an up to 3.70GHz boost clock — that's really significant for a Chromebook. This is accompanied by a maximum of 256GB of PCIe Gen 3 NVMe SSD storage as well as a maximum of 16GB DDR4 RAM. The notebook will offer access to Wi-Fi 6 alongside numerous ports, including USB C 2.0, USB-A, and HDMI.
The new Acer Chromebook Spin 514 is set to release in the third quarter of 2022. The regular Chrome OS model will have a starting price of $579.99, while its Enterprise counterpart will be priced at $899.99 and above. The prices are likely going to go up if you choose a different configuration than the entry-level variant. Asus recently released other new Chromebooks that also sport the light and flexible convertible design.