ASUS Chromebook CR1 Series Arrives With Durable Design And Classroom Features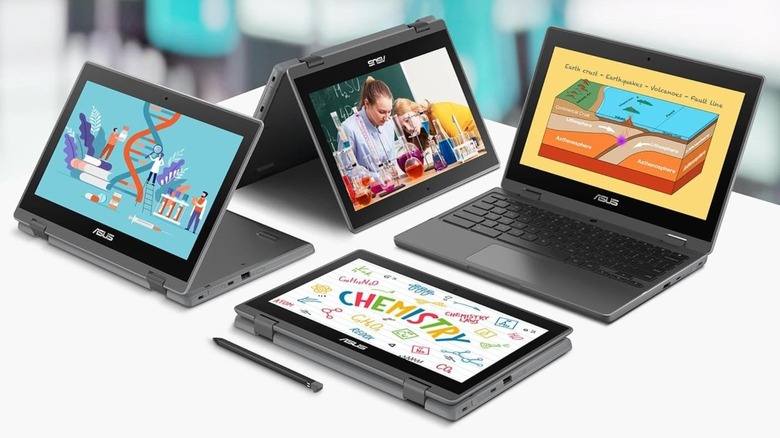 ASUS
ASUS has taken the wraps off a pair of new 11.6-inch Chrome OS laptops, one with a convertible design, that are collectively presented as the ASUS Chromebook CR1 Series. The new models combine Google's Chrome OS with ultra-durable features intended to protect the laptops from everyday use in the classroom, including a keyboard that resists spills and a special rubber bumper.
The company refers to its two new Chromebooks, the Chromebook CR1 and Flip CR1, as "student-centric," targeting the education market and its fondness for these simple, typically inexpensive devices. The new series' biggest selling point is its durable construction, which ASUS says exceeds the US MIL-STD-810H military-grade durability rating. In addition to expected things like damage resistance against drops, the models also sport somewhat less common features like a surface finish that resists scratches and fingerprints, as well as coating with the company's Antibacterial Guard to keep things sanitary.
Durable design made for classrooms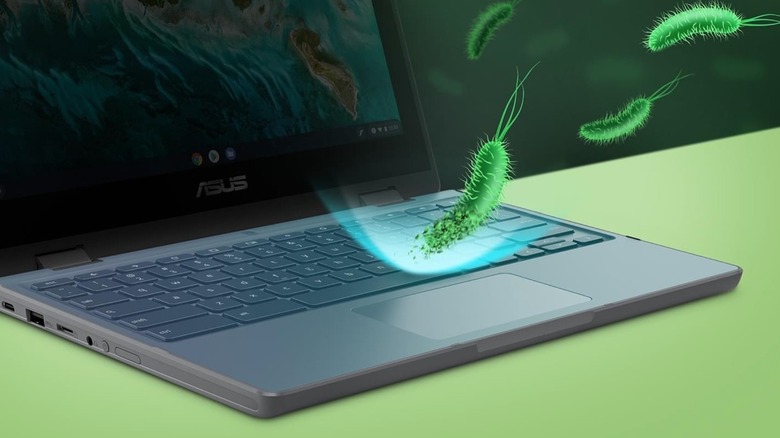 ASUS
Generally speaking, many Chromebooks seem the same — they tend to be smaller in size than their Windows counterparts, though there are exceptions, and they all run Google's Chrome OS. The operating system has proven popular in educational settings, ushering in a new market of small Chromebooks designed specifically for students — and ultra-durability is key to these particular machines.
The ASUS Chromebook CR1 Series is no exception, boasting everything from a rubber bumper to resist damage from drops to a carefully fitted, tightly sealed keyboard that can withstand up to around 10 ounces of liquid while making it difficult for kids to pry off individual keys.
As mentioned, these two notebooks are also resistant to scratches and fingerprints, which is made possible via the "micro-dimpled finish," according to ASUS. Rubber along the bottom of the laptops makes it less likely kids will drop them or knock them off a desk, plus the ports and hinges are said to be strong enough to withstand daily use.
Key features detailed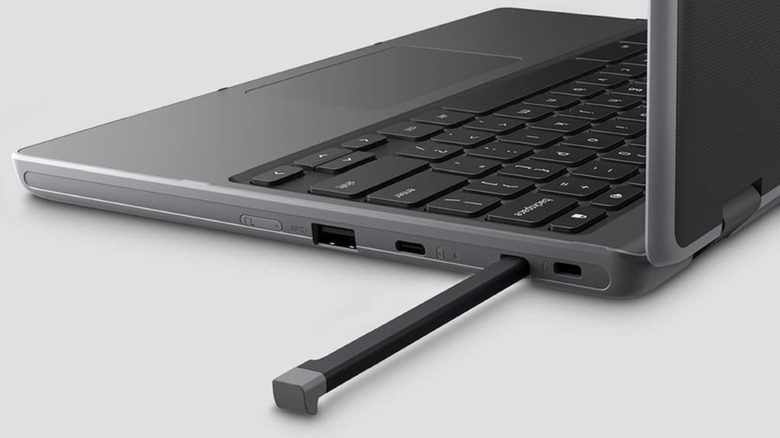 ASUS
The durability features aside, ASUS packed a number of ports and other key functions into its Chromebook CR1 Series, not the least of which is a built-in stylus. This is an optional accessory for the Flip CR1 model, which has a convertible design so that the screen can be folded back into "tablet" mode. The stylus combined with this, of course, allows students to draw and write by hand, expanding educational opportunities.
Connectivity is extensive, at least when it comes to the Flip model, including Wi-Fi 6 and 4G LTE support, dual USB-C ports, two USB 3.2 ports, a 3.5mm audio jack, and a microSD card slot. Both models are said to get around 12 hours of battery life per charge, and both likewise feature displays certified as having low blue light emission levels, which is intended to protect long-term eye health.
The final notable feature is what ASUS describes as a modular design, making it easier for schools and others to service the Chromebooks when necessary. Both models are now available in the US market, though ASUS advises that educators should get in touch with the company for more info about the series.