How To Share Your Location On iPhone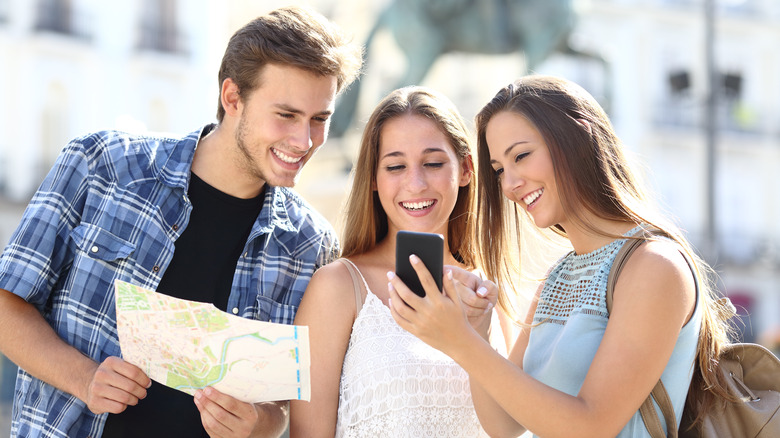 Antonio Guillem/Shutterstock
Apple's "Find My" app is designed to pull double duty, acting as both "Find My Friends" and "Find My Phone" at the same time in the latest versions of iOS, iPadOS, and macOS. It can, of course, be used to help you locate your lost, missing, or stolen iPhone, but it can also act as a passive go-between when setting up gatherings and other social events with friends and family. Alternatively, it can be used to provide notifications for when someone arrives or leaves a location, both for the sake of party planning convenience and for general safety.
Beyond simply sharing locations, Find My can also be useful for figuring out the ETA of guests or letting people know when someone leaves (and gets home safely). Likewise, it can help two people meet up by providing directions via "Maps," and can be accessed via "Messages" to make that connection easier to manage. You can make a few adjustments from inside the app as well, like selecting the device you're using as your location (i.e., tell the app to use your iPhone as a guide instead of your Mac) and customizing notifications.
How to share you location on iPhone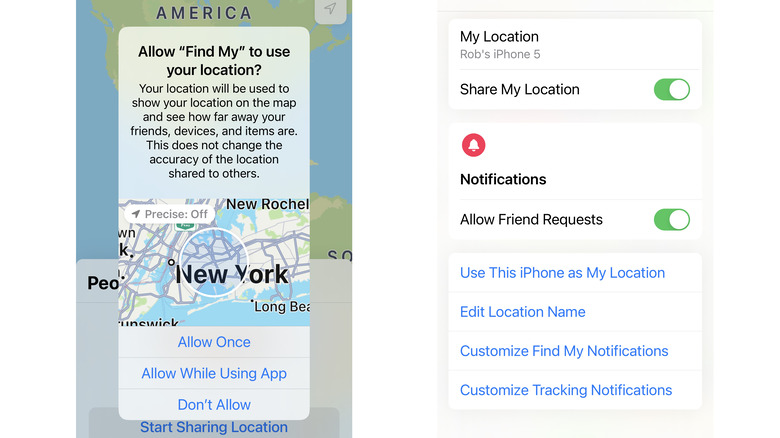 Rob Rich/SlashGear
If you didn't enable and configure the Find My app when setting up your iPhone, you'll need to do that first. Thankfully it's a simple matter of opening the Find My app and giving it access to location services by tapping one of the "Allow" options when prompted. Tapping "Don't Allow" will prevent access, "Allow Once" will let the app track your location while the app remains open (and will default to off once the app is closed), and "Allow While Using App" will disable tracking when the app is closed, but automatically enable it without prompting every time it's opened.
Once that's done, make sure you're on the People tab and tap "Start Sharing Location," which will pull up a menu that allows you to select someone (or multiple people) in your Contacts list to share your current location with (via Apple). You can either select these contacts from the list as it appears or manually search for the name or number you want. When finished selecting recipients, tap "Send" in the top-right corner of the screen to view a new menu where you can decide how long your location will be shared: one hour, until the end of the day, or indefinitely. Your location info will be shared, and you can tap "OK" when prompted to finish.
How to find a friend's shared location
Rob Rich/SlashGear
The easiest way to start tracking a friend or family member's location is to ask them to share it with you directly. You can do this via a text in "Messages," ask them verbally over the phone, send an email, or if you're already in the same room, you can ask them in person. Asking in person may sound counter-intuitive, but think of it more as a preparatory step for a planned outing. They can then share their location with you using the same method as detailed above.
If you've already shared your location with someone and now you want to know their location, open the "Find My" app and go to the People tab. From there you can select the person you shared your location with, then scroll down the menu, tap "Ask To Follow Location," and tap "OK" to confirm. After that, you just have to wait for the other person to accept the request.